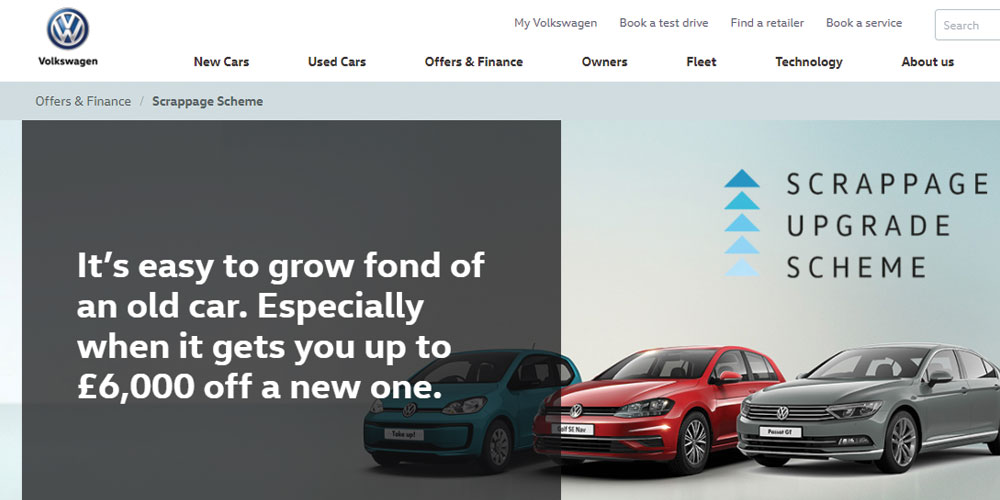 Volkswagen UK have announced that they will be offering up to £6,000 "Scrappage" in exchange for any make or model diesel vehicle (Euro 1 – 4) when buying a new car.
The move comes as the SMMT announced that new car sales have plummeted by 9.3% in August 2017 with consumer confidence at an all time low "thanks Brexit". In fact sales of new cars fell short of figures from 2013 according to a recent SMMT press release. Link here
Those with Euro 5 vehicles have been left high and dry yet again by the VW. Not only have they been left with broken cars following the VW emissions fix they are not eligible for the scrappage scheme despite continuing to belch illegal levels of NOx into the atmosphere. More here
What will happen to my old car?
All vehicles acquired by VW in the scheme will be "taken off the road and scrapped". This is actually great news for the environment as Euro 1-4 vehicles do not have the stringent emissions control systems which feature in newer Euro6 cars such as a DPF filter (in most cases).
Can I just buy an old diesel car and use it for the scheme?
Unfortunately not. According to VW, "Trade-in diesel must have been registered in the owner's name for at least six months."