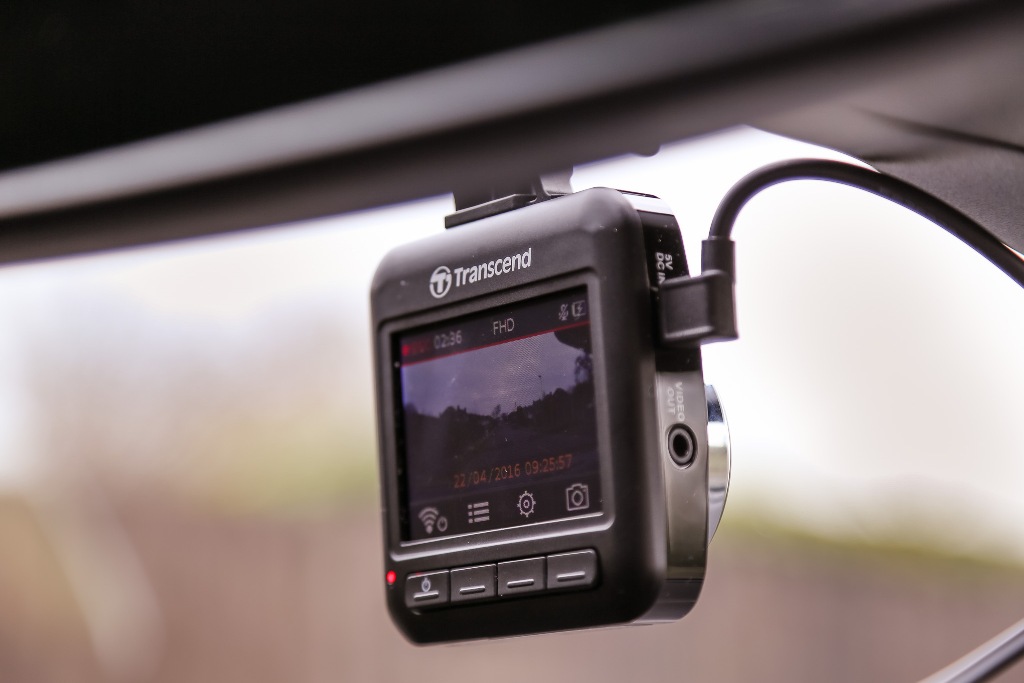 So you've taken the first step in protecting you against bogus insurance claims and unsuspecting wild life but there are a few pointers that can really help you make the most of your newly installed dash cam.
See below our top 10 Dash cam tips and cover yourself in the event of an accident or emergency. (Transcend DP200 – pictured above)
1. Where to put it
This might be an obvious tip but you'd be surprised with the number of incorrectly place dash cams providing hours of questionable video footage on youtube. The camera should be positioned in the centre of your windscreen and as high as possible. Many people who have the room opt to mount it behind the rear view mirror for that discreet install.
2. Don't reach for the sky
Unless your an avid bird watcher or fascinated by rare cloud formations you should limit the amount of sky you have in your picture (yes we are guilty of this!). Excess sky in the camera frame creates more glare, reducing the quality of the video. Glare will make the dash cam compensate for the brightness of the sky by making the rest of the video darker. This can reduce the quality of the the things you want to capture like that car on the wrong side of the road hurtling towards you.
3. g-sensor (shock) sensitivity
Many modern dash cams feature a g-sensor or shock sensor. This sensor triggers the camera to record and capture video footage if it detects the impact of an accident. When this occurs the camera creates locked / protected files which take up space on your memory card.
Some vehicles, particularly those with sports suspension may inadvertently trigger this feature so it may require some adjustment in line with your vehicles setup.
4. Clean your screen
Keeping a clean windscreen is a vital part of your car's upkeep and daily maintenance. This should be checked each time you set off however its even ore important when you have a camera trying to peer through it. Dirt and debris will reduce the quality of the video recording and may cause the camera to focus on parts of the video it shouldn't be.
5. Wipers
Here in the UK we are very privileged to have very changeable weather conditions. With this comes rain… and lots of it. Ensuring your wipers are performing to their highest level is vital to making sure you have a clear view of the road ahead and also making sure it's smudge and streak free for your dash cam. Wipers can be easily replaced and there are countless videos on youtube for those wanting to save a few quid on your local garage bills.
We also suggest checking your washer bottle levels regularly taking care to make sure the concentration of water / washer fluid is correct for the season and weather conditions.
6. Adjust video quality and frame rate
All dash cams give you the option of changing the resolution of the footage it captures. The higher the resolution the sharper and more detailed the image. Most newer dash cams come with a memory card adequate for recording at the highest resolution but please not that higher resolution video takes up more space and therefor your time window of captured footage will be smaller.
7. Reduce the length of files recorded
Most dash cams capture their footage in set timed blocks. This can differ from 3 minutes all the way up to 10 minutes plus. The quality of the video is not effected by this time limit however smaller files are easier to work with and are quicker to transfer from the memory card. Keeping the time length to a minimum will be of great help to other with WiFi enabled cameras that allow the footage to be save directly to a smart phone or tablet.
8. Remove unnecessary items from your dashboard
Your fluffy tiger may look cute sat on your dash but your mascot may well obscure a vital part of the picture in the event of an incident. If you choose to enlist a fluffy friend then why not opt for a parcel shelf seat for teddy.
9. Get a decent memory card
With most cameras operating at 1080 resolution its vital that your memory card is of sufficient size to allow a decent time window of recording. Most cameras support up to a 32GB card but we'f suggest at least having 16GB on board. Also ensure your SD card of choice is at least a class 6 card. The class represents the speed at which the dash cam can write to the card, having a card slower than the recommended speed may effect the quality of the video.
Before you do go hitting up Amazon for a "FAF" mega SD card we suggest you check with the device manufacturer as some devices do not support the largest and fastest cards available.
10. Test test test!
Assuming your dash cam is actually working is a very bad move indeed. A device or memory card malfunction could render your recording efforts non existent.
Simply pull the memory card at least once a month and check both the quality and constancy of your footage. It may highlight some of the issues raised above.
11. Hardwire!
Yes I know we said top 10 but this is one we simply couldn't miss out.
One of the biggest issues I have with dash cams is the clumsy cigarette adapter supplied in the box. This makes keeping your install tidy very difficult and will take up the power supply required if you have an external sat nav system.
By hard wiring your setup with systems such as this from Next Base you can wire it to your switched power supply which will turn the device on when you start your car. It also allows you to tidy away the cables behind your A pillar and in the head lining for a discreet and simple install.
This type of fitting also allows the cigarette lighter power supply to be used if you want to temporarily fit it to a different vehicle. We'll be covering our installation into our Mk3 2015 Skoda Octavia so keep an eye out for this on the website.
Update – Were soooooo over the moon with our new Transcend DrivePro 200 dashcam we've put together a little video with example footage and our hardwire kit installed. Check it out below.
We hope our dash cam tips will help make the most of your in car video footage, if you have any further tips we may have missed or any other dash cam ideas / experiences then please leave a comment below.