Our recent post regarding EGR issues plaguing the VW Transporter 180 BiTDi engines opened our eyes to a new product we have previously not known even existed, the Tafmet EGR Simulator.
Our googling revealed that this inexpensive device is used widely amongst diesel owners looking to disable/blank off their EGR valve without falling foul of the engine control systems and dreaded EML.
What is a Tafmet EGR Simulator
A Tafmet EGR Simulator is a small electronic device which simulates/emulates or "cheats" the vehicles ECU into thinking that the EGR valve is functioning correctly if it has failed, blanked off for even removed. When fitted, the device responds to the engine's ECUs in the same manner as a fully functioning EGR valve world, preventing the ECU from throwing an error and putting the vehicle in limp home mode.
How to fit a Tafmet EGR Simulator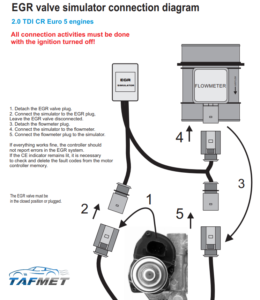 Depending on the engine, the fitment of the Tafmet varies wildly. Unfortunately, this device isn't available for my Skoda Octavia MK3 VRS 184 (CUNA engine) so I give you any first-hand experience although is available for the MK2 Skoda Octavia. As per the diagram, it connects to the EGR sensor plug and intercepts the flow meter by sitting inline with its connector plug. For other makes of vehicle, fitting is very similar but some require some slicing into the engine / EGR harness wires. Depending on the position of the EGR valve and the clearances in the engine bay, it looks like this could be a 5-minute job or an hour.
In the case that your EGR valve has experienced a mechanical failure (stuck open), Tafment advises that a blanking plate should also be fitted (plugged). I've only ever done this process once (on a 2.0 TDI Audi A6) and it was neither a fun or clean job. The fitting of an EGR blanking plate might be a job for a friendly mechanic.
Is it legal to use a Tafmet EGR Simulator
According to .GOV guidance (UK Law)
It is an offence under the Road vehicles (Construction and Use) Regulations (Regulation 61a(3))1 to use a vehicle which has been modified in such a way that it no longer complies with the air pollutant emissions standards it was designed to meet. Removal of a DPF will almost invariably contravene these requirements, making the vehicle illegal for road use.

A vehicle might still pass the MoT visible smoke emissions test, which is primarily intended to identify vehicles that are in a very poor state of repair, whilst emitting illegal and harmful levels of fine exhaust particulate.
With this in mind, these devices might be classed as illegal for on the road use, result in an MOT failure if detected, and also void your insurance in the event the vehicle was checked following a claim/accident.
These devices are widely available from eBay or their website (Google is your friend)
Why use a Tafmet EGR Simulator
There are a number of very good reasons why many diesel car owners would consider fitting a Tafment EGR simular
With prices between £30 and £100 this device could cost a fraction of a replacement EGR valve
If the EGR valve is not stuck open, fitting could be performed without expensive garage labor costs
Disabling the EGR valve will prolong the life of your DPF filter but reducing/ stopping diesel participate fed back into the engine
For some vehicles which feature defective or destructive EGR valves (looking at VW Transporter 180 BiTDi) these devices could be used as a preventative measure in protecting the engine from corroding EGR cooler debris (more on that in our article VW TRANSPORTER T5.1 / T6 EXCESSIVE OIL USE FOR CFCA 2.0 180HP BITDI ENGINES – EGR COOLER FAILURE )
It allows the EGR valve to be removed/remain faulty or disabled without the need for the valve tp to be "mapped out" of the ECU. This type of ECU modification could set you back £200+
Given the choice of either a remap or Tafment, I think I'd certainly consider a Tafment. Not only is it fully reversible it could prove to be considerably cheaper than having the EGR valve mapped or heaven forbid, having the EGR replaced altogether.
Let's hear from you
Have you fitted a Tafmet EGR Simulator? Why did you install it? Was it easy to install? Did your vehicle pass it's MOT with it fitted? We've love to hear your experiences with it, let us know in the comments below
Read More
Check out these other EGR related articles from our website below