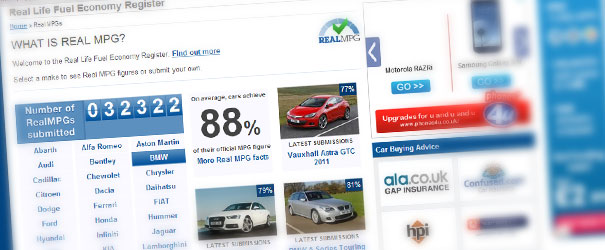 A report by the "consumer champion" Honest John has revealed that UK drivers are footing the bill to the tune of £4.45 billion a year in fuel as they struggle to meet manufacturers "overstated" official MPG figures.
The report is based on more than 32,000 MPG readings submitted to the Real MPG tool on their website. The data from Real MPG has shown that that most of the drivers who participated have failed to achieve the manufacturers official fuel efficiency ratings. The website currently shows that on average cars only achieve 88% of the "official" MPG figure.
Although the majority of drivers have fallen short of official MPG figures, a handful of marques have beaten expectations and recorded an improvement on the manufactures claims. For example the mighty Land Rover Defender and Toyota Celica managed to top the charts by showing an improvement of  105.4% and 103.8% respectively.
Honest John, commented: "Real MPG is a great tool for car drivers to get a true sense of car performance. It's significantly different from official figures, which could certainly be said to mislead consumers, but are the only figures car manufacturers are allowed by EC law to publicise. Rather than attack the EC figures, which are now the basis of car and company car taxation, we prefer to offer realistic figures achieved by real motorists to be used alongside official guidelines.
The publication of Honest John's Real MPG results mean that drivers will be able to compare official figures with real world results. This will help them make a better informed decision when considering their next car purchase.
We applaud the work by Honest John on highlighting this issue. Many times we have experienced first hand the discrepancies between official figures and whats capable in the real word, even when we're working our Hypermiling magic. We just hope this also highlights the fact that manufactures figures should only be used as a guideline, its the nut behind the wheel that makes all the difference.
For more information and to submit your results then checkout the Honest John Real Mpg tool on their website.
We'd love to hear about your experiences with official manufactures claims so why not leave a comment below.