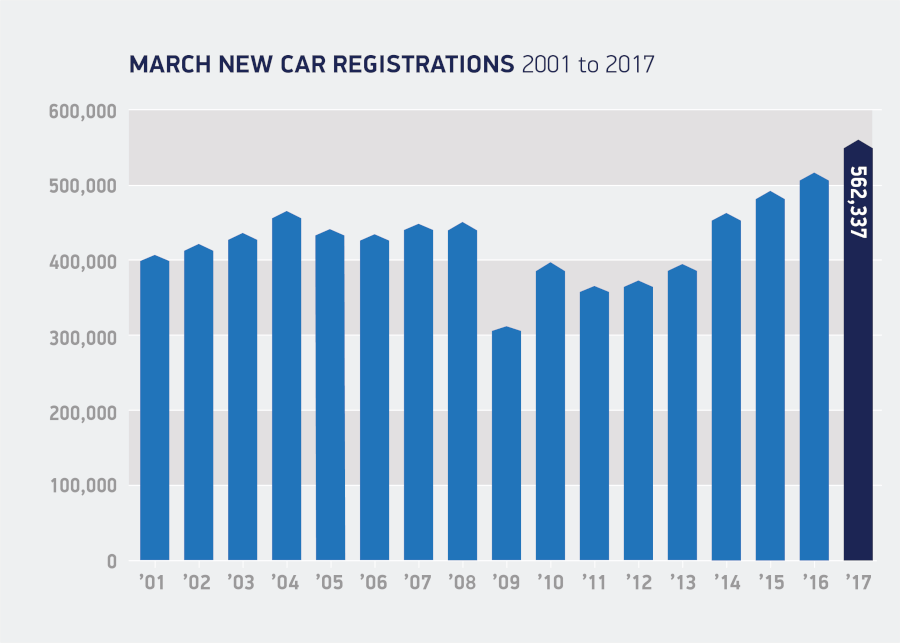 Sales of new cars in the UK hit record levels in March this year as buyers scrambled to make the most of looming car tax rises.
March 2017 saw a total of 562,337 cars rolling off dealer forecourts, a rise of over 8% compared to March of 2016. Figures released by the SMMT represent the highest number of new sales since their records began in 1976. The figures for March reveal double the number of vehicles were sold last month compared to January and February combined.
The reason behind the sales surge lies with car tax rises which came into force this month. The new rates see all new vehicles (apart from those with zero emissions) having to pay an annual flat rate of road tax. This will see many cars which had enjoyed "tax free" motoring hit with an annual fixed road tax of £140 on their second "tax year". Cars with a list price of over £40,000 will be hit for an additional £310 on top of this. This will see many "premium" vehicles paying a up to £450 in road tax per year.
Initial car tax payments (upon registration) will now based entirely on CO2 emissions. This starts at as little as £50 for cars emitting just 1-50 g/km of CO2, rising to a whopping £2,000 for cars producing over 255 g/km.
For more details on the changes to road tax for vehicles registered or after the 1st April 2017 should check out the Vehicle tax rates website on the GOV.uk website.
Diesels car sales loose ground
Interestingly, diesel cars lost ground compared to sales of petrol and alternatively fueled vehicles. Many attribute this "slow down" to recent events which have been critical of diesel car emissions. London's Mayor Sadiq Khan plans to increase the amount diesel cars pay to enter the capitol to help reduce the London's air quality issues.
Despite the bad press, the figures represent record diesel car sales.
The facts from the SMMT
The graph below details the sales figures compared to 2016.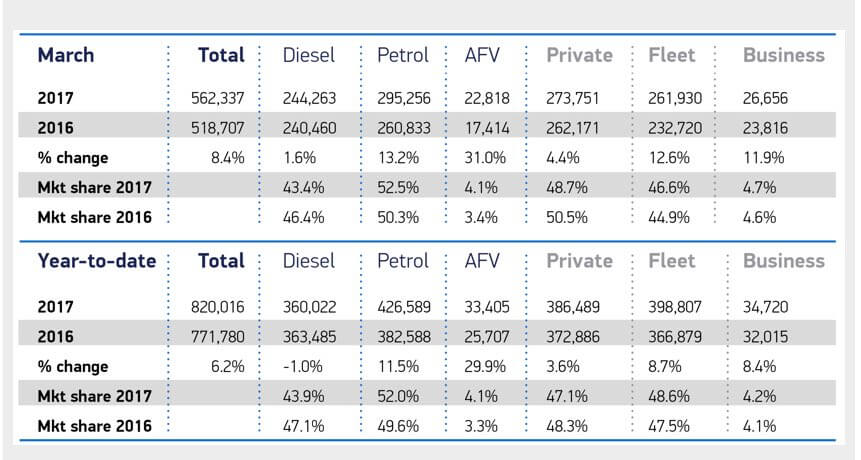 In response to the news Mike Hawes, SMMT Chief Executive, said "These record figures are undoubtedly boosted by consumers and businesses reacting to new VED changes, pulling forward purchases into March, especially those ultra-low emission vehicles that will no longer benefit from a zero-rate fee. This bumper performance probably means we will see a slowdown in April, exacerbated by the fact there are fewer selling days this year given Easter timing. Looking ahead to the rest of the year, we still expect the market to cool only slightly given broader political uncertainties as there are still attractive deals on offer."
Ford continues to dominate new car sales
The mighty Ford Fiesta and Focus continued to dominate new car sales, taking 1st and 2nd in the sales charts. The Ford Fiesta has been the UK best-seller for an impressive eight years running with a 4.6% market share across the board. Ford's car sales lead over its nearest rival was 25,273 (Vauxhall Corsa).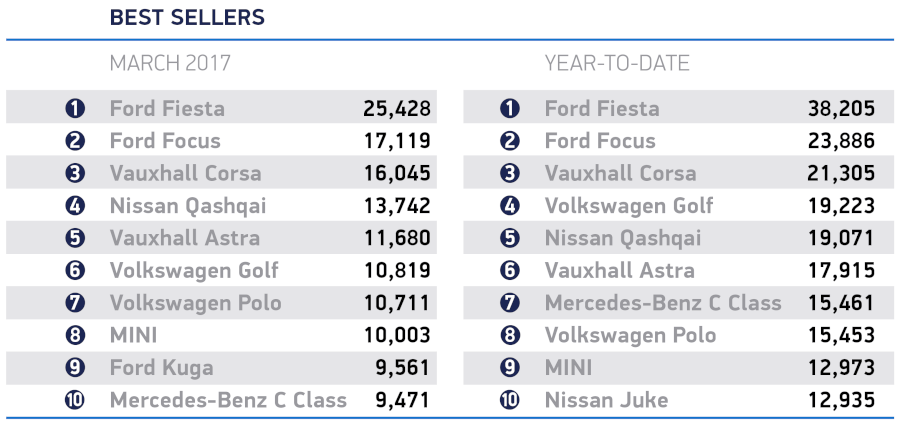 What now for new car sales?
With the record sales in March combined with the road tax increases we expect this to severely dampen the UK's appetite for new vehicles going forward in 2017. With recent events concerning diesel cars we predict that diesel sales will reduce sharply as ultra efficient petrol cars and zero emissions vehicles continue to rise. This shift towards zero emission will not only aid efforts to increase air quality but also force manufacturers to continue the trend towards the electric car revolution.
Have your say!
Have you taken advantage of the rise in tax duty? Do you agree that the era of diesel is over? Let us know in the comments