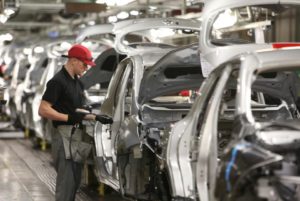 You've seen the headlines. Our car markets are in turmoil, drivers are rushing to buy hybrid / electric vehicles – leaving diesel cars worthless.
Yes, there is some truth in that statement but it's easy to ignore the hard facts. Armed with the SMMT's most recent data, we've put together our top five facts from their September report.
1. Collapsing business demand for new cars is crushing the new UK car market.
Contrary to what you might think, registrations of new cars by Joe Public is actually up (very slightly) compared to last year. September saw a 0.1% increase of new car registrations by private buyers while business demand dropped a massive 44.8%. Blame #Brexit – poor consumer confidence and all that. The fact is that it's not "our fault" and actually to do more with businesses tightening their belts in these uncertain economic times.
2. Diesel cars are still selling but still represent a market share of over 25%
Contrary to popular belief, diesel cars are still selling in the UK. Diesel cars take up more of the total market than all the electric and hybrid sales combined. Petrol cars outsell diesel nealy 3 to 1 but be under no illusion that diesel cars have been totally abandoned.
3. Diesel hybrids are fast becoming a "thing"
Deisel bad…, batteries good. The demonisation of diesel cars is in full swing but at the end of the day, economics will play a huge part in what cars will sell.
Let us take the Mercedes C class for an example. The C300de.With a combined power output of over 300BHP, 5.7seconds to 60 and an average fuel economy figure of 177mpg "claimed". Couple that with an extremely low company car tax band, it makes a tempting prospect for company car drivers and those face every increasing "taxes" to drive in the centre of London.
The combination of the good and the bad could be the saving grace of diesel cars in the short term. In fact, MHEV Diesel (Mild Hybrid Electric Vehicle) diesel cars increased their market share by over 677% compared to last year but still only represent a total of 2%. That's still double the number of MHEV petrol cars sold.
4. New car registrations are UP compared to September 2018
Whilst the year to date figures show a reduction of 2.5% compared to 2018, Septembers registration figures represent a 1.3% increase over September 2018. Growing alternatively fueled/powered vehicles are on the increase and petrol car sales are up. It's not the s*** show the media would have you believe.
5. Tesla who?!
Despite Tesla's Model 3 on the podium in August, it's not even listed in the top 10 of cars sold last month. The scrap over first place saw the Vauxhall Corsa top the mighty Fiesta in September but still put the Fiesta in pole position for the year to date, outselling the Corsa by nearly 20,000 units. I'd love to share just how many units Tesla shifted but they aren't even listed in the SMMT's figures.
Is it all bad news for the UK car industry?
It's tough going for the UK car industry as a whole. Businesses are facing the uncertain economic situation that is #Brexit and private buyers stuck between the demonisation of diesel and an emerging yet "primate" range of electric vehicles. It has left many (including yours truly) waiting to the fog to clear in the EV market, waiting for our battery powered knight in armour to lead the pack and shape the car market into it's AA powered future.
For now, I'll stick with my Euro 5 VW diesel-powered Skoda. It's just too early to dip my toe into the EV / Hybrid water and the government is yet to price it off the road. Sometimes, it's better the devil you know.
For more information on UK car registrations – check out the SMMT website.