I must say that I have a massive soft spot for the VW Transporter. In fact, it's only the astronomical asking prices Transporters go for that have prevented me from buying one. It's one of the few vehicles that have a timeless design and benefit from a cult-like following and wealth of aftermarket parts and services.
Unfortunately, like many vehicles from the VW range, the Transporter BiTDi has been plagued with a serious issue that could result in total engine failure. Initially, this issue appears as high oil usage, whilst this can be common in some of the VAG engines (namely my 2015 Skoda Octavia TDi VRS) this is much more serious than you'd expect.
What causes the issue?
High oil usage in the VW CFCA 2.0 180hp engine is the unfortunate result of the EGR cooler corroding internally. As pictured above, the aluminum cooling fins corrode in the process of cooling the exhaust gases being returned to the engine. You can find more about EGR valves and how they work in our EGR valve FAQ article
The aluminum debris resulting from this corrosion passes into the engine cylinders and gets stuck in the piston rings resulting in excess bore wear. Over time this causes the piston rings to fail, resulting in low compression, high oil usage, and rapid internal damage caused by the aluminum debris in the oil.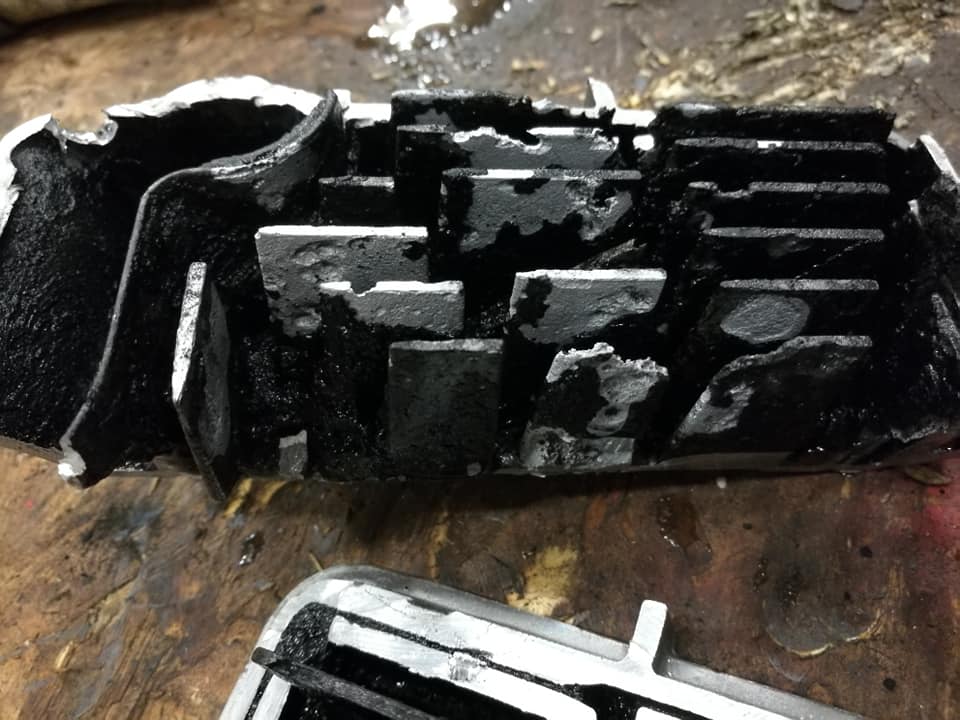 Which model of EGR cooler is at fault?
The EGR cooler responsible for the issue is a suffix C or earlier unit. The suffix D type coolers are not as prone to corrosion but many owners still exercise caution with this model.
You can tell which EGR cooler you have by checking for the model code as below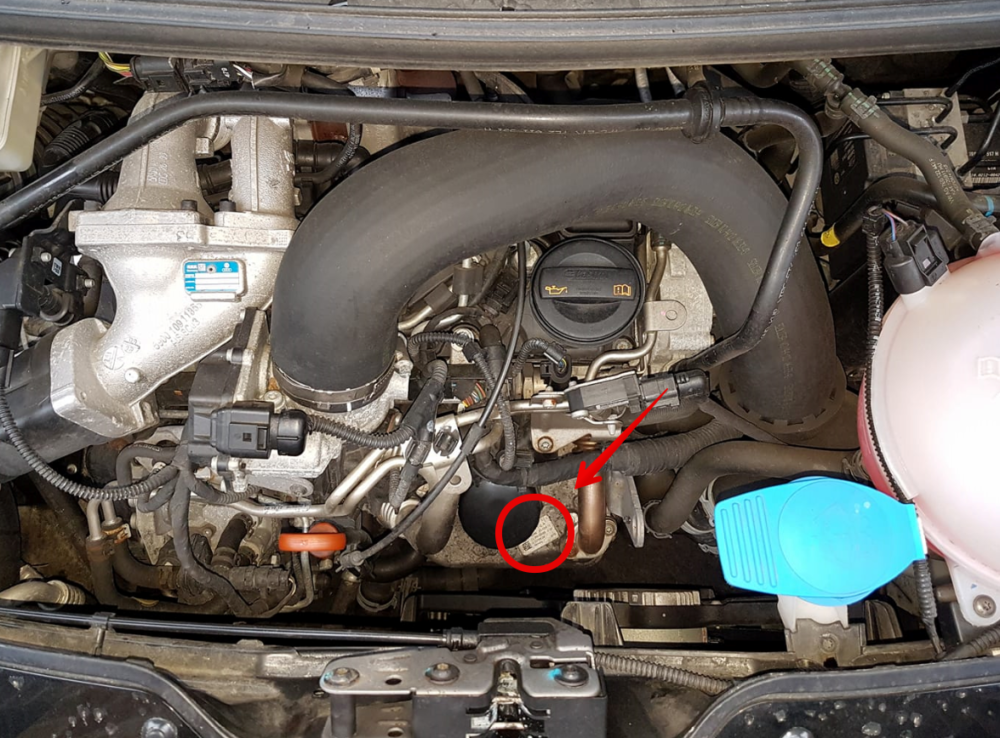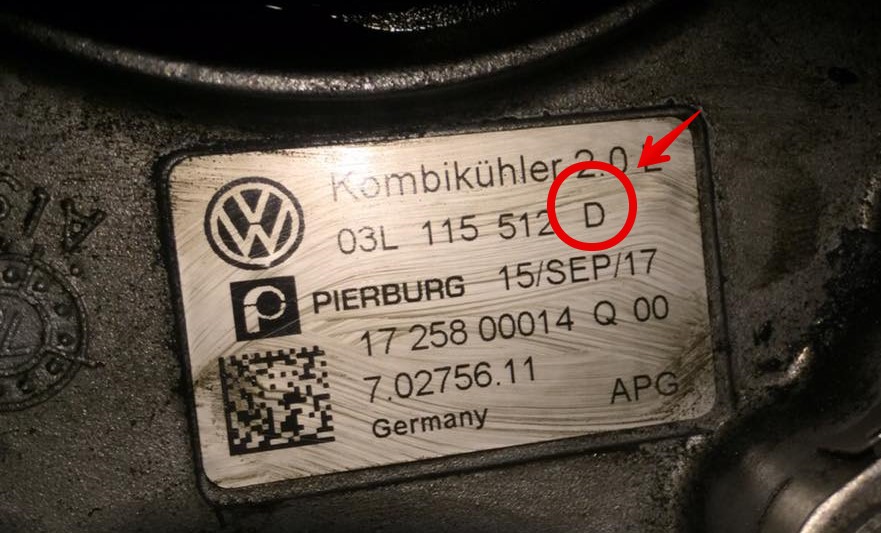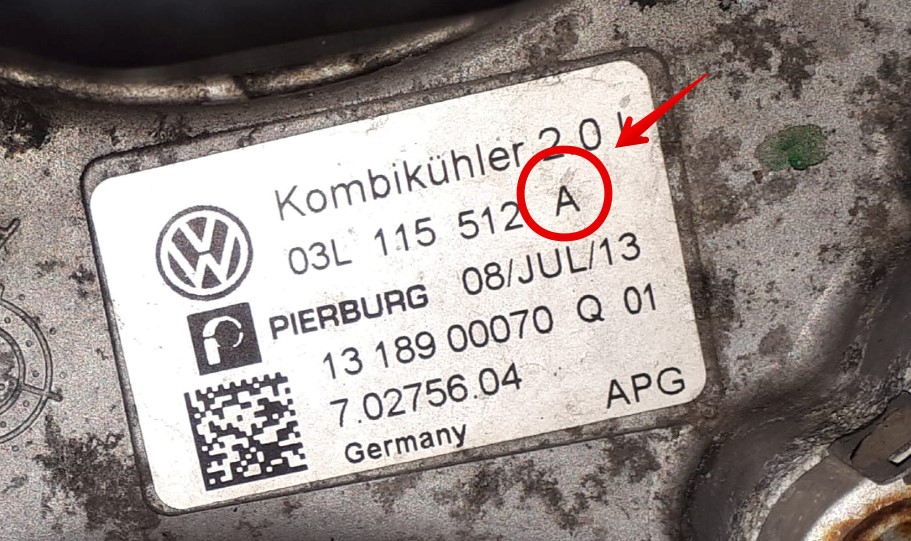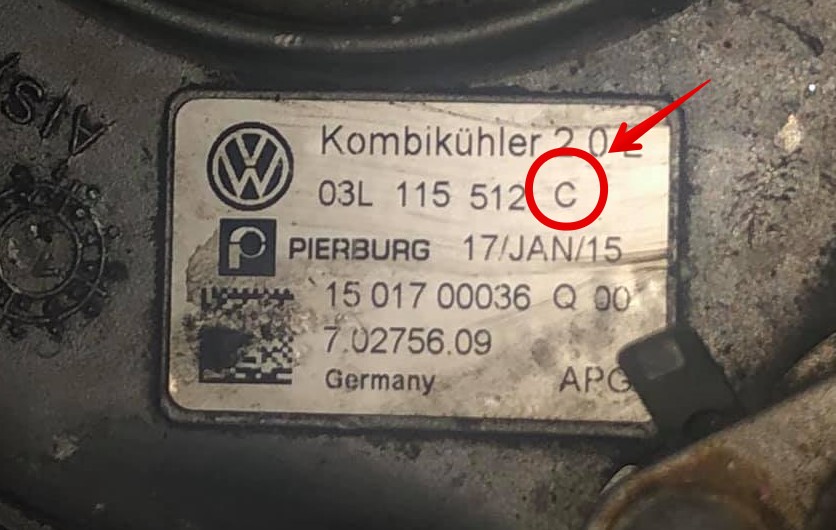 How to diagnose?
There are a number of ways to diagnose if your engine has been affected by this issue.
High Oil usage
Whist some VAG diesel engines are known for their oil usage, it's not uncommon that a BiTDi engine affected by this issue could use up to 1 litre of oil per 400Kms. For a healthy engine, it's expected that the engine uses in the range of x liters per 1000 miles / 1600 km.
Excessive DPF regeneration
Excess oil usage/burning will cause the DPF to work much harder to remove the added oil from exhaust gases. This will cause the DPF regeneration process to trigger much more frequently and reduce the life of the filter. You can learn more about DPFs in our Diesel Particulate Filter FAQ article
Compression test
This will reveal if the piston rings have been damaged – resulting in low compression. For this engine, it's expected to be around 23 – 31 bar. The wear limit of the engine is 19 bar with an acceptable range of 5 bar difference between all cylinders. It's also been suggested that in lieu of a compression test you can remove the oil cap and see if you can detect and air blowing out – this would indicate worn piston rings. This isn't something I've tried but would be interested to learn more – please do let us know in the comments.
Oil analysis
An oil analysis will how if there are metal particles and debit contained in the oil. This analysis is often opted for by owners who are attempting to claim for the damage under warranty and require proof that the engine failing / failed.
EML (engine management light)
Whist high oil usage causes a number of telltale symptoms, these aren't necessarily going to cause the EML to illuminate. Please get in touch if you have any experiences with the EML and this issue.
Will VW cover this under warranty?
Unfortunately not. VW will not honor any warranty on this issue. Your only hope is that the issue can be proven and diagnosed during any dealer warranty period. This is a minimum of 3 months when buying from a dealer.
Does VW acknowledge this issue?
In an official capacity, VW has all but washed their hands of this issue. Internally its another matter. We've been made aware by an anonymous source that an internal memo floating around VW fully acknowledges the issue and its causes. As you can see below from the internal document we have obtained, VW fully understands the issue surrounding the fault.
Disclaimer: Please be aware that this document was provided to us by an owner experiencing this issue – we can not verify that it is in fact genuine.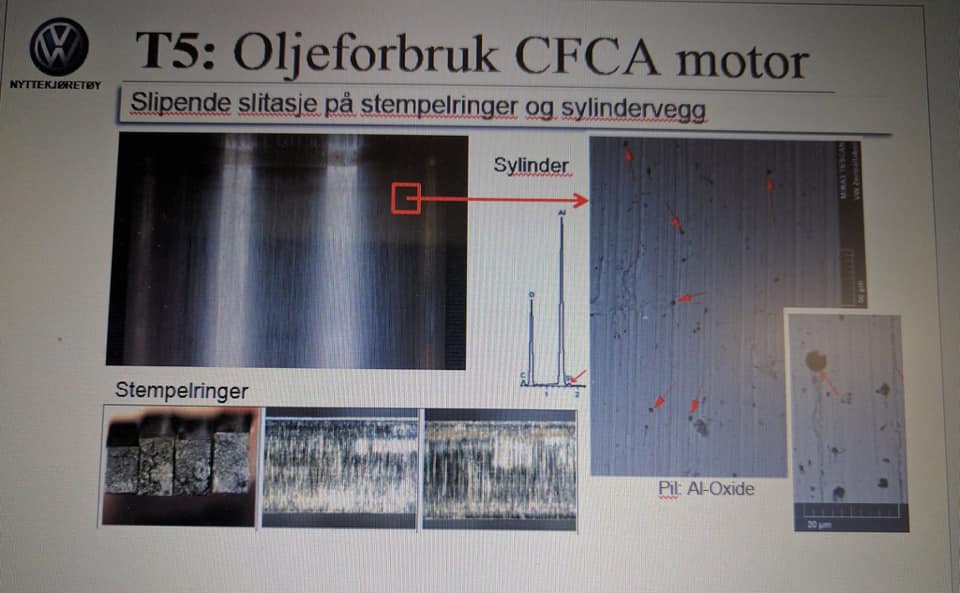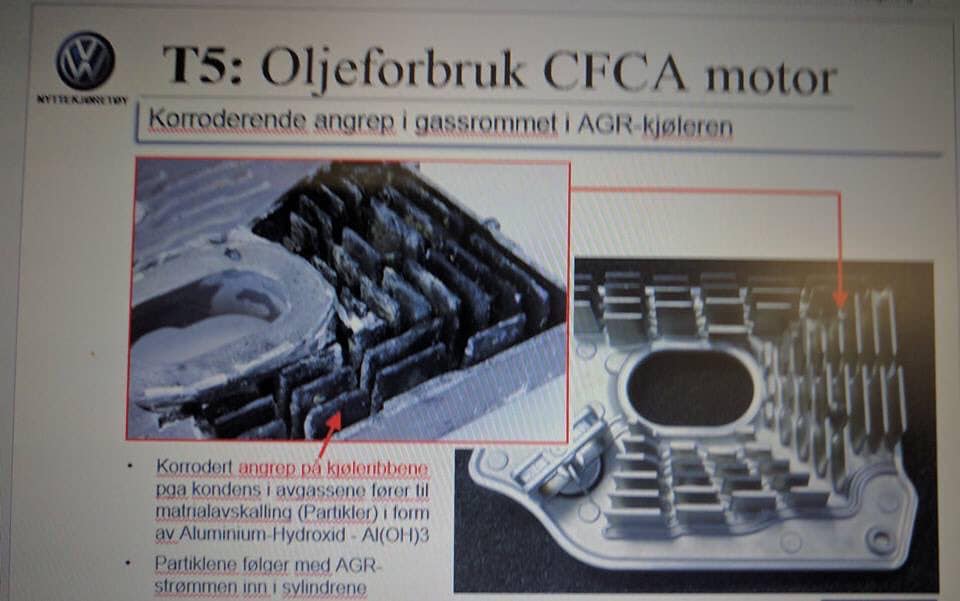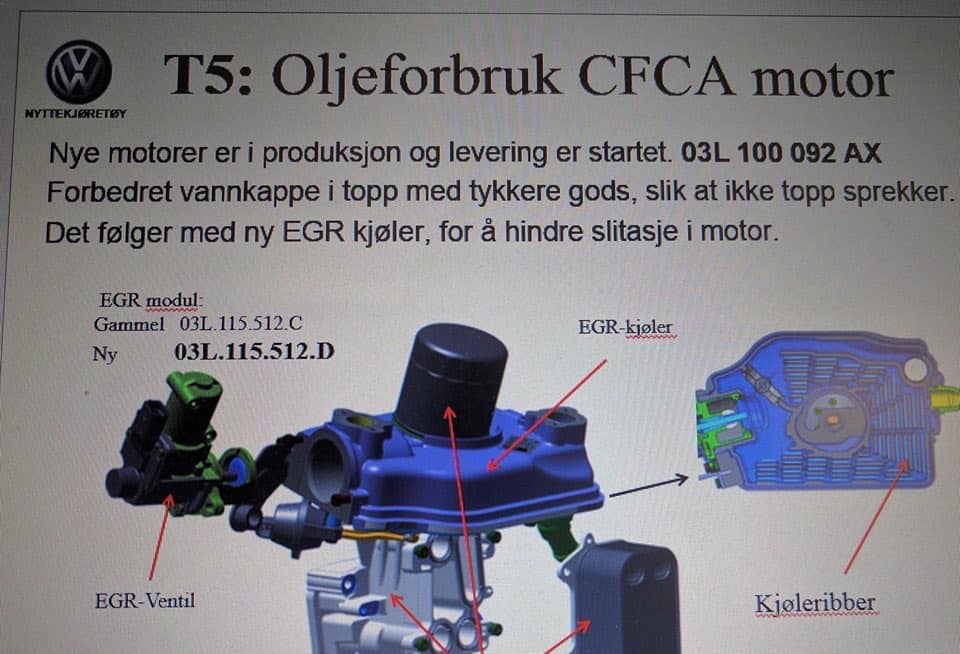 What precautions can be taken
If you're not experiencing high oil usage or unusually frequent DPF regeneration it might not be too late to take action. Many owners have opted to either replace the EGR with a type D unit or remove the EGR completely. This would involve having it removed from the engine and a blanking plate fitted. The engine will require the EGR device "mapping" out of the ECU.
Another option is to fit a Tafmet EGR emulator or cheat device. This small magic box emulates/simulates a working EGR valve preventing the engine from delecting it has been removed or blanked off. You can learn more about the Tafmet EGR emulator here
We're also aware that owners also take the opportunity to have the DPF removed and some power added during the remapping process.
Please be aware that any modifications to the emission control systems of a vehicle are illegal for on-road use. These modifications could result in an MOT failure and your insurance being invalid in the event that the modifications are spotted after a claim. Do this at your own risk.
How much is a new engine
This is a tough question, but expect a new engine to be upwards of £8,000 depending on milage and labor. If you're competent with the spanners then this cost could be much less. If you've had a new engine then please get in touch so we can update this with real-world examples.

My Transporter has all the symptoms of this issue, what can I do?
You have two options – a new engine or sell up. Whilst we'd not recommend you hide the issue and sell it on to another unsuspecting owner if I had a van exhibiting all the symptoms I'd be looking at trading it in.
In its advanced stage, it's too late to opt for an EGR delete or swap. The damage is already done.
What to look for if you're buying a VW Transporter BiTDi 180
On the face of it, there is no way of telling if a van has been affected by this issue. Unless you are buying from an owner that has taken the precautions of swapping out the EGR valve for a D type unit before any damage or can prove that it's had a new engine, I'd proceed with extreme caution. You could put a condition of sale on a healthy compression test result or oil analysis however there is still a risk that the engine could be toast.
We need your help
We've been aware of this issue for some time now and we'd love to hear your feedback on this issue. If I'm talking sh*t or have missed something you feel should be included in this article then please let me know in the comments or email karl (at) Hypermiler.co.uk
We continually revisit our articles to ensure they are as useful and accurate as possible.
Join the discussion
Fortunately (or maybe, unfortunately) if you're reading this article you're not alone. A total of 1700 members (at the publication of this article) are a member of the VW T5.1 / T6 excessive oil use for CFCA 2.0 180hp engines Facebook group. Be sure to check it out – there is a wealth of information and very knowledgeable owners who may be able to help. Be sure to tell them who sent you.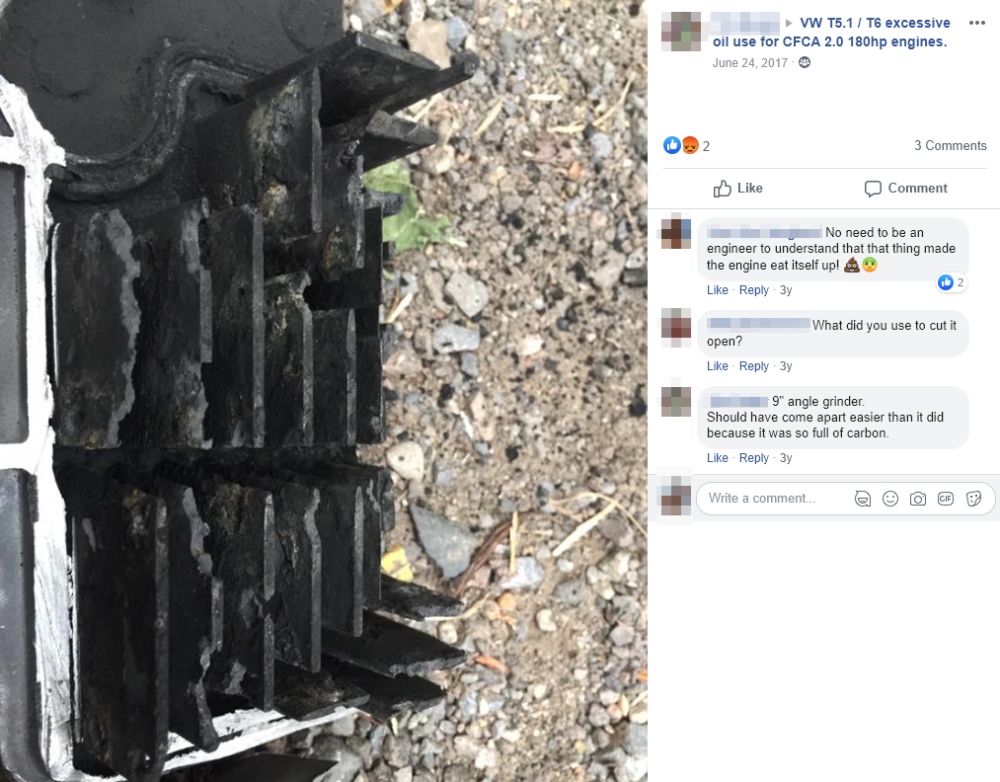 Let's hear from you!
Have you been affected by high oil usage in your VW transporter? Let us know in the comments below