If you're anything like me, you'll despise buying new tyres. It's an expensive and often time consuming process. It's bad enough forking over all that cash, but the inevitable lengthy wait in a freezing waiting room with nothing but a torn copy of OK! magasine is enough to send shivers down my spine.
In the interest of saving a few bob many motorists are now opting for part worn tyres. Part worn tyres can offer a considerable saving over new rubber however many drivers aren't aware of the dangers of buying a used rubber.
With this is mind we've put together some eye opening information that might just change your mind before you decide to scrimp on your car's next boots.
Are part worn tyres legal?
Part worn tyres are completely legal in the UK. Thankfully legislation has been put in place to limit the dangers of buying used.
Under The Motor Vehicle Tyres (Safety) Regulations 1994 (reg.7.) which are part of the Consumer Protection Act, it is an offence to sell part worn tyres that do not meet the following principal requirements:
The tyres structural integrity must not be compromised in any way
They should be free of large cuts, any bulges or lumps both internally and externally with no plies or cords exposed.
Tyres must have passed an inflation test prior to sale.
The original grooves must still be clearly visible on the tyre. They must have at least 2mm tread across the full breadth of the tread, around its entire circumference of the tyre.
Part worn tyres which have not been re-treaded must clearly show the relevant 'E' mark alongside which 'PART-WORN' must be permanently and legibly applied in letters at least 4mm high. This cannot be hot branded or cut into the tyre.
For more infromation on the legislation on part worn tyres click http://www.legislation.gov.uk/uksi/1994/3117/regulation/7/made
The Dangers!
Stopping distances
A part worn tyre only needs to have 2mm of tread to be sold "legally". This is only 0.4mm more than the the legal tread limit and 6mm less than what you'll get on new rubber. This could equate to an increased stopping distance of 12m in wet conditions. Thats nearly 2 car lengths, or the difference between life and death.
Poor repairs
98% of part worn tyres are sold illegally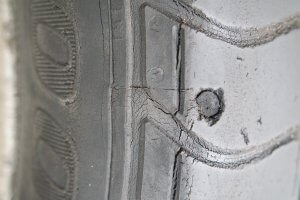 According to an investigation by TyreSafe, 98% of part worn tyres are sold illegally and 34% them contain potentially dangerous forms of damage or non-compliance. A poor repair could result in tyre failure and a potential accident just waiting to happen.
Poor repairs and damage could be hidden within in the structure of the tyre. Cracking in the side wall, foreign objects and bulges might be hard to spot by he untrained eye. Any number of these could affect the integrity and safety of the tyre causing it to fail without notice.
How does 3 points per tyre sound?
Driving on a tyre with less than 1.6mm of tread could result in a fine of £2,500 and 3 penalty points on your licence… thats per tyre. Tyres with less than the legal 1.6mm of tread will have a disastrous affect on your vehicles stopping distance and handling, meaning you may not be able to avoid a collision. or lose control in unsavory road conditions.
Your "new" part worn might only have 0.4mm more tread than the legal limit when fitted. You get our point… or 3.
False economy?
Taking into account the reduced tread depth its easy to work out that part worn tyres might actually work out more expensive. A part worn tyre could work out to £6.33 per mm of tread compared to just £5.32 per mm for a new tyre. You may also still have to pay to have them fitted and balanced
With this in mind, make sure you…
Shop around
You aren't just limited to your local tyre fitters when it comes to buying your car's next new shoes. Online retails can offer considerable savings over garage prices especially if you choose to have them fitted using one of their partners. I personally found that Black Circles could offer a £40 saving per tyre compared to my Skoda dealership. In fact they claim to not be able to buy them in at that price!
Before you reach for google we do suggest that you support local businesses. They may well be able to match online prices and could in fact work out cheaper and more convenient than being forced to use only a select number of fitters in your area.
Have your tyres checked
If you've concerned about the condition of your tyres (part worn or not) just pop along to your local tyre fitter / garage. Most reputable establishments will offer a you a free safety check by a trained fitter. They will be able to spot potential issues that might elude the majority of motorists.
Just buy new
Hopefully this article has opened your eyes to the dangers of using part worn tyres. We strongly discourage their use and would go as far as calling for them sale to be banned. The risks clearly outweigh the potential safety issues.
For such a small saving is it really worth the risk?
For more information on tyre safety check out http://www.tyresafe.org
Your thoughts.
We'd love to hear your thoughts on part worn tyres. Have you suffered at the hands of a tyre failure? Lets here what you think, please leave a comment below.