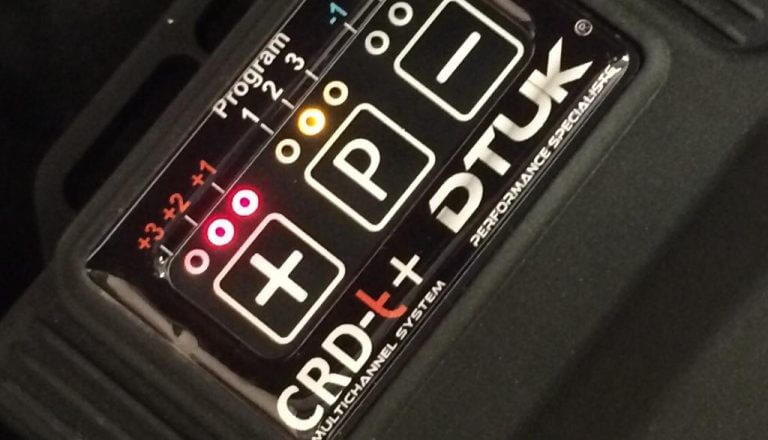 Most of you know that I'm a sucker for a fast estate. The S4 Avant and C63 Estate are still on my bucket list of cars to own before I pop my clogs, I better get saving!
After my C220 AMG became a wee bit too small for the growing family I plucked up the courage to "downgrade" to a Skoda VRS Estate. What a peasant!
The third generation Skoda Octavia VRS 184 TDi (Estate) is a great mix of performance and power with enough boot space to fit pushchairs, dogs and all manner of boring family crap with room to spare. My only niggle with my wagon was the lack of power compared to the "Merc" C220.
The 184 Engine is a great little performer, it's the same engine as the Golf GTD but I felt it was a little lacking and didn't stand up to the Skoda's aggressive angles. 184 BHP might sound like ample power for a car based on the Golf chassis but it really isn't enough for the Czech diesel super combi.
Why shouldnt I remap my Skoda VRS 184
A remap would have been a ideal apart from one BIG issue… warranty. With the car just months old a remap would have invalidated the warranty on my white wagon and contrary to popular belief, remapping back to standard DOES NOT mean its undetectable to Skoda's finest technicians.
When the ECU has been modified / flashed / remapped it will cause whats known as the TD1 flag. This informs a main dealer that a naughty man has flashed the ECU with another tool other than the dealer approved OEM online system. Any claims for blown turbos, borked engines and gearboxes etc.. could (and probably) will be turned away.
Remapped = TD1 Flag.. Goodbye warranty
I therefore opted for a dirty tuning box. Now before you all spit at me in disgust just hear me out. The guys over at DTUK have many many years experience with their tuning box systems, its not simply a resistor in a box. It's a a proven system that's been embraced by the many VAG cars powered by the mighty 184 derv powerplants such as the Seat FR range, GTD and Skoda's VRS Octy.
[ad]
The box itself plugs into the fuel rail, boost sensor and cam sensor. It works by changing the signals to these components, helping increase power and torque. The box itself is adjustable with 3 maps and 3 different power settings. Each map performs slightly different and a little more power can be added using the power settings.
I was originally running map 2+2 which was a nice balance between driveability and power. It gave the VRS that little sting in it's tail that should have been there from the factory.
Performance
Well how does it perform I hear you ask. Figures from DTUK put the power at around 235BHP and 500Nm of twist. That's an increase of 54BHP and 120Nm… niiiice! Those figures mean nothing on paper but on the road the wagon is a different animal. It seems to pull right to the top of the power band much like the TSI engines and greatly improves low end torque, making overtaking a breeze.
As for MPGs… well maybe it helps a little with some extra torque. In fairness I've not seen a difference either way.
What do the buttons do?
On the front of the unit you will see + – and a P button. The P buttons cycle between the 3 different maps and the plus and minus buttons "apparently" alter the power produced by each map (from -3 to +3). Before our unit ours updated with the latest "development" map we ran the unit on 2+2, this proved to be a pretty reliable setting although we did encounter an EWL (engine warning light) a couple of times. This was resolved by switching off the engine, waiting a minute and firing it back up again. We didn't encounter any issues with limp home mode during out time with the initial set of maps.
We kept in touch with the guys from DTUK and were very keen to have their newest development map when it was ready. They were still in the process of tweaking it with their Gold GTD and were already very excited with how it was performing. When it was ready we sent out unit back to have the new maps flashed onto the box and it returned a few days later.
We now run the box on 1+1, this setting really transformed the car. We tried pushing for 1+2 but it actually proved to feel much slower and we experienced a lot of EWL and even limp home issues. Since settling on 1+1 we've not had any issues and it's truly transformed the car.
How do I fit the tuning box?
We're currently putting together a little video of how to fit the unit but please take our word that it's really easy. You'll need a Torx / star bit (I can't remember which size) to remove a bracket near the cam sensor but it really is a 20 minute job at tops if you're working through the fitting instructions. If you do encounter any issue then the boys from DTUK are some of the most helpful people we've dealt with, A* customer service.
Full instructions are provided so rather than me step you through it word for word here are a couple of pages from it to give you an idea how it sits in the engine bay.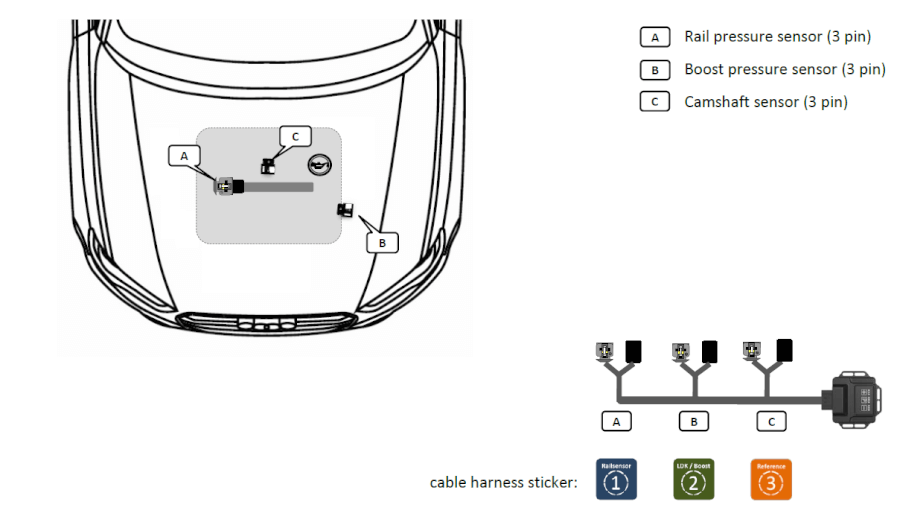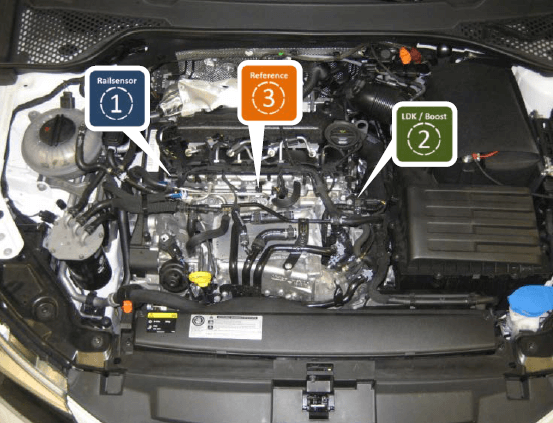 Where can I get a copy of the instruction manual for my DTUK CRD3+ tuning box.
Looking for the instructions that come with the DTUK tuning box? We're nice, so you can down load them using the link below
DTUK CRD3+ Tuning Box Instructions VAG Skoda Seat 184 150
But how fast?!
0-60 times are much better however it can be tricky stopping the front wheels lighting up. As for top end… that's for another video.
Rather than bore you with more tiresome text, below is a video showing the 40-80MPH and 0-100MPH pulls on my favourite private airfield.
If you've had your VRS or 184 TDi tuned using a DTUK tuning box or remap we'd love to hear your experiences so please leave a comment below. You can also check out our other Skoda Articles using the links below