I've been covering the Skoda Octavia MK3 VRS in some detail of late, with our Skoda MK3 VRS buyers guide proving to be very popular. Apart from water pump issues on early cars, the Mk3 VRS seems to have stood the test of time quite well. I've had high hopes for the VRS but I've been keeping my nose to the ground, searching for another common issue. We just might have found it.
The issue at hand is one that I personally have been experiencing with increasing frequency especially now that my 2015 VRS TDI DSG is starting to show its age (nearly 5 years old with 63k on the clock).
This being the error in the maxi dot that displays – Error: workshop! Leave vehicle only when selector lever is in position P.
This error only shows up momentarily but it's quite unsettling and accompanied by a rather disconcerting error tone from the dash.
It's not just the VRS either. Our googling has shown that the issue also affects the Mk7 Golf and countless other models fitted with the latest incarnation of the VW DSG gearbox.
What is the error?
I've have managed to stumble across the error in its raw form from an owner with access to VCDS
617752 - Selector Lever Park Position Lock Switch 
          B1162 29 [024] - Signal Implausible
          Intermittent - Confirmed - Not Tested Since Memory Clear
             Freeze Frame:
                    Fault Status: 00000001
                    Fault Priority: 2
                    Fault Frequency: 3
                    Reset counter: 160
                    Mileage: 29359 km
                    Date: 2017.10.25
                    Time: 11:28:01

                    Operating time: 59302 min
                    Supply voltage: Terminal 30: 14.3 V
                    Vehicle speed: 19 km/h
                    Voltage at switch: 4.98 V
                    Terminal 15 status: active
                    System status: 30
The general consensus is that the entire gear lever assembly will need replacing. It might not be so much of an issue for those under warranty however, it's suggested that the parts alone are £500 with around 4 hours labour. That could be in excess of £1000 to fix could what could be a small microswitch failure in the unit.
[ad]
Can I fix it myself?
Judging that the labour for the selector replacement is around 4 hours of wrenching, we very much doubt that this would be a Saturday afternoon with the spanners. I'm certainly not keen to give this one a go.
What happens if I just ignore it?
Whilst the error tone is annoying the error only displays on the maxi dot for a few seconds at most. It is becoming more of a regular occurrence in my VRS, I'm just hoping that eventually it doesn't fail completely causing either limp home mode or worse.
Will it be fixed under warranty?
Early information suggests that this is the case. We've seen a number of posts on the Skoda VRS owners club facebook group link from owners confirming that dealers are replacing the offending parts under warranty. It's also been stated that some owners with vehicles out of warranty have had to pay labour with the selector being offered "good will" by the manufacturer.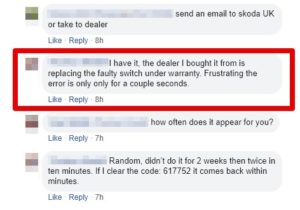 What's next?
It's early days for our investigation and our advice on how best to approach this issue. We'll be reaching out to VW and Skoda but we're also looking for feedback from the VAG community. Please let us know in the comments below if you've had the issue and how your main dealership has gone about fixing it.
Update 22/10/2019
What have Wings Skoda Peterborough Offered?
After a rather long conversation with the service guys over at Wings Skoda Peterborough, I have finally got a figure for the repair. Thankfully Skoda have offered to cover the price of the part as "goodwill", with me having to cover the 3 hours labour, totalling at over £330 of my hard-earned pounds. WTF!
Now I'm in two minds about this. Whilst it's great that Skoda is willing to cover the cost of the parts, I'm still facing a bill for something that I believe should be either recalled or fixed entirely as "goodwill". Is the offer of goodwill admission that this is a known issue? Is this another dieselgate in the making? Frankly, I'm a little pi**ed about the whole situation.
More issues
We've been made aware of more instances of the issues on the Mk3 VRS facebook group (image below). As you'll see from the conversation below, others have been quoted about the £1k mark for the repair with one own told to "not bother out of warranty".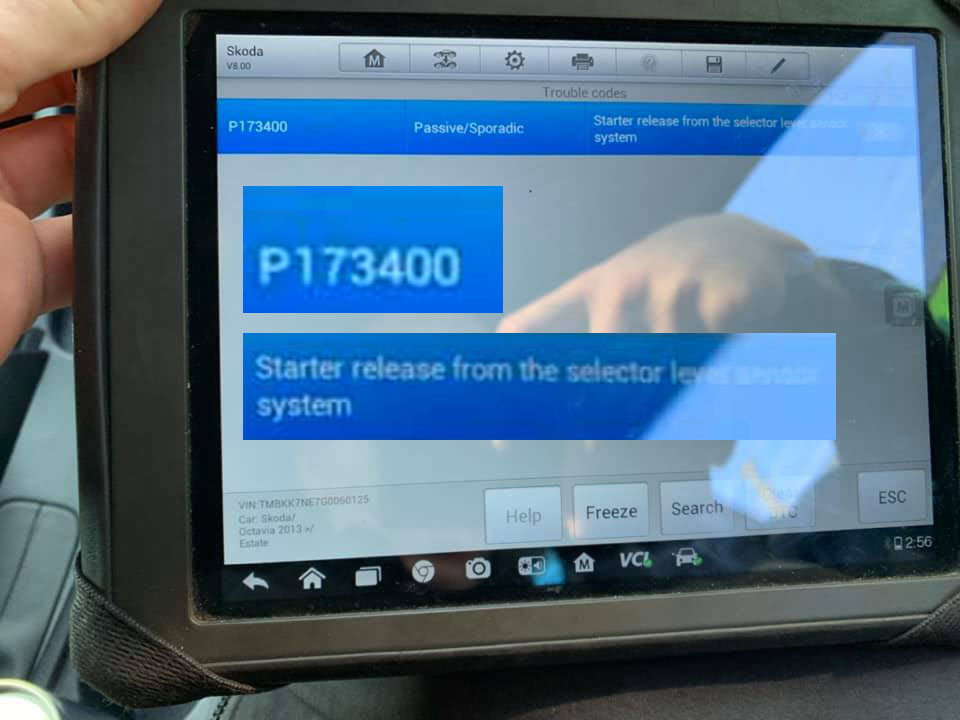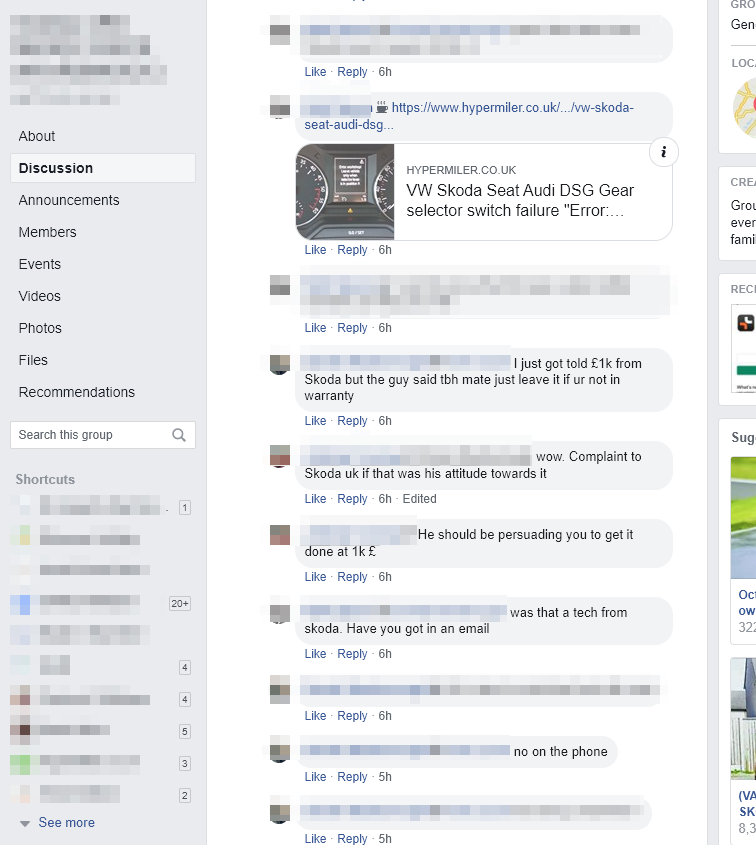 Will I be getting it repaired?
At present, I won't be forking out for the DSG selector repair. It's just too early on and there is a very slim chance that another lucky owner has the entire cost covered by Skoda out of warranty, effectively opening the flood gates for others suffering from the issue.
We'll continue to keep you all posted
Let's hear from you
Like many of our articles, I'm all about crowdsourcing information for the common good. Please do let us know if there is something we have missed or incorrectly stated. I hope that with enough feedback from owners we may be able to pressure the VW group into both acknowledging and recalling the affected vehicles. It's a long shot but worth a shot in my humble opinion.
** Thanks to Darren from the Mk3 Octavia VRS Facebook group for the main image