With prices of the mighty MK3 Octavia VRS becoming more affordable every day, the market for arguably the UK's best value fast family mover has grown exponentially.
From the forecourt, the VRS retails around £26k before you bolt on a load of options however, now that MK3s are approaching 6 years old there are some serious bargains to be had. In fact, a few clicks on Autotrader might just toss up a tidy looking example with less than 70k on the clock for under ten grand. That's a whole lot of car for the money. It also makes me cry a bit inside considering I paid nearly £22k for mine at 3 months old.
Obviously, buying at the bottom of the market has its drawbacks, so we've put together a buyers guide to help you navigate through the used MK3 VRS market.
This article is very much a work in progress. When I bought mine, the MK3 was only in its second year, now with nearly 6 years under its belt, we're finally seeing common issues arise. Please do contribute to this article in the comments below. Tell me what I'm talking utter sh*t about and please do help fill the gaps and add your thoughts.

The MK3 VRS Range
Body
The MK3 VRS comes in two different body types, hatchback and Estate. Personally, I think the estate is one of the best looking wagons on the market today. It's the perfect mix of practicality and sportiness without being over the top. That's why I own one.
Both models benefit from generous leg room and ample luggage space. In fact, the estate can boast a whopping 1740 litres (or 3061 pints! that's a lot of beer). Compared to just 1680 litres in the A6 estate, it's impressive for a car based on the Golf MQB platform.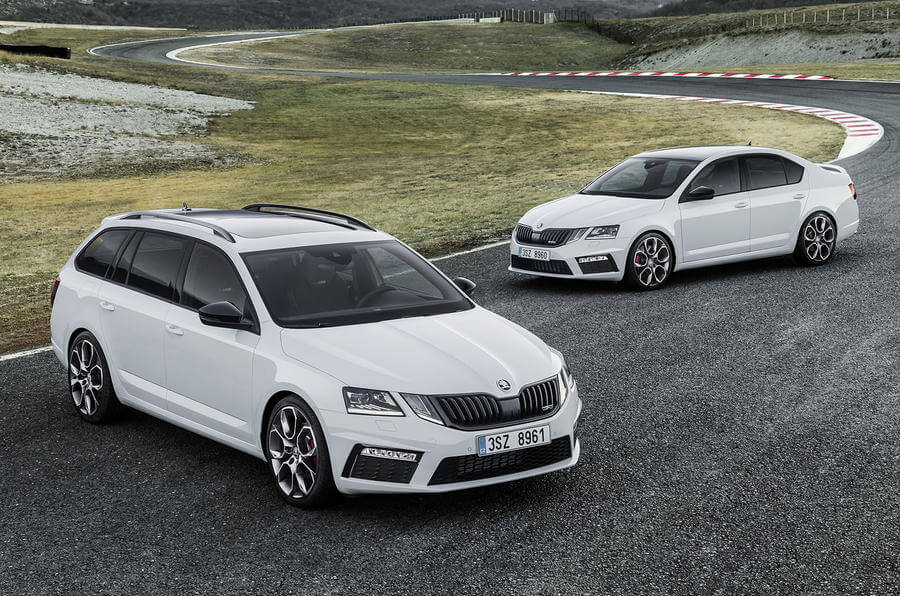 Why that fake Exhaust?!
One of the VRS's many quirks are the exhaust tips. In the petrol version, both exhaust tips are fully functional however in the diesel version it's only the passenger side working. It's a bit of a cop out to be honest, but not a deal breaker. This exhaust-tip-fakery has caused some diesel owners to have a custom exhaust made to make use of both exits. It was suggested that the MY19 TSI petrol cars with the GPF (gasoline petrol filters) would also be sporting a fake exhaust however Skoda thankfully seems to have come to their senses.
Skoda isn't the one manufacturer guilty of this. In fact, I recently spotted a SQ5 with both twin silver fake exhaust exits on the bumper with the actual exhaust pointing down like a traditional diesel car. Pathetic.
Engine & Gearbox
There are two engines to choose from, a 2-litre common rail turbo diesel engine and VW's infamous 2.0 TSI power plant. Both engines are available with both a 6-speed manual and 6/7 speed automatic DSG. The diesel is also available in 4×4 but strangely the TSI has never been available with this drive train, probably to prevent it from embarrassing others in the VAG lineup, such as the Golf GTI.
Diesel
The diesel engine (CUPA EA288) pumps out 184PS (181BHP) and 380 Nm of torque. That's enough for 60 in 8.1 seconds with a top speed of 144mph. Not bad for a car capable of 60MPG if driven very carefully, but you should expect around 45MPG from mixed driving conditions.
The diesel engines (at least in the earlier cars) are somewhat special. Not only are they Euro 6 (not affected by the VW group emissions recall) but they don't have the hassle of AdBlue (PFL anyway). That makes for a pretty sweet combination. We've been made aware that the new MY19 diesels are equipped with AdBlue.
Petrol
The 2.0 TSI (CHHB (EA888-Gen3) engine in the Octavia is available in various states of tune depending on the year, model and face-lift. These range from 220, 230 and 245 BHP and will all see the VRS to 60MPH in less than 7 seconds. They don't have quite as much torque as the diesel (just 320 Nm – in the 220BHP tune) but makes up for it with silky smooth power delivery and a subtle yet purposeful engine note. On a side note – the torque figures stand at 320NM @ 220BHP, 350NM @ 230BHP and 370NM @ 245BHP.
Both the "special edition" 230 models and the new 245 Octavias come with a special e-diff LSD which helps keep things in check when driven "spiritedly".
You should expect around 30MPG if driven carefully. Some owners manage an impressive 50MPG with favourable road / traffic conditions and maybe even a little hypermiling (shameless plug!)
[ad]
Buying a MK3 VRS
Private or Dealer?
The age-old question: private seller or pay a little more and buy from a dealership? In the early days of the MK3 this was a no brainer, even if some dealerships were ****ing useless you still had the Skoda warranty to lean on. Now the VRS is getting on a bit it's not so clear cut. I'd rather by from an enthusiastic private seller who has cared for their car rather than a dog of an ex-lease car which has been abused and put back on sale with the minimal maintenance and care required to slap a for sale sign on.
How to get the best price / Finance
We've had first-hand experience of the very aggressive pricing available on a new VRS. Sites such as Carwow and orangewheels allow dealers to bid on your new car purchases, often resulting in discounts of over £4000. I'd still pop a long to your local dealer armed with these prices and give them a good grilling. If you take their PCP finance packages you could see an amazing £6000 knocked off the price in Skoda and dealership finance contributions, making it cheaper to buy brand new rather than a pre-registered example with a few hundred on the clock. Whichever option you choose, please do your homework, shop about and play dealers off each other. Remember that they will often cut your annual mileage allowance down to the bare minimum leaving you with a huge bill when it comes to having the car back. Remember that the options can add up very quickly so don't get carried away. As an example, we were contacted by someone with details of their finance offer after this article first went live. It goes a little like this
VRS 4×4 TDI Estate – in the second best colour (Meteor Grey)
Dealership and Skoda Contributions: £6500
Customer Deposit: £2500
47 Payments of £359.88
Balloon Payment: £9127
This seems like a pretty decent deal considering it's with a 15000 mile / year allowance.
Thanks to Joe for sending us over these details.
Leasing Deals
Back in 2015 / 2016 lease deals on the diesel VRS were very tempting. Dealerships such as Simpsons Skoda were offering the VRS for less than £200 a month. These days it's a little a lot more expensive but there are still some deals to be had. Dealerships tend to push their PCP deals rather than straight leases in the hope to get you back into another one of their cars when your fixed payment period ends. I'm in two minds about this, especially considering how much I've lost on my already discounted VRS. We managed to dig up the offer details from the Simpsons Skoda Facebook page as you can see. In comparison – they are advertising leases at an eye-watering £289 a month. Ouch!
How did I buy my car
I purchased my VRS from Spirit Skoda daaaaaarn in Essex. It was a 3 month old, service managers car. It was fully loaded apart from the heated screen and pano roof (so not really fully loaded) but the price wasn't to be sniffed at. I paid just over £21k for the car and it was literally brand new – it still had that new car smell of cow skin and plastic… yummy! The same spec off the boat would have been over £30k. Stupidly, I paid in cold hard cash and drove away. Now I'm used to no car payments and struggle to justify paying £300 a month for a new version of something I already have and love. First world problems.
Which options should you choose?
This is mainly down to personal preference but here's my list of the options I would choose if I strolled into my local dealership tomorrow

DSG Dual clutch Autobox – forget the issues experienced with the last generation of the DSG, the box is a corker. With so much torque (helped by the DTUK box) its bloody effortless, leaving you to pick your nose and read the paper in comfort whilst your gear changes happen at the speed of light. You can override the gear selection with the paddles or by tossing the stick to the side and bang it like a rally driver. Annoyingly, it seems that they got the direction wrong when using the stick for the "manual" changes. You're actually better off pulling back on the lever which activates sport mode, making changes even quicker and closer to the red line than is possible in the manual modes. The box also seems to cope with power upgrades from tuning boxes and re-mapping much better. Note that it is torque limited in first and second to protect itself from grenading with all that lovely diesel low end pull.
Heated Screen – I don't have a garage, so a heated screen would be a massive time saver for me. The screen on my Wife's C-Max Titanium fills me with envy when I forget to cover my screen on a frosty night.
Fabric Heated Seats – As much as I like the VRS leather – they are cold in the winter and cause 3rd degree burns in the summer. The new facelift seats seem much better quality than the PFL versions. When the temperature really dives I love a toasty bum so I'd happily spec them again.
Panoramic Roof – This is one option I really regret buying. Yes, that can leak but the differencing inside is like night and day (see what I did there!).
Front sensors – The Octavia is a looooooong old boat. I'm a very careful driver but they are very useful especially when navigating very tight roads and car park spaces.
Canton Speaker upgrade – Coming from a top of the range C-Class I found the Canton system in my new Octavia absolutely abysmal. Now its got a few years under its belt it seems to have loosened a little and I'm pretty happy with it. Compared to the standard speaker setup it's a no brainer but maybe £500 is better spent at an audio specialist? Let us know in the comments below
19″ alloy upgrade – As nice as the Geminis are, the 19″ wheels fill the arches much nicer and give it a much more aggressive profile. I especially liked the finish on the special edition 230 models.
Rubber boot mat When you've got dogs – this is just a must. It's also a great insulator for rear road noise. Just tick the box.
Common problems
Engine & Drive-train
Water pump failure / Coolant loss
I've experienced low coolant on more than one occasion, this could just be due to evaporation or the water fairies however a number of owners have had water pumps fail prematurely.
Error: workshop! Leave vehicle only when selector lever is in position P. – Error 617752
This is a relatively "new issue" for us to add in this section. I've been experiencing this problem with increasing frequency and have dedicated an article about it – please read it for those looking for a DSG VRS -VW Skoda Seat Audi DSG Gear selector switch failure "Error: Workshop!… lever is in position P." Fault 617752
High Oil usage
I've experienced excess oil usage in my diesel VRS a number of times. I haven't had any issues with the DPF or EGR so it seems strange that I would have to put another 3 litres in not that long after my service. Note: Please make sure you use the correct oil in in your diesel VRS. You should use a VW certified 507 00 / 507.00 oil which is low in ash. This helps protect your DPF from premature failure / blockage. More info on which oil can be found here – Skoda VRS diesel oil FAQ
Clutch (manual)
A low number of owners have reported slipping clutches on manual cars with very few miles on the clock. Remapped cars might require an uprated clutch with increased power however, some standard cars suffer at the hands of the factory plates. We've heard of more than one occasion of clutch slippage with cars with less than 20k on the clock.
Excess cranking (Diesel models only)
Many owners have been very vocal about excess cracking when starting their tractor powered VRS. I experienced "cranking" for 20 seconds on more than one occasion. In fact, this isn't just the Octavia, owners of the Golf GTD (with the same engine) also report periodic starting issues. It's more annoying than anything and despite reporting it to my dealer, the claim it's expected behaviour sometimes.
DPF / EGR Issues (Diesel models only)
The DPF systems in the 184 diesel seems to have been engineered very well. The issues we have seen mainly focus on issues with DPF sensors. Obviously, if you're a low mileage driver we'll very much expect the lifespan of the DPF to be shortened, however, so far it seems that the MK3 has escaped many of the DPF issues that many other VW Group cars seem to be plagued with. We've covered the MK3 DPF on greater detail – Skoda Octavia iii 2013 Diesel Particulate Filter DPF – Owner's Manual – Regeneration FAQ. With over 57k on my 184, I've never seen a DPF light in over 3 years of ownership, maybe I'm just lucky. I've used the Vgate iCar OBD2 Bluetooth dongle to connect to a phone running VAG DPF, this shows the level of ash in the DPF, I would highly recommend that you check this before negotiating a deal on a used diesel VRS. Replacement DPFs are NOT covered under warranty. We'll update this article with figures from ours and other cars so you can see what ash loading is acceptable and at what mileage.
DPF Regen (Burning Rubber smell and fans continuing after ignition off)
An issue we've seen raised a lot on the owners club is that many diesel owners experience a burning / rubber smell with the fans continuing after they turn off the ignition. Strangely, it's not anything to do with engine temps, it's the car finishing off a DFP regen which it could not complete during normal driving. I've experienced this first hand and it did seem strange at first but knowing what the car was doing put my mind at rest. Without this process, many owners would experience issues with their DPF which could lead to expensive dealer visits for a forced DPF regen. If it's happening continually and causing battery issues then maybe you might want to consider your driving habits. Maybe diesel isn't suited to you.
You can learn more about DPF regens on our DPF FAQ page
Hub Rust
OK, it's only cosmetic but when you keep your car and wheels clean it can look unsightly. Many owners choose to paint them with Hammerite or similar paint which can withstand the heat and weather. I would also make sure you keep your hub faces greased too – I know the pain of having the wheels stuck on and having a puncture.
High Mileage
We've seen some pretty high mileage VRS cars floating around the owners clubs (and used as Taxis) and to be fair, the car really seems to cope with high miles. It's still early days to see how time combined with high miles really take their toll on the car. Obviously, maintenance is the key.
Boost Sensor Recall
Back in 2015, we were made aware that Skoda recalled a number of diesels in order to replace a faulty boost sensor. Many owners thought that this could be down to the issues surrounding the dieselgate emissions "fix". Fortunately for them, it was confirmed as an issue relating to the "Charge Pressure Transmitter". This issue has been reported by quite a few owners over on Briskoda and caused issues with the car hesitating and burping. It proved very problematic for those running DTUK tuning boxes, most likely due to the way the box intercepts signals to the affected part / system. Strangely, not all vehicles were recalled.
Servicing
As with new cars these days, dealerships do the very minimum with regards to servicing. They still charge you the same but things like air, fuel and oil filters might not "need" changing if the computer says No. This could result in a 3 year old car having never had an oil change, not great news if you're looking to preserve your DPF. Luckily for me, my VRS seems to drink oil in the winter so I know its had at least 7 litres since I've had it. Outside of your warranty, it would justify looking into servicing by one of the great Skoda / VAG independent specialists who really understand and are passionate about your cars maintenance requirements. If you're unsure what maintenance your VRS has enjoyed or you've been screwed over, ask your dealer for a full run down of what has been performed on each of your servicing.
Existing owners will be aware of the annoying service inspection warning which appears from time to time. We had to google the process for resetting it, so we produced an article to help out our fellow owners. For more information check out How to reset the inspection / service warning on the Skoda Octavia Mk3 iii inc VRS
Cambelt
According to the service / workshop manuals found here the drivebelt on both the TSI (camchain) and diesel (cambelt) engines should be replaced at 120,000 km or about 75,000 miles in dust rich countries and 210,000 km or 130,000 mile in places like the UK. This seems a little long tbh and I'll personally be looking to replace the belt and water pump at 5 years (if I still have the car). If you're buying an older car from a dealer I would push for these to be done as part of the deal. I dread to think how much a dealer would charge for this.
Maintenance Schedule
Whilst digging through the workshop manuals as linked above we found this handly excerpt which should clear any confusion about servicing and maintenance. We're not entirely sure that some of the VRS specs are different from the table below – we'd advise on contacting your local Skoda dealer for more info.
Bodywork
Door seals perishing
Some owners have reported that the driver's door seals are prone to failure in early cars. Details are light on the ground however replacement seals are available at your local Skoda dealer. We're sure they command a pretty penny so please do check these if you're looking at an earlier car.
Door drain plugs
Blocking of the door drain plugs isn't an issue we've seen very often however we were shocked to see a couple of owners on the owners facebook group to have the same issues with quite a worrying video to accompany their issues. It's certainly worth checking the drain holes regularly, especially if you park under trees or get your VRS particularly dirty.
Leaking panoramic sunroof
We've seen reports of leaking pano sunroofs a number of times on our travels through the owners club. We're not sure if this is a common issue or how it was fixed. Please do get in touch if you've experienced it.
Interior
Booming / excess road noise
This is the biggest issue I have with my VRS. On smooth roads it's perfect, but show the VRS some rough road, especially at speed and you'll soon know about it. The booming and road noise in the cabin can literally be unbearable. We've seen quite a lot of talk about new boot stops and additional sound deadening but the general conclusion is that it's just down to the design and materials used in the car. These days it's not so much of an issue for me but really did pi55 me off at first, Having a few bits in the boot certainly helps and the rubber boot mat made a big difference but it's still an annoyance, especially if you've had a few shandies the night before. Moving over to a set of Goodyear Eagle F1 A3s certainly helped but didn't cure it.
Creaking B Pillars
This was an issue that prompted me to return my car to the dealers for some investigation. The creaking and popping noises coming from behind the top seatbelt area was something I couldn't deal with. Upton returning the car to Skoda, they claimed that it wasn't an issue they were aware of but it was easily fixed using some felt space pads behind the assembly. This over a year ago now and the noise has not returned.
We're aware that even the Golf experiences this issue so we're not alone.
Seat stitching (fabric)
We can't see any issue with our car but we've seen more than a few reports of poor stitching quality on the fabric seats. Unfortunately, in all cases Skoda dismisses this as "wear and tear" but with less than 40k on the clock it seems a little strange. The leather seats seem to cope quite well but expect some wear marks and issues with age and mileage, especially with the rather curvy bucket seats we know and love.
Windscreen replacement
We have been unlucky enough to have taken a rather big hit to the windscreen that required a replacement. This should have been a simple affair, but due to the incompetence of Windscreens direct, it was fitted incorrectly and required a dealer visit (at their expense). After the screen was fitted correctly it still required another dealer visit for the road camera recalibration which would have cost in excess of £200. It just seemed like a lot of hassle for what should have been a couple of hours job.
Modifications
Remapping
Both the petrol and diesel versions are very lucky to have a wide selection of both aftermarket parts and remapping services available to them. The petrol TSI version can make 300BHP plus with a simple map, with 400+ being made quite easily with some little upgrades. The diesel engines won't quite reach these number without some serious work but you should see in excess of 210BHP with a decent map.
If you are looking to have your car remapped, please choose a reputable company to do it. There are a number of tuners who specialise in VAG car tuning and have a lot of experience with the TSI and diesel engines which are common throughout the Skoda, Audi, Seat and VW group. We've seen a few people shot down over some very strange looking dyno graphs which suggest that they might have chosen the wrong tuner.
TD1 flag
Be aware that if you do opt for a remap and your car is under warranty, playing with the ECU could result in what is called a TD1 flag. This flag is recorded in the brain of the car and could invalidate your warranty should you have to pick up bits of camshaft or clutch from a the grass verge whilst a very nice man tows your car away. This is one of the main reasons I opted for a tuning box.
Tuning Boxes
We had a DTUK tuning box fitted for the last 30k miles. It's not been without its issues – we've had 2 software updates and a whole new unit but overall its been great. We've covered the performance increase capable of these units in the post below. Tuning boxes aren't for everyone but they are a great way of getting some extra performance without the possibility of voiding your warranty. Touch wood, I've been very lucky but time will tell. We'll be covering the performance increases in an upcoming post and video at our local dyno
https://www.hypermiler.co.uk/diesel-tuning/diesel-tuning-skoda-octavia-vrs-184-tdi-dsg-dtuk-box-review-and-0-40-0-100mph-video
Exterior Modifications
There are quite a number of exterior modifications that we've seen. Most commonly these are rear diffuser, front lip spoiler, aftermarket wheels, lowering springs, wheel spacers and the blacked out grill surround. Most owners tend to keep things simple as the standard bumpers and wheels are pretty good, unfortunately, we've seen some less than tasteful modifications including one blue VRS with of hideous pink detailing. I'll get some photos up soon! (update – since this has been such a bone of contention for many owners – we've dedicated a whole page to the Modified MK3 in their very own gallery – click for the Modified Skoda Octavia MK3 VRS Gallery

Re-coding (VCDS & obdeleven)
Some of the options available when buying new are simply a bunch on 1's and 0's in the ECU. Options such as corning fogs, dimmed lights on indicators, traffic signal recognition (for those with the lane camera) can be enabled easily (if you know what you're doing. Not wanting to brick my car as I did with a modified PSP back in the day, I'd leave this for the experts and suggest reaching out to one of the kind follow owners on the Briskoda forum or one of the VRS facebook groups. We've tried to dig out a definitive list of must-have modifications you can make with VCDS so please do let us know in the comments below.
Wheels
As standard the VRS can come with a number of wheel options in both 18 and 19 inch flavors. Owners with larger wheels often complain that this amplifies road noise, with only the 18s on my wagon, I couldn't comment on this. If you're looking for new wheels the offset and size depend entirely on the look / stance you want to achieve. The only real constant is that the bolt pattern which is 5×112.
With regards to the offset. as standard, they are 7.5Jx18 ET51 on 18s and 7.5Jx19 ET51 on 19s. A little digging has revealed that some owners pushed up to a 19×9 et41 225/35 and required a little camber to prevent rubbing. Thats little too close for my liking, I've spent enough on tyres to risk damaging sidewalls with some spirited driving on the UK's crumbling roads.
Wheel spacers
If you're keeping the factory wheels, spacers are a common modification to pull the wheels out of the Octy's huge arches. A 15mm increase in the front and 20mm in the back are an ideal option to stop the wheels been swallowed (especially in the rear). Combined with a little drop, it really gives the car a more purposeful stance. Just make sure they are hubcentric.
Suspension
The VRS is a little too high from the factory if you ask me and sits very nicely with a 30/40mm drop all around. H&R seems to be the springs of choice and totally transforms the look of the car without making it look slammed. However, if you require more of a slammed look, a number of owners have fitted air ride suspension which yields impressive drops. As above, if you're going to lower your VRS, get some spacers on there too!
The marmite front end Facelift
2017 saw a facelift Mk3 and some changes made to the front end. It saw an end to the one piece headlight in favour of a two-piece unit. We're on the fence about this update, not only did it split the lights rather awkwardly, it saw the telltale MK3 DRL butchered too. The look is growing on me but I still prefer the PFL look at least in the front anyway. Improvements to the interior saw more ambient light options together with new look seats and updated entertainment system options.
Changes were pretty minor but helped keep the interior looking fresh. Personally, I still prefer the PFL in every way – argue your case below!

MY19 Changes (The last Octavia VRS?!)
The MY19 (model year 2019) saw a number of small changes to the VRS. Rather than repeat them, please see our post below covering what Skoda did with the latest incarnation of the VRS.
Leaked internal Skoda document shows Octavia VRS MY19 changes DPF & OPF
Final Thoughts
In the last 12 years, I've been through more than 12 cars, the exception being my 2015 diesel VRS DSG estate which has adorned our drive for the last 3 years. It's nearly the perfect car for what our family needs. It's big enough for 4, has a boot capable of swallowing even the biggest loads and is interesting enough to still have me looking back at it in the car park.
When I finally do part with it, I'll be very tempted with a TSI VRS estate so I can continue to enjoy the all-round practicality of the VRS but with a bit more poke and some nice turbo noises.
But wait… now there is a MK4!
We know how much you like buyers guides for the Octavia so we've already put together what could well be the world's first Skoda Octavia 2020 MK4 buyers guide. Check it out!
Let's hear from you
If I've got something wrong, missed some vital information or you'd like to contribute to this article in any way please do leave a comment below. Despite my best efforts, I'm not perfect so please do point out any mistakes or sh*t that I might be talking.
We'll keep this updated as much as possible with fresh info from Briskoda and the Octavia Facebook groups, so please do check back for any new juicy info.
Read More
We've covered lots of topics able arguably one of the best family performance cars out there. Be sure to check out the following articles
Octavia MK3 Resources
So, you've exhausted all our AMAZING MK3 VRS articles and you're still wanting more. Check out the website below for more MK3 lovelyness