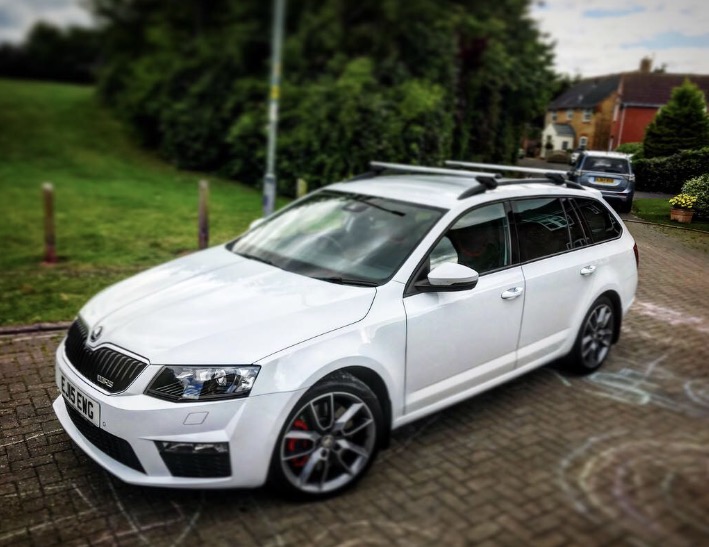 When looking for some roof bars for my 2105 Octavia VRS Estate, I was immediately drawn to the Thule products. Yes they look great and come highly recommended but I found it very hard to justify three figures for something I'll use once in a blue moon.
After some research on the Briskoda Skoda owners forum I was pointed in the direction of the XtremeAuto / Maypole / Universal Roof Bars available from Amazon.
These aluminium bars look every bit as good as those from Thule but with one major difference… Price. You can pick up a pair of these for just £39.95 with free delivery if you have prime. Click here for Amazon prime if you don't have it – you need it in your life.
With such a low price it doesn't matter if they are stashed away in the garage or shed for months or years at a time only be be used for the off tip run or like me to carry a 30 year old canoe to some smelly river in rural Rutland. Unlike many people who opt for the Thule bar I don't feel pressured to have them attached 24/7 365 to justify the huge outlay.
With these bars being so cheap they certainly don't feel like an inferior product in any way. They come well packaged and and include comprehensive instructions for piece of mind. Read on our our full review.
Fitting
Fitting these roof bars couldn't be easier. Using the supplied allen key you simply turn to release the clamp from the out side. This allows you to slide the clamp arms over the roof rails. Once they are in position you simply tighten them back up again. Don't be tempted to over tighten them and also ensure the rubber pads are in place to prevent scratching your rails. They are rated to 60KG – or in other words 4 adult mountain bikes, 1 Rihanna or 86 Ipads.
Be sure to measure the gap between the rails front to ensure they are parallel – as you'll see in the picture below.
Top tip: Don't tighten either side until you are happy that you have the same overhang on either side. Tightening the bars stops you from moving the cross bars easily.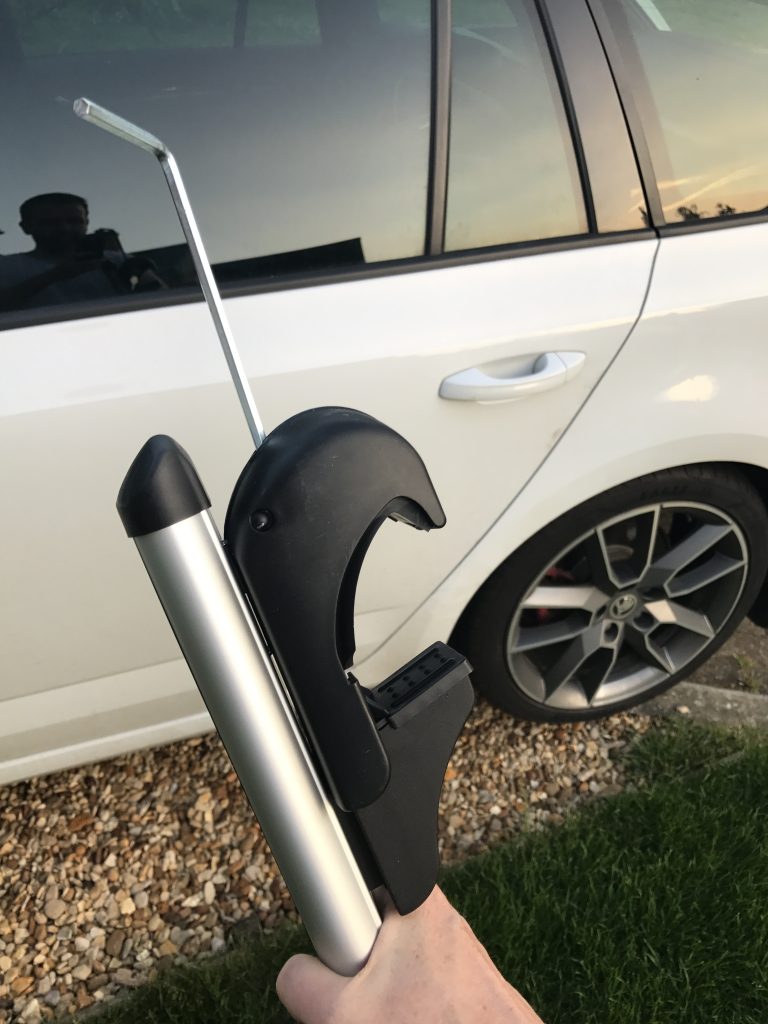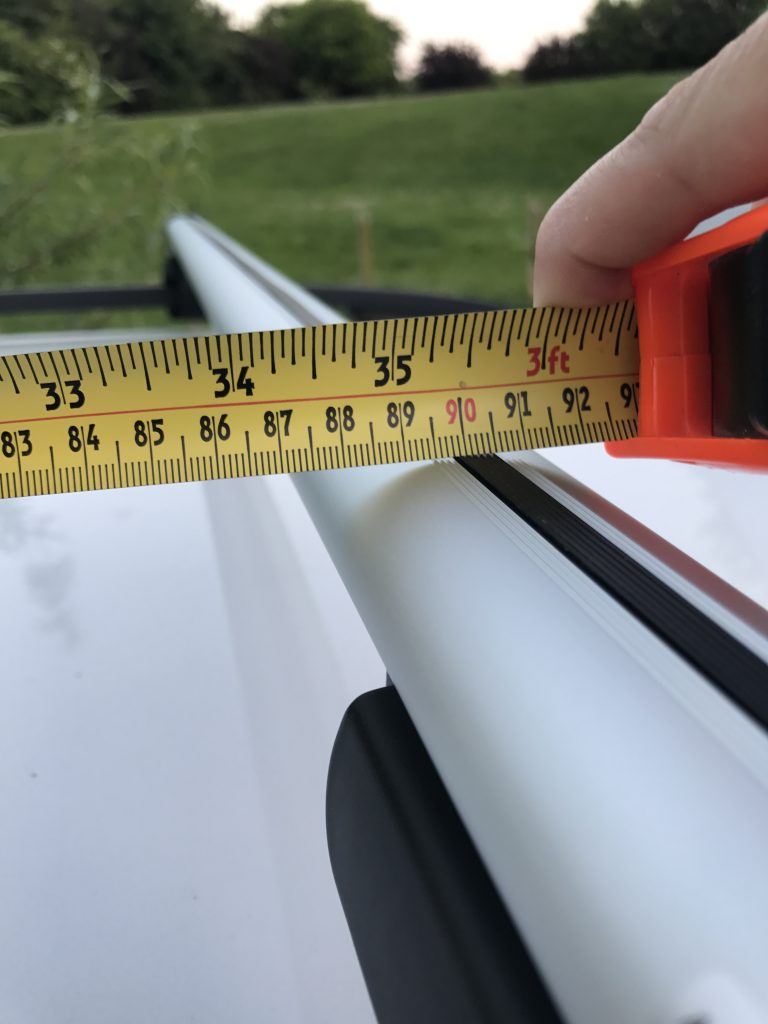 Instructions: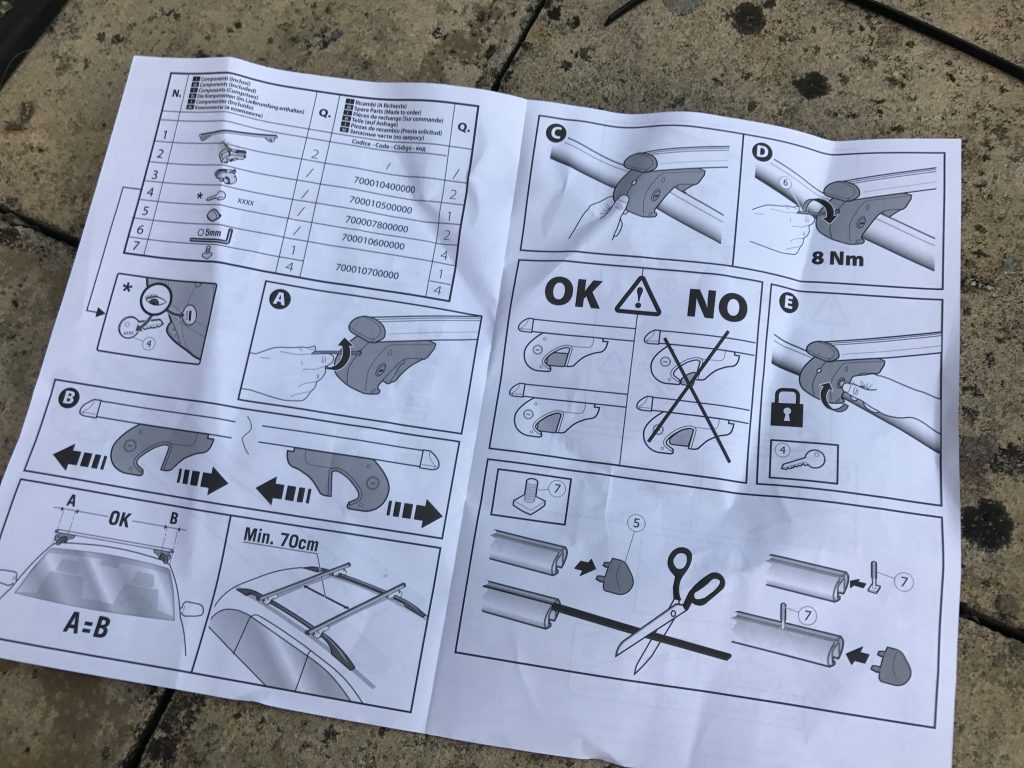 Whats in the box?!: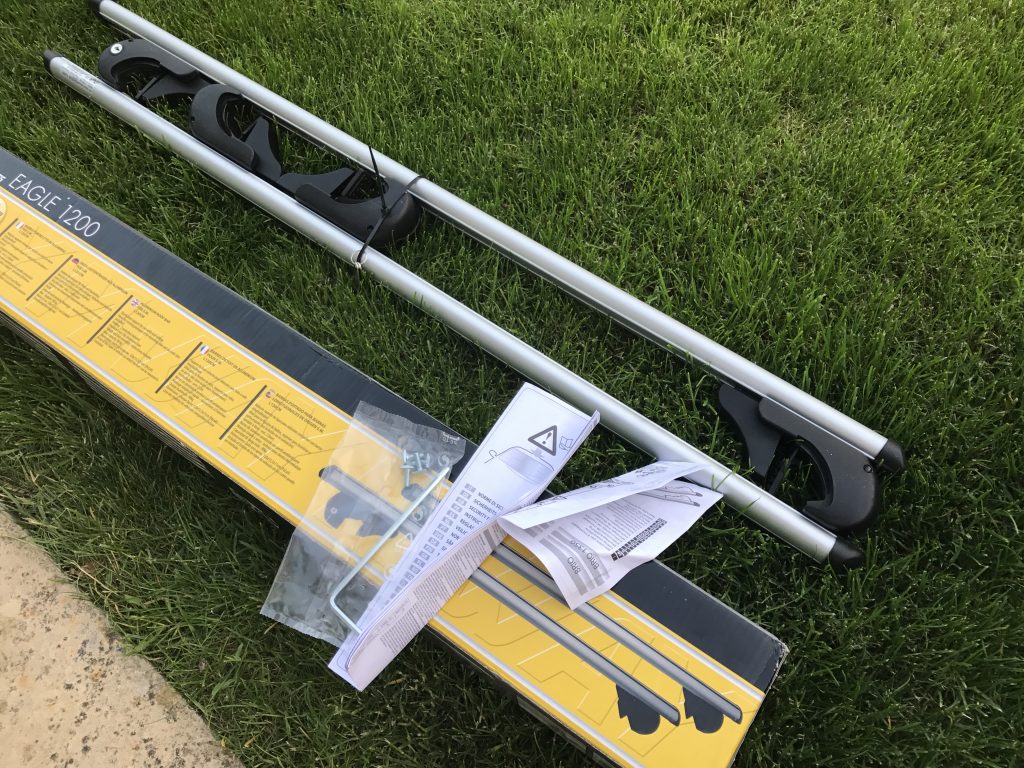 Security
These rails feature a locking system to prevent them from being stolen easily. The key blanks off the hole for the allen key preventing the clamps from being loosened and the bars removed. Just make sure you keep a spare key at home and one on your car keys in case you have to adjust them for a specific load. I'm sure these keys are generic but it would certainly deter an opportunist thief from nabbing them.
Style
Personally I love the look of these bars. They are well finished, ergonomic and certainly don't look like you've got some budget bars strapped to your wagon. OK, they don't have the Thule logo embossed on the side but on the other hand they aren't some one inch box section clamped to your rails. These bars don't overhang too much either but still offer a nice wide load area.
For less than £40, they are a bargain!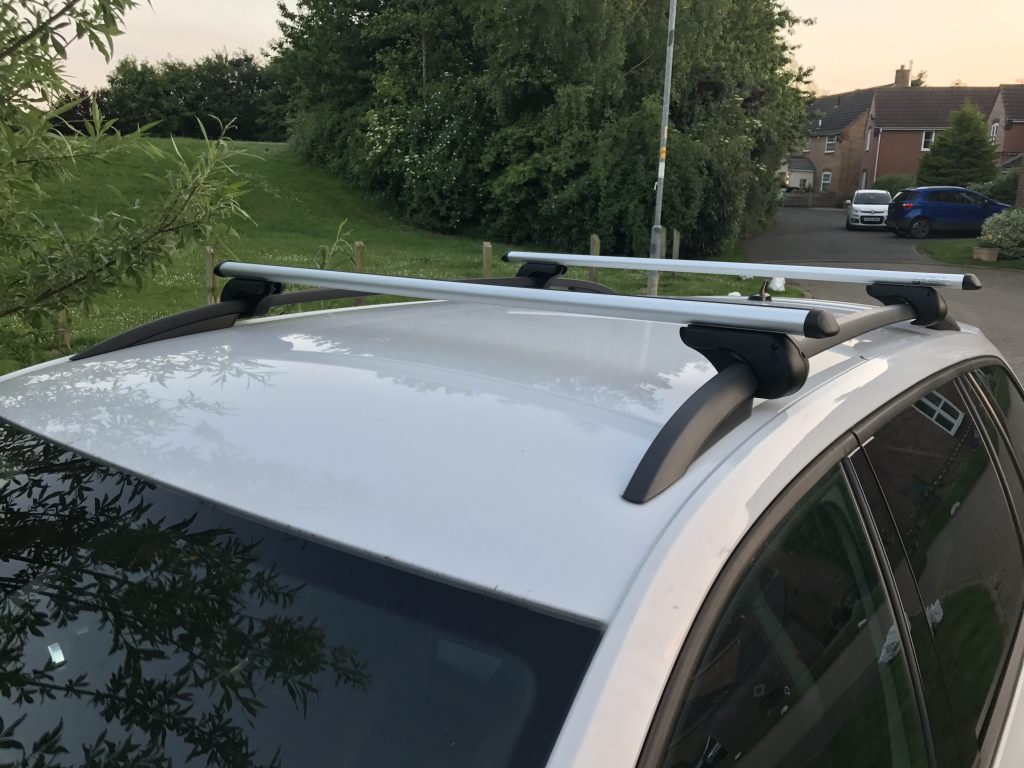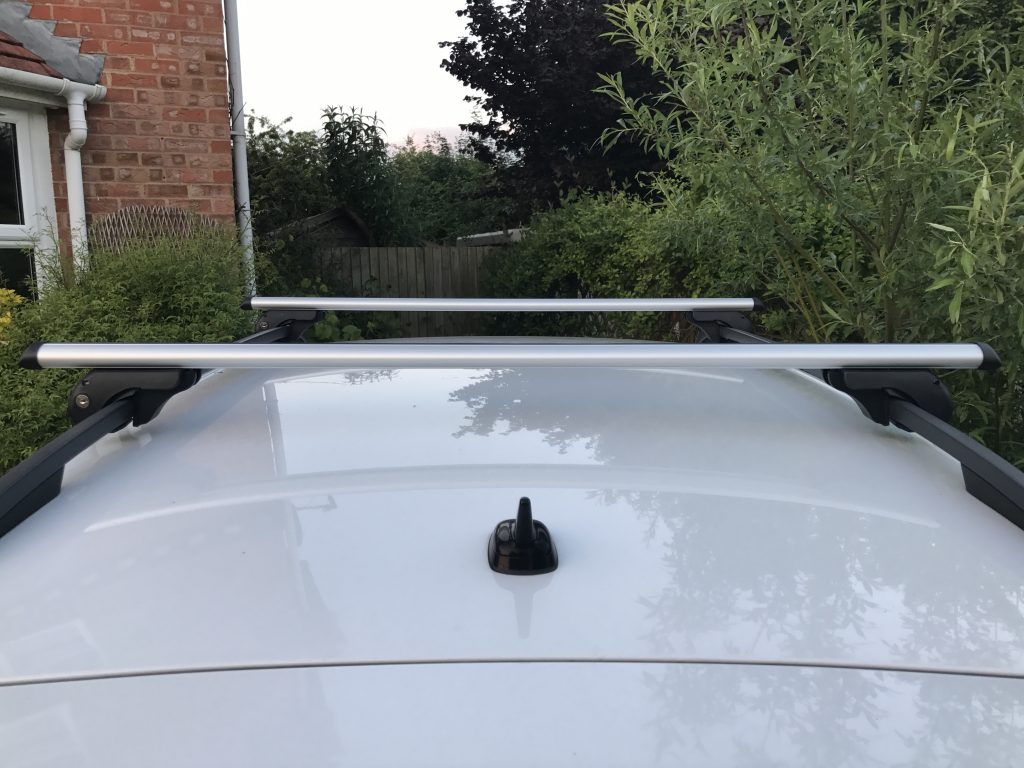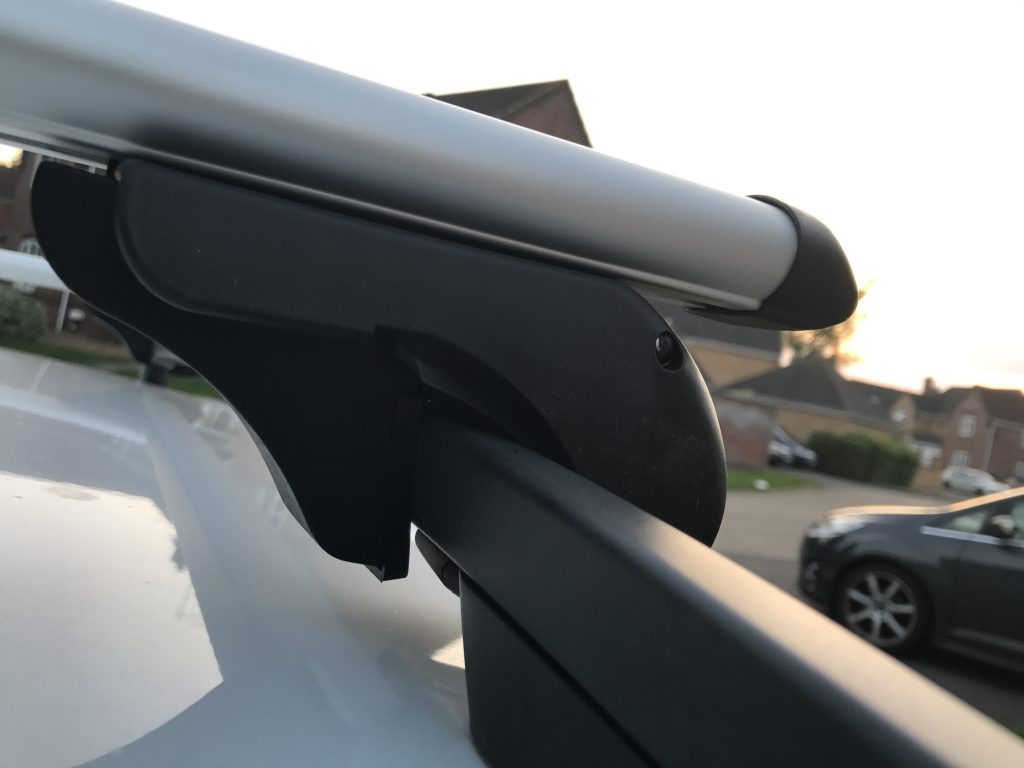 Wind noise
As you would expect, having any sort of obstruction above the roof line of any car is going to create a bit of noise. Below 30MPH they go pretty much unnoticed but at around 50-60 MPG they whistle a little. Over and above that they seem to either quieten down or are drowned out by the common Octavia issue of horrendous road noise. At no point have I ever found the noise intrusive or annoying – just turn that Canton Skoda system up!
Our Verdict
For less then £40, I can't fault these bars. They look good, fit well and are aerodynamic enough to keep wind noise to a minimum. Remember that these bars are universal and will fit to most vehicles with an open rail style rack bar – combined with Amazon's excellent returns policy, they are a no brainier. If you're looking for some stylish bars that don't break the bank then look no further.
If you've got any questions about these bars or have them on your wagon then please let us know in the comments below. As usual please share and support our advert sponsors.
Buy these bars on Amazon
Click here to buy the exact roof bars I have on my Mk3 Octavia Estate / Combi or check out the products below. Note that the ones fitted to my VRS Estate are the 1.2M ones. Please make sure you order the correct ones.
Price

Packaging

Wind Noise

Security

Overall Value for Money
Summary
Forget the price tag. The bars are the perfect solution for estate car owners who don't want to spend a fortune on premium bars that end up in the shed for 99% of their life. Highly recommended.