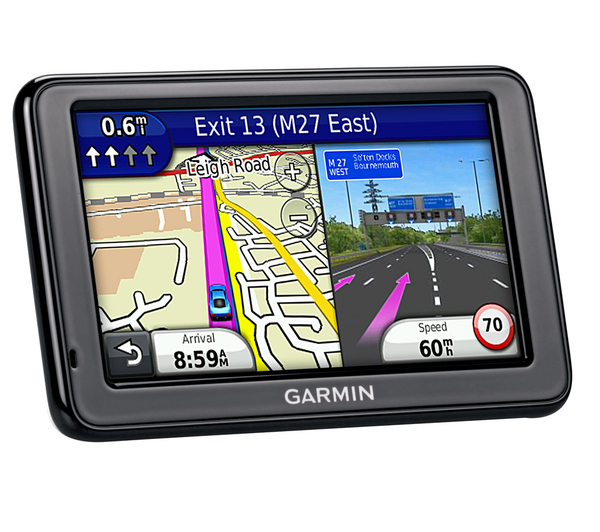 Garmin's nüvi 2455 is part of their advanced sat nav range which offers what they call "sophisticated features ideal for every-day use". To me and you that means nothing until you get the unit mounted on the inside of your screen and have faith that the unit will deliver you to your destination in one piece.
Having owned my Nissan Qashqai with their acclaimed DVD Sat nav option, I was very interested to see how the unit shaped up against the OEM alternative that I've been enjoying for the last 6 months without issue. Obviously the unit in my car is fast approaching 5 years old so I was expecting to see a few more options and features than my ageing SUV could offer.
First impressions upon the grand unboxing were very positive. The unit is solid and well made, it certainly feels a step up from the TOMTOM GO device that's currently gathering dust in my office. It's not too thin to feel fragile and most importantly the windscreen bracket is very solid and secures the unit firmly.
After the initial setup and a charge it was time to pop the unit into the car for it's maiden voyage on a 45 mile round trip to the delights of Peterborough's Queens Gate shopping centre. With the factory OEM and Garmin units side my side it was very noticeable that the screen, (although a little smaller on the Garmin unit) had very vibrant colours which makes it very easy to check at a glance. A stand out feature for me was the junction and lane guidance information which made the A1 exit into Peterborough a breeze, very helpful for those not familiar with the lane and junction layouts on their route.
The menu system is a breeze and certainly takes the stress from entering an address. Using my Nissan unit requires the use of the jog wheel thus does not have a touch screen, this can be infuriating at times. The Garmin's screen can be positioned vertically or horizontally and is responsive without being annoying over sensitive. The Garmin's navigation is slick and makes programming the destination a non event.
With the initial test complete, I was keen to give the unit the ultimate test by handing it to my wife without any instruction or technical assistance. Amazingly she managed to setup the guidance too and from Hammerton Zoo without issue or stress. She too thought the lane guidance and junction view features were particularly helpful feature in helping her deal with her journey.
Another feature that stood out for me was what Garmin call ecoRoute. This finds the most fuel-efficient route to a destination. The feature can track track fuel usage and calculates the cost of a journey as well as enabling accurate expense reporting. Even with the my units side my side the ecoRoute feature displayed the same routes for all my journeys however this could be down to the limited places I visit combined with the lack of alternative routes. I'd like to think that will a little more time and some additional travels under my belt, I might be able to report back with first hand knowledge of this feature but at present you'll just have to take Garmin's word for it. As my fellow hypermilers will know, the shortest or fastest route may not always be the most fuel efficient.
Of course going from an ageing OEM sat nav system to the current crop of sat nav units was going to show how things had moved on. However Garmin seemed to have excelled in making the nüvi 2455 very user friendly even for the likes of my dear wife who struggles with setting a preset on her car radio.
Overall I was very impressed with the Garmin nüvi 2455, for a penny shy of £120 we think its great value for money and with free map updates for life it would make a great dashboard companion.
For those looking for a little more detailed info on the 2455 see below or checkout the Garmin website.
Features include:
View routes on the 4.3″ (10.92 cm) touch screen.
Know which lane to be in thanks to advanced lane guidance with exclusive photoReal junction view.
Use in portrait or landscape mode.
See what's coming with Enhanced Exit Services.
Get fast route calculations and address look ups with Garmin Guidance 2.0.
Avoid toll roads, motorways and more with the in-built Route Avoidances.
Use the Garmin Garage to download Vehicles and Voices to your device.
Know where you left your car with the Garmin Locate feature, the device will mark your position when removed from the mount.
The Garmin nüvi 2455 was kindly provided by the RAC Shop. The RAC offer everything from great value car breakdown cover, insurance and motoring accessories via their online shop.
Competition time!
Since we don't have to give the unit back we are going to give the unit away to one lucky reader. For your chance to win simply Tweet "Garmin Sat Nav Competition @Hypermiler_MPG @RAC_Breakdown", alternatively you can like our facebook page and comment on the competition post with "Garmin Sat Nav Competition RAC Breakdown"
Entries will close on April 1st 2013, the lucky winner will we contacted with details on how they can claim their prize.