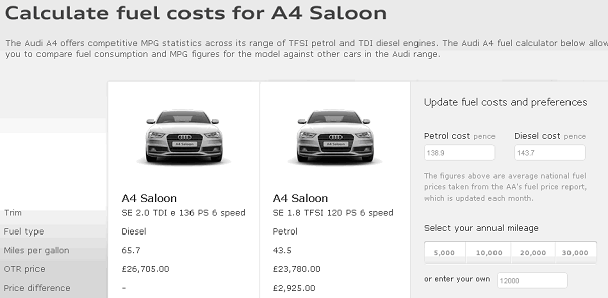 We've said it before and we'll say it again, its not always cheaper to buy a diesel. Working out your running costs for your new purchase can be tricky for those without a mind for maths, so luckily Audi will gladly do the sums for you.
Audi's new online fuel calculator lets you filter cars by fuel type, desired model and mileage. It even allows you to specify the term and also the type of driving conditions, all in an easily understandable way that even lets you compare two models side by side.
We've put their system to the test and come out with some surprising results for the diesel lovers and haters among you.
[ad]
An Audi A4 Saloon SE 1.8 TFSI 120 PS 6 speed will set you back £23,780.00 retail, with an average mileage of 12,000 you'll need an additional £5,230.30 for 3 years of fuel.
Now lets opt for the same SE diesel model, SE 2.0 TDI e 136 PS 6 speed costing an extra £2,925. The "fuel sipping" diesel will save you £1,647.65 over the 3 year term however, this is way short of the extra you pay for the car compared to the petrol model. In fact you'll need to wait just over 5 years to recoup the savings from the extra MPG you'll manage from the TDi.
We applaud Audi for giving customers this level of transparency which will allow them to make an informed decision of which model and engine is right for them. With all the huge leaps forward in the efficiency of petrol engines, we hope that it makes car buyers aware that you really do need to do your sums before handing over the cash for your new car, diesel just isn't always the best option.