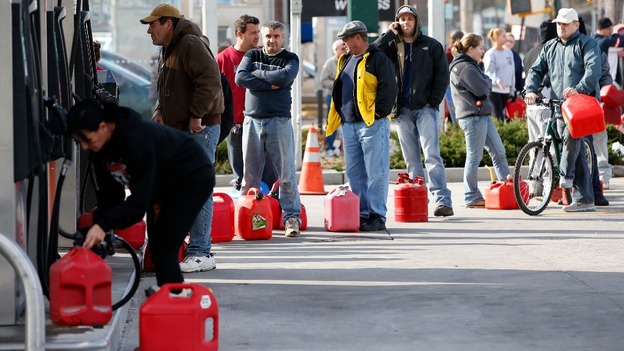 The effects of Hurricane Sandy are likely to last a lifetime for many people on the East coast of the UK, but at least motorists in New York will see an end to the fuel rationing bought on by the "Super Storm" tomorrow.
Fuel rationing was introduced due to the damaged caused by Sandy to the north east region's petroleum infrastructure. It was hoped to help ease long waits at the pumps and prevent panic-buying. It was introduced in New York city and Long Island on the 8th of November.
Unlike the fuel ration books used in war time England, the system works by restricting drivers with license plates ending in odd numbers to fill up on odd-numbered days, while those with license plates ending in even numbers are restricted to buying gas on even-numbered days. There are a number of vehicles that have been exempt from the rationing such as taxi's and medical emergency vehicles.
[ad]
Ney York Mayor, Michael Bloomberg said, "'Last week's storm hit the fuel network hard and knocked out critical infrastructure needed to distribute gasoline. Even as the region's petroleum infrastructure slowly returns to normal, the gasoline supply remains a real problem for thousands of New York drivers."
Fuel or "Gas" rationing hasn't been seen in NY since the Arab oil embargo of 1973 and it's hoped that fuel supplies and demand return to normal in the coming days.
If you are one of our many visitors from the US who has effected by Sandy and it's effect on fuel supply and transportation then please get in touch using the comment box below.