** Updated!**
Things don't hang about here. We contacted Paul E who kickstarted this article and he's provided us with an updated service information document from Hyundai. It provides "more precise" information on the driving conditions required for GPF regeneration. Please see the updated details below
The push from diesel to petrol and electric / hybrid seems to be accelerating and for those that thought they were leaving behind the pain of diesel particulate filter issues, we're now back in the hot seat with GPFs.
We're always keen to hear from our readers and following a comment from a frustrated owner about his Hyundai Tuscon Gasoline Particulate filter issues we put together this guide / FAQ on how to perform a GPF regen and hopefully get you back on the road.
What is the GPF dash error light / display message?
The dash light indicating an error is shown in the Hyundai owner's manual as below. * If you have a photo of your GPF light displayed on your dash then we would love to include it in this article. Please get in touch.

What is a GPF / Gasoline Particulate filter
A GPF (Gasoline Particulate Filter) is an inline exhaust filter designed to capture soot particulates in direct injection petrol engines (GDI). Much like a DPF, it comprises of a honeycomb-like filter structure made from synthetic ceramic material.
As exhaust gases pass through the filter, soot particles are captured. These filters are highly efficient, capturing in excess of 90% of airborne particulates which would otherwise be released into the atmosphere.
You can read more about GPF filters in our FAQ here – THE GASOLINE PARTICULATE FILTER FAQ
How to perform a GPF regeneration in your Hyundai Tuscon – Updated 1/2023
Service Information Issue Number HSE22-13-C020 – Emission Control System 13 – Issue date 7/4/22 (Manual update)
Model: Tuscon (NX4e) with Gamma 2 engine
Instructions
Changes:
Modification of instruction in Owner's manual with more precise information about driving condition for GPF regeneration to prevent customer misunderstanding
New Instruction:
When the GPF warning light illuminate, please perform the following driving pattern to activate the GPF driving regeneration. (Speed >80km/h (50 mph), 3rd or higher gear with engine rpm between 2500-4000 rpm)
Drive over 80km/h (50mph) in 3rd gear Accelerate up to 4000 rpm, release acceleration pedal, wait 5 sec and accelerate again to 4000 rpm.
Continuously repeat this process until the GPF warning lamp will switch off.
In case of DCT (dual-clutch transmission) is necessary you switch to SPORT mode and change gear manually to 3rd or higher gear then follow mentioned procedure.
In case you drive over 30min / or the GPF Warning starts blinking (at this time LCD warning message will be displayed, we recommend you, to let the GPF system be checked by an authorized workshop
Notes from Hypermiler.
As you may know, GPF regeneration is performed on deceleration so the updated process contained in the updated service information is expected. We welcome updated service information releases like this from dealers to help clarify how to perform filter regenerations. If only all manufacturers were so forthcoming.
Previous GPF instructions (as per current manual)
In order to perform a GPF regeneration in your Hyundai Tuscon follow the steps below as per the owner's manual.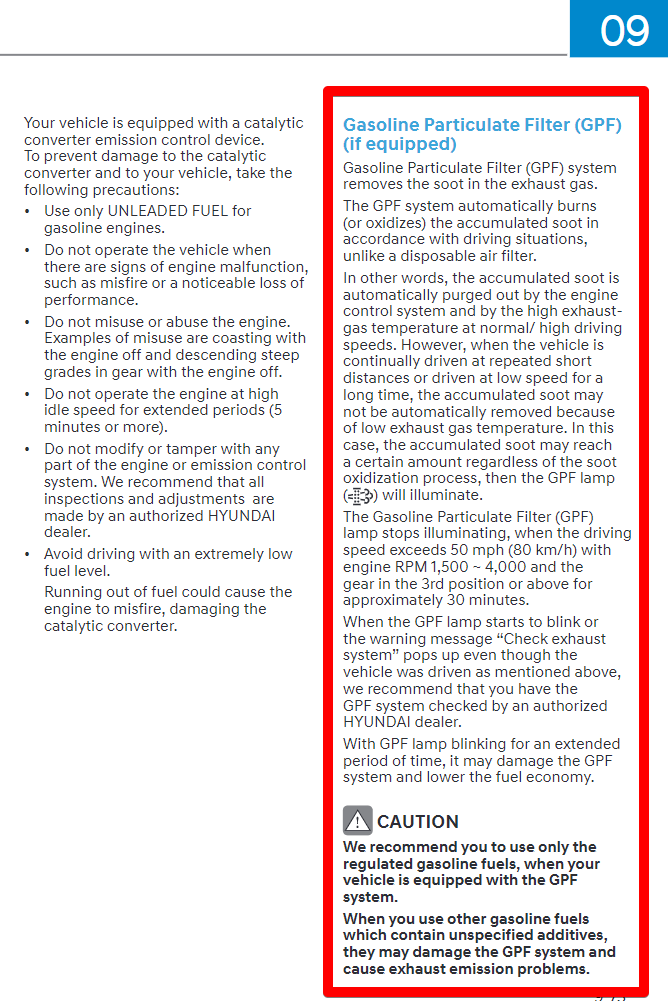 Gasoline Particulate Filter (GPF) (if equipped)
Gasoline Particulate Filter (GPF) system removes the soot in the exhaust gas.
The GPF system automatically burns (or oxidizes) the accumulated soot in accordance with driving situations, unlike a disposable air filter.
In other words, the accumulated soot is automatically purged out by the engine control system and by the high exhaust-gas temperature at normal/ high driving speeds. However, when the vehicle is continually driven at repeated short distances or driven at low speed for a long time, the accumulated soot may not be automatically removed because of low exhaust gas temperature. In this case, the accumulated soot may reach a certain amount regardless of the soot oxidization process, then the GPF lamp will illuminate.
The Gasoline Particulate Filter (GPF) lamp stops illuminating, when the driving speed exceeds 50 mph (80 km/h) with engine RPM 1,500 ~ 4,000 and the gear in the 3rd position or above for approximately 30 minutes.
When the GPF lamp starts to blink or the warning message "Check exhaust system" pops up even though the vehicle was driven as mentioned above, we recommend that you have the GPF system checked by an authorized HYUNDAI dealer.
With GPF lamp blinking for an extended period of time, it may damage the GPF system and lower the fuel economy.
CAUTION
We recommend you to use only the regulated gasoline fuels, when your vehicle is equipped with the GPF system.
When you use other gasoline fuels which contain unspecified additives, they may damage the GPF system and cause exhaust emission problems.
Does the Hyundai Tuscon hybrid have a GPF filter?
From what we know, yes the hybrid version of the Hyundai Tuscon does have a GPF.
Will the GPF Gasoline Particulate filter be covered by Hyundai warranty?
Like DPF filters, most if not all manufacturers class these as "consumable" items and therefore are not covered under warranty. With these filters costing upwards of £1000, it's very important that you look after them and maintain your Tuscon.
Do fuel additives help keep the GPF filter clean and stop it from blocking?
The jury is still out on GPF cleaners but a number of them have popped up recently claiming to help keep filters clean. It's still too early to tell if these additives work but we'd love to hear from you if you've used one.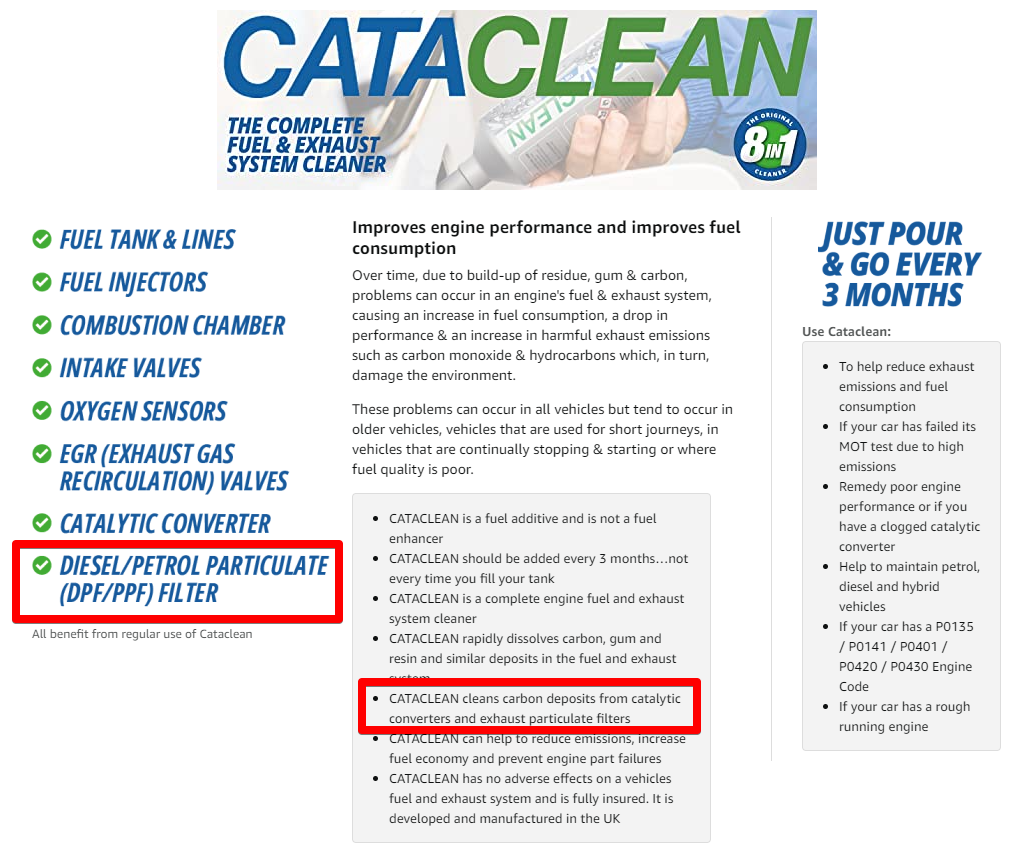 What is a GPF Regeneration
A GPF regeneration can only be performed in "non-power" conditions. This means GPF regeneration is normally achieved under deceleration. This increases the amount of oxygen following through the engine and exhaust system. This in turn raises the temperature of the GPF to around 400c – 700c, igniting the soot contained within the filter. When it is not possible, the vehicles engine management system alters timing causing it to run lean. This "lean" burn increases oxygen and therefore GPF operating temperatures, allowing a regeneration to occur.
We need your help!
We hope you find this article useful in resolving the issues with your Hyundai Tuscon GPF filter. Please do let us know if the regeneration steps above helped you and any details you can give about your GPF issues in the comments below. It will help us expand this article and make it more useful for your fellow Hyundai Tuscon owners.
Useful links & Thanks
Thanks to Paul E and IngerzSH