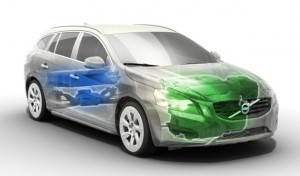 Volvo has released more details of its V60 Plug-in Hybrid that will be unveiled at the 2011 Geneva Motor Show next week.
The Volvo V60 Plug-in Hybrid, developed in partnership with Swedish utility company Vattenfall, which will be launched on the market in 2012.
The 2012 Volvo V60 Plug-in Hybrid promises a fuel economy of 1.9 L/100 km (123.8 mpg US or 149 mpg Imperial) with carbon dioxide emissions below 50 g/km.
Volvo says the car can be driven on diesel power alone, as a diesel-electric hybrid, or as an electric-only car – technology that no other manufacturer can currently offer.
The V60 Plug-in Hybrid features a five-cylinder 2.4-liter D5 turbodiesel, which produces 215 horsepower and maximum torque of 440 Nm. The turbodiesel drives the front axle, while the rear axle has ERAD (Electric Rear Axle Drive) in the form of an electric motor producing 70 horsepower, which receives its power from a 12 kWh lithium-ion battery pack. The car features a six-speed automatic transmission.
Continue reading to read more and watch the video
The Volvo V60 Plug-in Hybrid has three main modes of operation: hybrid, pure-electric, and power. The modes are selected by pressing the respective selection button on the car's center console.
In Pure the car runs only on its electric motor as much as possible. If the battery has been recharged using electricity from a renewable source, the driving range is up to 50 km (32 miles) with zero emissions of carbon dioxide. Battery range varies with terrain, climate and driving style.
Hybrid is the default mode whenever the car is started. The diesel engine and electric motor interact to provide the optimal balance between driving pleasure and low environmental impact. Emissions of CO2 (EU Combined) are 49 g/km, corresponding to diesel fuel consumption of 1.9 l/100 km.
In Power the technology is optimized to give the car the best possible performance. The diesel engine and electric motor have a combined power output 215 + 70 horsepower and maximum torque of 440 + 200 Nm. The electric motor's lightning-quick torque delivery contributes to the car's 0 to 100 km/h acceleration time of 6.9 seconds.
Volvo claims the car has an overall range of up to 1200 km (750 miles), a top speed of 200 km/h or 125mph (100 km/h or 62mph in all-electric mode) and will cover the 0-100km/h (0-62mph) dash in 6.9 seconds.
The V60 Plug-in Hybrid will recharge using a Level 2 240V, 16A charger in less than 4 hours.
The Volvo V60 Plug-in Hybrid will be revealed at a press conference at the 2011 Geneva Motor Show on March 1st 2011.