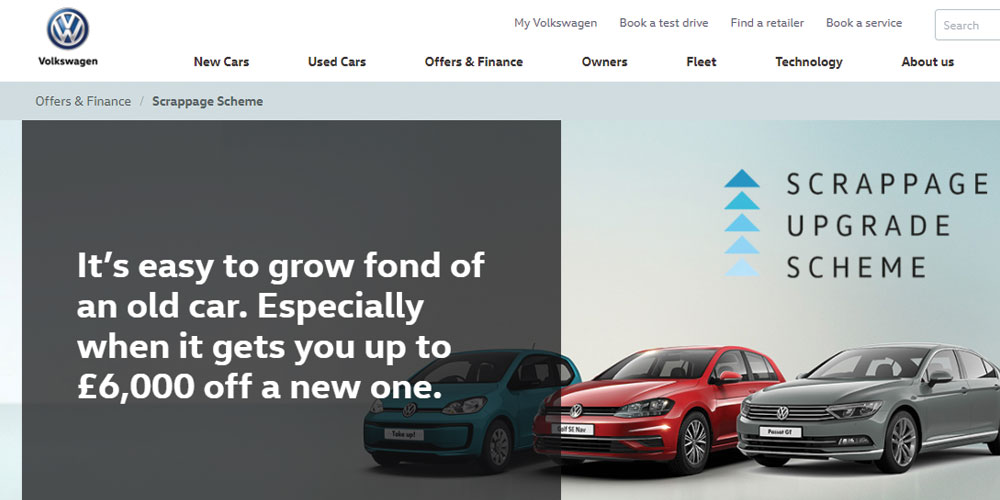 Volkswagen UK have announced that they will be offering up to £6,000 "Scrappage" in exchange for any make or model diesel vehicle (Euro 1 – 4) when buying a new car.
The move comes as the SMMT announced that new car sales have plummeted by 9.3% in August 2017 with consumer confidence at an all time low "thanks Brexit". In fact sales of new cars fell short of figures from 2013 according to a recent SMMT press release. Link here
Those with Euro 5 vehicles have been left high and dry yet again by the VW. Not only have they been left with broken cars following the VW emissions fix they are not eligible for the scrappage scheme despite continuing to belch illegal levels of NOx into the atmosphere. More here
What will happen to my old car?
All vehicles acquired by VW in the scheme will be "taken off the road and scrapped". This is actually great news for the environment as Euro 1-4 vehicles do not have the stringent emissions control systems which feature in newer Euro6 cars such as a DPF filter (in most cases).
Can I just buy an old diesel car and use it for the scheme?
Unfortunately not. According to VW, "Trade-in diesel must have been registered in the owner's name for at least six months."
Can I buy any new VW?
Strangely, the offer is available for all new VW models except the flag ship Touareg (costing upwards of £45,000).
I have a Euro5 VW vehicle, what can I do?
Thanks to the VW marketing machine and their gargantuan budget, the issues surrounding the VW emissions fix aren't widely known. Despite the usual complaints of deprecation in the second hand car market there are still plenty people willing to part with their hard earned cash for what is effectively a broken car. We suggest you sell up before the fix breaks another EGR valve for saturates your DPF. More on that below
We reached out to the The Volkswagen Diesel Customer Forum (Emissions Scandal) for a statement regarding VW's dismissal of a Euro5 scrappage scheme. In responce they said, "The fact that EU5 engines are totally ignored by this scheme, shows that VW have no faith in their fix, and do not want to be left with thousands of unfit for purpose cars."
We completely agree, we've seen time and time again that they have no issues with passing both the costs and issues relating with the fix with the very owners that put their faith and money into a VW group car.
Is this an official UK government scrappage scheme?
The initial scrappage scheme (which cost the UK government £300m) was introduced in 2009 to support UK car industry and reignite car sales in the wake of the financial crisis. This scheme, like the others seen by other manufacturers is not part of any official government plan.
What are my other options?
VW clearly defines that their scheme offers "up to" £6,000 meaning you still might not be getting the best deal available. We suggest that you explore all your options including selling privately and checking out some of the new car brokers such as Carwow and Broadspeed. They speak to dealers on your behalf and can save you a small fortune without having to trade your old car in.
Lets hear from you!
If you applied for the VW Scrappage scheme? What discounts did they offer you? Can you think of a better way to fund a new car? Lets hear from you in the comments below.