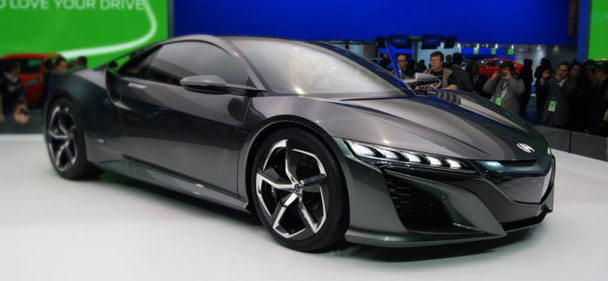 The NSX Concept was first unveiled at the Detroit motor show in 2012 to the delight of fans of the original car which ceased production in 2005. This new unveiling by Honda at Detroit 2013 has given a further glimpse of what to expect from its mid-engine concept car. The NSX is just one of the many new concept cars on show at this years prestigious event in motor city.
Like the previous version of the NSX, the new model will feature a mid-engine V6 power plant turning the rear wheels but this time with two electric motors also turning the front axle.  This configuration will give the car four-wheel drive capability combined with a total power output of around 400bhp. At present there's no news on what fuel economy to expect from Honda's upcoming flagship super car however we'll be interested to see how power is generated to supply power to the front wheels.
This years preview of the NSX has give further details from what to expect inside it's cabin. Honda have de-cluttered the interior of the car to give the driver more focus on driving by reducing distractions. Head of Honda's US arm (Acura) Jon Ikeda said, "It's the next step in the NSX's design, this is more about the interior than the exterior. This is a super car so it has to perform first and foremost, that means the design is constantly evolving, but this is the look we are aiming for."
Prices are expected to be around the £100,000 mark when the car starts production in 2015, putting it up against rivals such as the iconic R8 from Audi. In the US it will be badged as the Acura NSX ( whereas in the UK it will be sold under Honda brand.