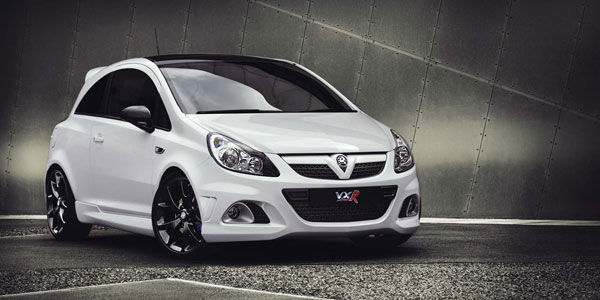 Launched in April 2007, the Vauxhall Corsa adopted the designation VXR to show off its ties with the Vauxhall Motor Racing team; this sleek little mover proudly wears its need for speed on its sleeve. A high-performer like this is strictly for anyone still young at heart who still likes their car to pack a punch.
The Corsa is one of the most famous car names in the world, topping the popularity charts for its super-mini category between 2002 and 2004, and coming second in 2005 and 2006 for the supermini category. Those who have become fans of its smooth curves and incredible performance over the years will not be disappointed by the latest VXR offering – which promises even more of a race-track experience with its bucket seats and low bumper.
With a 1.6i Turbo 16v engine capable of achieving 100km per hour in just 6.8 seconds – not to mention the roof spoiler – this car looks like it's able to get up some real speed! On optional 18" alloy wheels it certainly looks the part too, while the traction control and ESP stability system both add to the pleasurable experience you'd get from driving the Corsa. With only 3 doors and limited boot space it's not the most practical model on the market – but when you're looking for a used car from motors.co.uk that packs such a thrill as the VXR you're hardly likely to be using it to get the family from A to B!
The main competitor for the thrill-seeking crown with similar specs would probably be the Mini Cooper S; it's a touch more affordable when buying second-hand from a website like motors.co.uk but the Corsa has it beaten six ways from Sunday when it comes to power and prestige. Like the Corsa, the Cooper S appeals to younger drivers with a need for speed but the Corsa's sporty add-ons make it a much better value purchase for your hard-earned money.
Likewise, something like a Golf GTi initially offers a racey alternative to the Corsa VXR, but further testing indicated that there's just something a little more punchy about the VXR which tips it in their favour.
If you've got the cash to splash then the VXR Nurburg ring Edition contains a modified turbocharger that adds yet another dimension of power and precision! Even more impressive than the standard VXR and its five-second Torque booster – which you'd have to have a fair bit of open road to try it out on anyway!
No matter what you're looking for in a sporty car, the Vauxhall Corsa VXR is sure to set those pulses racing.
Image Source: http://www.vauxhall.co.uk/microsite/vxr/archive/corsa-vxr-arctic/specification.html