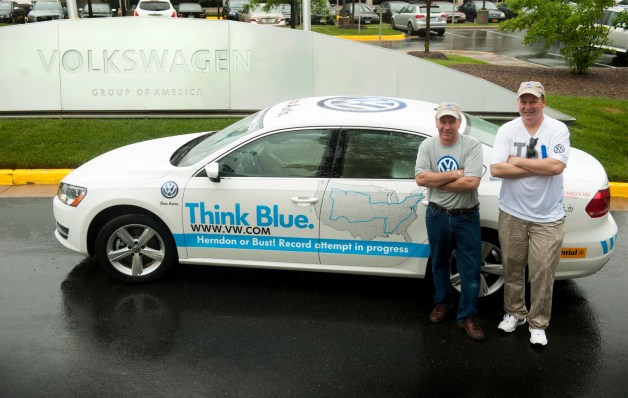 The grandfather of Hypermiling Mr Wayne Gerdes and his faithful co-pilot have set out on a Hypermiling adventure to smash the 48 state MPG record.
Aboard VW's fuel sipping 2013 Passat TDI Clean Diesel the pair will take on the 8,000 mile journey with hopes of beating the current Guinness World Record of 67.9 MPG.
Wayne already has over 100 fuel efficiency records under his belt and also runs the world's 2nd best Hypermiling website CleanMPG.com. Along the way they will be utilising the assistance of a scan gauge to help wring every last drop of fuel from the Passat while the guys from Guinness will be remotely monitoring their progress via an internet enabled smart phone.
The official figures on the Passat give the car a 43 highway mpg rating so the pair will have their work cut out for them.
In a press statement Wayne said, "It's going to be a great adventure and I'm confident we can improve upon the current record of 67.9 mpg in the fuel-efficient Passat TDI,".
No news as yet on the out come of the challenge but we'll be sure to keep you up to date on their progress. Good luck Guys.