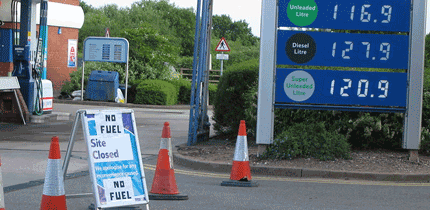 A  source on twitter informed us this afternoon that the Stanlow Fuel Refinery Blockade is set to last 8 long days, this has been now been officially confirmed by the organisers of Sundays protest.
Stanlow Refinery produces close to 7 million tonnes of petrol and diesel a year and employs over 960 people. The plant is responsible for 15% of the UK's fuel production.
A blockade of this type for 8 days will sevearly effect fuel supply and distribution, causing shortages across the UK.
We have tried to make contact with the refinery directly but at present they are yet to make a statement regarding the planned blockade.
I  for one will be making sure both our cars are filled this evening… if I can afford it!
We'll keep you updated throughout the weekend.