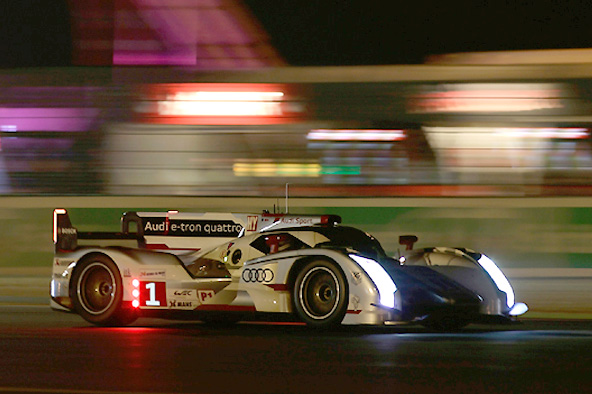 The E-Tron might not look anything like a Toyota Prius or Honda Insight but beneath its streamlined racing suit lurks a Hybrid system capable of winning one of the most gruelling races on the planet.
Audi swept the board with its R-18 E-Tron Diesel Hybrid to take both first and second place in this historic event. Finishing up third was a non hybrid but again, it was an Audi.
Unlike typical hybrids that share powering a pair of wheels, the E-Tron uses a V6 turbo diesel (TDi) engine to power the rear while the front wheels are powered completely by the electric motor. Rather than drag around a hefty battery, the E-Tron employs a kinetic energy system, much like the KERS which is seen on some Formula 1 cars.
"By achieving this further success at the world's most important endurance race our engineers demonstrated their high technological expertise in a particularly impressive way," commented Rupert Stadler, Chairman of the Board of Management of AUDI AG, who personally watched the race on location.
"With the e-tron quattro in combination with ultra lightweight design, we put a completely new technology on the grid and immediately won with it – this cannot be taken for granted by any means, particularly here at Le Mans. This weekend again showed the type of things that can happen in this race and how important perfect preparation is."
[ad]