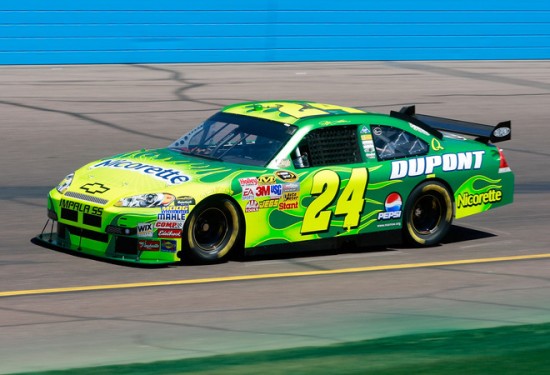 Lets face it, Nascar is never going to be a green form of Motorsport. Having a fleet of silent EV's parade round a track at breakneck underwhelming speed just isn't going to popular with the 75 million whooping American Nascar fans. With that aside, Nascar has announced that in partnership with the EPA (US Environmental Protection Agency). They will be working to make the sport green while addressing "America's environmental challenges".
There's little fear that the fire breathing V8s will be replaced by a 1.0l Ford Eco boost engine but the EPA will be working to lessen the environment impact on the sport. The focus of the partnership is about promoting safer products that have earned EPA's Design for the Environment (DfE) label together with encouraging suppliers to the sport to take the "E3 tuneup".
At nearly 200MPH, Nascars will struggle to return any kind of reasonable fuel economy (nearly 5MPG) but like nearly all, motorsports they have taken many steps to keep them competitive that you will definitely recognise. Weight saving, drafting and aerodynamics all play a great part in Nascar and also help keep it exciting with their bumper to bumper antics.
Read more for the full press release
NASCAR and EPA Partner on Green Initiatives
05/21/2012
Today, the Environmental Protection Agency (EPA) and the National Association for Stock Car Auto Racing (NASCAR) signed an agreement to raise awareness of environmentally friendly products and solutions to address America's environmental challenges. Today's memorandum of understanding provides NASCAR with EPA technical assistance and environmental expertise, using EPA programs like Design for the Environment and the Economy, Energy and Environment (E3) framework, to help protect Americans' health and the environment.
"Because NASCAR is followed by millions of passionate fans and many businesses, it can be a powerful platform to raise environmental awareness, drive the adoption of safer products by more Americans, and support the growing green economy," said Jim Jones, EPA's acting assistant administrator for the Office of Chemical Safety and Pollution Prevention (OCSPP). "The EPA and NASCAR partnership attests to the progress NASCAR has already made on environmental stewardship through greener fuel choices and multiple recycling initiatives for waste and automotive fluids, and highlights opportunities to further these efforts."
"This MOU is a great example of NASCAR's commitment to green innovation and our role as a leader in sustainability," said Steve Phelps, Chief Marketing Officer of NASCAR. "Even with the largest sustainability program in sports, NASCAR – along with our teams, tracks and partners – continues to create innovative platforms to help reduce the environmental impact of our sport."
One of the areas of focus for the partnership is promoting safer products that have earned EPA's Design for the Environment (DfE) label. The Design for the Environment label helps consumers and businesses identify products that perform well, are cost-effective, and are safer for the environment. NASCAR can make a difference by using DfE products at racing events and conveying to fans that choosing DfE products is an easy choice they can make to protect the health of their families and the planet.
Another example is NASCAR's offer to encourage its suppliers to get an "E3 tuneup"– to increase productivity, reduce the use of energy and materials, lessen environmental impacts and be better positioned to compete in the global marketplace. The E3 initiative – Economy, Energy and the Environment — helps promote sustainable manufacturing and economic growth throughout the United States. E3 can help improve the profitability and competitiveness of these businesses, which can help create higher-paying skilled manufacturing jobs.
This MOU will pave the way for other opportunities and areas of focus for EPA and NASCAR such as sourcing more sustainable concessions at NASCAR events, expanding the use of safer chemical products, conserving water, reducing waste and promoting recycling. By working together to foster more sustainable behavior, addressing sustainability challenges and seizing on E3 opportunities, a greener NASCAR and NASCAR supplier network will have positive economic and environmental impacts that extend far beyond the racetrack.