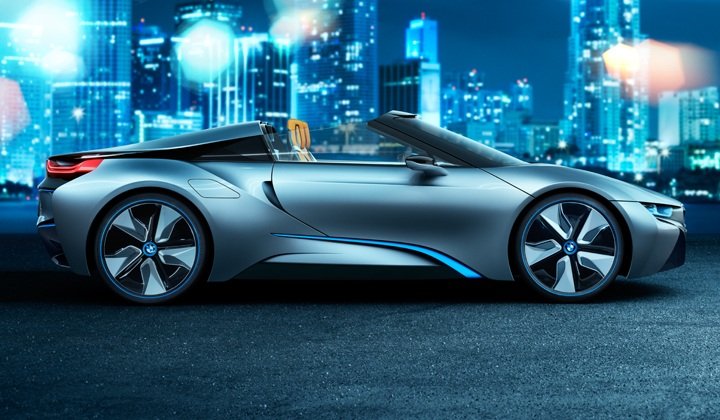 The UK automotive world has changed considerably due to the awareness of global warming and oil prices impacting on fuel prices. More change is needed though. Electric cars are still in the shadow of the super diesels – but you just need the right manufacturer to kick everything off with anything new in the car business. Gambling on this technology involves the two answer that the right manufacturer needs to answer: (1) 'does it have decent performance?' and (2) 'does the battery last comfortably for longer haul journeys'?
Enter BMW. At the forefront of the new BMW i Concept is electric vehicle technology. The i3 and i8 are both electric – in both engines and looks.The i3 will be the first electric vehicle from BMW to hit the roads, launching next year in 2013. The electric motor generates 170bhp of power and goes from rest to 100km/h in under 8 seconds. So for a mini-MPV hatchback styled electric vehicle it looks like question (1) has been well and truly answered. The answer to question (2) is where things get intriguing. It is a well-documented fact that motorists considering the purchase of an electric car want the longest possible battery range – longer than they need so that there is peace of mind in their motoring. Fair enough. So the BMW i3 will come with an optional range extender called the 'REx' which is a heat engine acting as a battery recharger. This is pretty cool and given the manufacturer badge that comes with the i3 the expected £25,000 price tag is understandable.
The i8 sportscar is the one that is generating lots of drool worthy images being shared across the internet. The i8 launches in 2014 and will retail at around £80,000. A hyped up Smart roadster with a hybrid engine? Well, I was always a big fan of the smart roadster's looks but this is a very, very clever car. 0-62mph in under 5 seconds. The i8 can travel up to 20 miles on electric power only. The battery charges up in about 2 hours from a normal electrical socket in the home. The petrol 3 cylinder engine has been tested for economy and recently achieved an amazing 94mpg. You can burn rubber in an environmentally friendly way with the i8. With the Spyder version and the 'swan' doors you have the 'supercar' feel as well.
So, the stage is set for BMW electric car domination. Flashy concept car images, star status at Frankfurt / Beijing Motor shows and plenty of motor trade buzz. Thank you BMW for making electric cars sexy!
A big thank you from Hypermiler to the team at Trusted Dealers for this BMW news post.