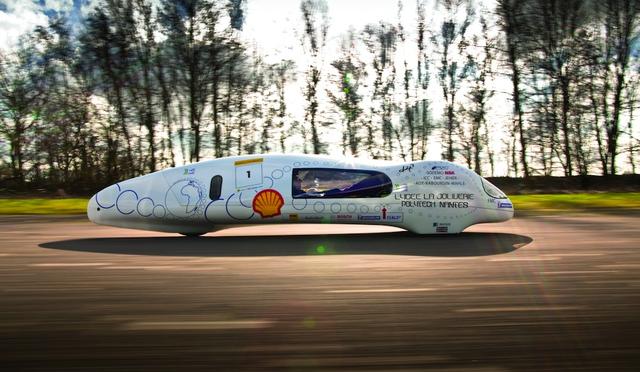 The Shell Eco-marathon is a yearly competition that's held annually in Europe, America and Asia. They compete to design, build ultra energy-efficient vehicles to achieve the greatest distance on just 1 kWh or 1 litre of fuel
Previous winners of the  Shell Eco-marathon Team Microjoule-La Joliverie from France took home the bacon in the Prototype Gasoline fuel class achieving a most epic result of 2,832.8 km per litre or 8,002mpg.
Hungarian team GAMF were hot on the heels of the French team but could not trump the Micro Joule Prototype.
Teams competed in a wide range of classes including Battery, Diesel, Solar and Hydrogen powered vehicles. Surprisingly, the Prototype Gasoline fuel class winners managed the greatest result using "regular" fuel. This years diesel class winners, IUT GMP Valenciennes of France managed 1481.1 km/l, but was still a long way off the  Gasoline powered Micro Joule.
Norman Koch, Global Technical Director of the Shell Eco-marathon, said: "We've seen the closest competition for the title for many years. The new record for the UrbanConcept battery electric is amazing given the higher level of track navigation required this year."
The event proved hugely popupar with the public, day two of the Shell Eco-marathon Europe continued apace today with more than 18,000 people passing through the gates of the Ahoy conference centre in Rotterdam.
Check out the Shell Eco Marathon website for more information.