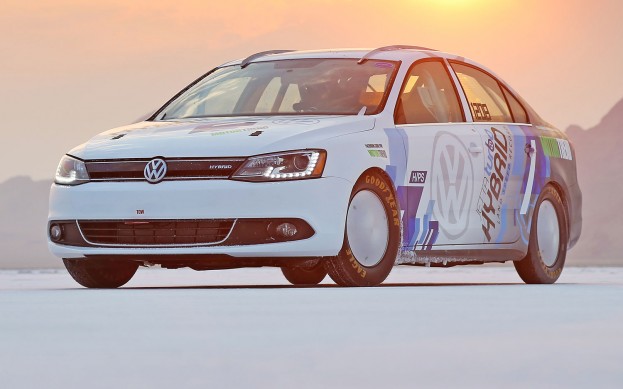 Motor Trend magazine writer Carlos Lago has set the hybrid land speed record in a modified 2013 VW Jetta by posting a top speed of 185MPH at the infamous Bonneville Salt Flats. The record was posted during the annual Southern California Timing Association's (SCTA) annual Speed Week.
We are used to reading about the Jetta in its "Hypermiling" guise but the Hybrid version certainly has more of a sting in its tail. Powered by a 1.4-liter turbocharged four-cylinder engine mated to a 20-KW electric motor, the Jetta is good for 178BHP with both engines at full power. The production version is stated to return 45MPG (US) and hit 60 in 9.0 when its released in December 2012.
Carlos still needs to make a second run for the title to stand and there's already talk of the boffins at VW working on releasing some more MPH from the hybrid for the next run. We'll keep you posted.