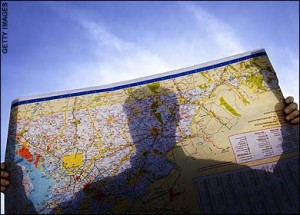 The shortest or quickest route might be the best when you are trying to Hypermile. Hypermiling is all about driving smoothly, when you are stuck in traffic or having to stop start about town you are NOT driving smoothly. Taking a less uninterrupted  and travelled route might take slightly longer but you may see a huge difference in MPG.
When travelling long distances we would recommend using some form of satellite navigation. Sat Nav units have plummeted in price over the years and one can be picked up for less than £50. There are even free sat nav applications for smart phones if you are lucky enough to understand how it works own one! Many of the more expensive units update over the airwaves and will re plan your route if the eye in the sky spots a jam.
If such technology scares you senseless then there are is a vast selection of on-line route planning websites. Google maps is a great example and the street view feature will allow you to become familiar with the route from a 1st person perspective.
Read more for some links to my favourite online route planners and also some suppliers of great value satellite navigation units.
Google maps: http://maps.google.co.uk
AA Route Planner: http://maps.google.co.uk
Ebuyer: http://www.ebuyer.com/store/Home-&-Leisure/cat/Sat-Nav—GPS
TomTom: http://www.tomtom.com/