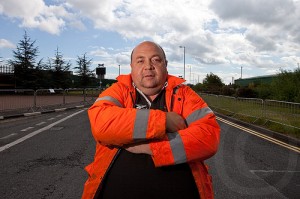 The fuel protesters targeting Stanlow fuel refinery have dismissed their spokesman over a facebook disbute.
The group has parted company with Ian Charlesworth after claims that he invited EDL and BNP groups to join the protests at the fuel refinery.
In an interview with the Ellesmere Port Pioneer, Founder member Kevin Bowker said: "We have parted company with Mr Charlesworth, due to myself and members of the group becoming increasingly unhappy with many of his ideas. "
A war of words broke out on the groups facebook page, where Mr Charlesworth's colourful use of the english language acused the group of becoming a "talking shop". He went on to acuse the police attending the event of theatening women and children.  These accusations have been robustly dismissed by the Cheshire Police.
The group is set to continue without Mr Charlesworth, we have also been tipped off that another Stanlow Protest is on the horizon for the next future. We'll keep you updated as usual.