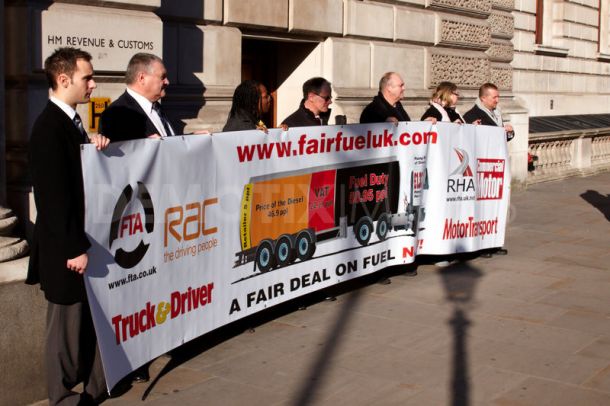 The Fair Fuel UK Campaign took its message to the Treasury and then Westminster in two high-profile media and public affairs events.
The demonstrators, headed by TV presenter and ex Top Gear presenter Quentin Willson called on Chancellor of the Exchequer George Osborne to abandon a planned April fuel duty increase of 1p a litre and bring in measures to reduce and stabilise the cost of fuel.
The group protested outside the Treasury where they handed over a letter addressed to the Chancellor before delivering individually addressed letters to 600 MPs urging them to act.
Quentin Willson said: "Judging by the media presence and cross-party political support evident today, the momentum is really gathering, as are the number of signatories to our petition – over 47,000 so far. With FTA, RHA and RAC backing, the Campaign is truly representative of business, the motorist and, indeed, the general public concerned with the UK's economic recovery. But with the Budget due in March we can't afford to be complacent and would urge everyone who hasn't already to sign our petition and make their voices loud and clear."
The Road Haulage Association (RHA), the Freight Transport Association (FTA), the Fuel Card Company and the RAC are among the groups backing The FairFuelUK campaign.
RAC motoring strategist Adrian Tink said rising petrol prices were taking their toll on Britain's 34 million drivers.
"Up and down the country motorists are being greeted with record fuel prices, virtually on a daily basis," he said. "The Chancellor needs to show he understands the pain that UK drivers are feeling at the pumps — and that means scrapping the April fuel duty rise as a tangible statement of intent."