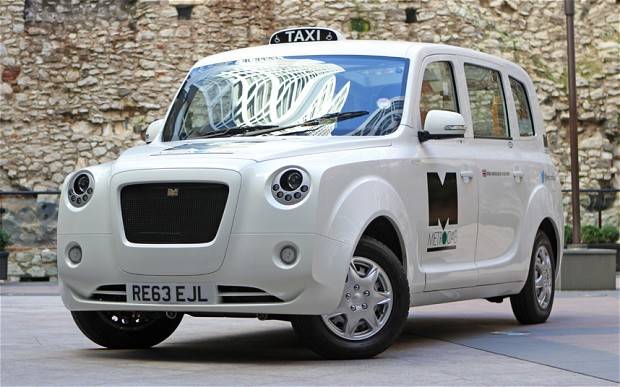 The 98MPG Metrocab has become the first zero-emission capable taxi to be licensed by Transport for London. The British designed, engineered and built Metro cab will operate on a trial basis as a London Hackney Carriage.
The first few Metrocabs are already in operation on the capitals streets, offering quiet and efficient rides to the public.
The Metrocab is powered by two electric motors assisted by a range extending with a 1-litre petrol engine generator capable of  recharging. the battery pack. This system is similar to systems offered on both the Vauxhall Ampera and BMW i3 electric cars. to the The recharging process can take as little as 10 minutes whilst driving. The vehicle can also be charged via any mains electric outlet providing even lower fuel consumption.
[ad]
Sir Charles Masefield, Metrocab chairman said: "The Metrocab has received numerous accolades and plaudits across the board in recent months, but now it is official – it is the first licensed range extended electric cab for London, and indeed the first in the world. We're very proud, and delighted with the Metrocabs' performance, economy and range at the hands of the first few London cabbies to be operating our range extended electric taxis."
Metrocab key features:
98 MPG on the ECE101 Cycle and over three times more fuel efficient than comparable current London taxi
5% less CO2 than comparable current London taxi
New Metrocab <50g/km CO2  >560km combined range
Significantly lower running costs, typically saving a London cabbie £20 – 40 per day
Zero-emissions mode and home charging via standard mains outlet
Evolutionary design, sympathetic to iconic London taxi silhouette
>10 years in development and over a million engineering test kilometres
Six passenger seats (plus optional seventh passenger seat in the front)
Fully compliant with London Taxi Private Hire (LTPH)regulations
Check out the Metrocab website for further details and why not follow MetroCabbie on twitter. He's one of the very first