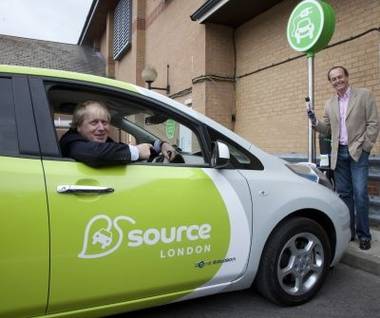 With the 2012 Olympic and Paralympic Games just months away, London is getting ready for the Olympic electric car fleet. Work began this week on a network of super-fast electric vehicle charging points.
The London Mayor and Transport for London are working in association with LOCOG and fellow London 2012 sustainability partners, EDF, GE and BMW, to install 120 charge points all over the city to support a fleet of zero-emission electric cars set to be used during the Olympic Games.
The charge points will be a legacy for London drivers. After the sport event, the charge stations will join the Source London network, which is the capital's largest charging network with 307 points.
The electric car points are fast charging and able to fully charge a vehicle in as little as four hours – half of the normal charge time at standard charge points. This will allow more people to use the electric vehicles contributing to the Mayor's plan of creating the most sustainable Games in history.
"We are determined for London's Games to be the cleanest, greenest ever and encouraging electric driving to support the sporting spectacular is another way we are achieving this," Mayor of London, Boris Johnson said.
"The Source London network is currently the largest in the UK and it is now gearing up to support the Olympic and Paralympic electric vehicle fleet," Boris added. "This will help to deliver cleaner air during the Games and even better, will create a fantastic legacy of fast charging points for Londoners."
[ad]
EDF is set to monitor the usage of the Olympic electric vehicle charge points to learn lessons for the future. Boris is predicting an increase of electric cars on the street as he made a commitment to make London the electric vehicle capital of Europe in order to deliver cleaner air and reduce carbon dioxide emissions. The Mayor even promised to increase the Source London network to 1,300 points in 2013.
"I'm extremely proud that through Source London, the capital can boast to have the biggest electric vehicle charge point network in the UK. I look forward to building on this lead when the 120 Games EV points join the network," said Leon Daniels, Managing Director for Surface Transport at TfL.
The points will be installed in five key locations all over the city. The first one was already set up in ExCel London at the beginning of this week. The charge stations will initially be used by 160 Active E and 40 MINI E electric vehicles provided by BMW for the Olympic Games fleet.
After the sporting spectacular is over, the points will be available for use by all 2,300 electric cars that are currently on London's streets. The number includes privately and government owned electric vehicles, car-sharing, new and used cars, according to the Environment Committee of London's Assembly.