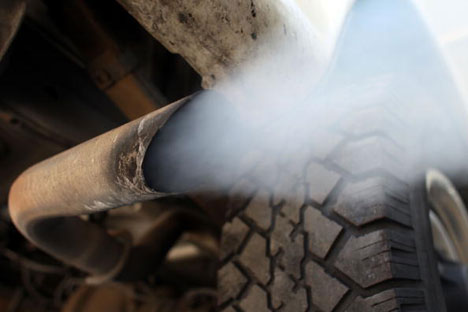 The automotive group CARS 21 submitted a report to the European Union proposing to change the way CO2 emissions targets are measured in order to ease the financial burden on car manufacturers.
CARS 21, a coalition of EU Commissioners, various ministers, automobile industry CEOs, trade unions and civil society, produced a report suggesting measures to strengthen the European automotive industry. One recommendation of the report is to make the way CO2 measurements are made 'more realistically' and 'more flexible'.
The car industry wants factors such as driver behaviour and national infrastructure to be taken into account, rather than simply tailpipe emissions from new cars. They highlighted the importance of promoting eco-driving and speed management in reducing high greenhouse emissions.
Further, a new driving test cycle and test procedure for measuring fuel consumption and emissions will be developed to be more representative of real-world driving and address the climate and air quality challenge.
The current regulations push car manufacturers to meet an average of 130g/km CO2 emissions across their model ranges by 2015. A further target of 95g/km by 2020 is waiting to be finalised by the EU in July. If car manufacturers fail to comply with the targets, they will face financial penalties.
[ad]
In order to avoid additional costs and to ease the financial burden on the automotive industry, CARS 21 sees no other way than to relax the CO2 emissions targets. Although the group concedes that the 2020 carbon-dioxide emissions targets "are technically feasible and will be pursued", it proposes that future limits should be "proportional and in line with the principle of cost-effectiveness and better/smart regulation."
The report is welcomed by German car manufacturers which have difficulties in reducing their vehicles' emissions. Despite bringing down emissions from 151.5 g/km in 2010 to 145.6 g/km in 2011, Germany still lags behind most European counterparts. Out of the 'Big Five' markets France and Italy have successfully brought their country average emissions to below 130 g/km. Great Britain managed to decrease its emissions from 143.8 g/km to 138.0 g/km. Yet, it is still slightly above the European average of 136.1 g/km.
Premium car brands have made significant improvements across regions but there is still room to decrease average CO2 emissions. For the most economical cars on the market have a look here.
The car industry is happy with the report and hopes that its recommendation will help the sluggish European automotive market by making the car manufacturers more competitive. It is, however, likely to receive criticism from environmentalists who will see the new suggested way to measure CO2 emissions simply as a loophole to avoid financial penalties and thus reducing incentives to produce greener cars.