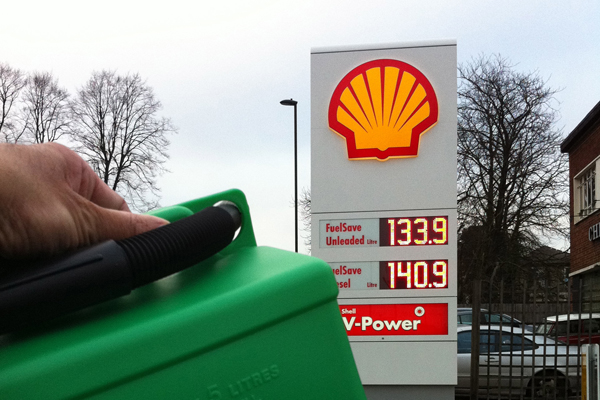 New research from Green Flag has revealed that over 4.6 million (13 per cent) of UK motorists have found themselves driving on empty in the last three months. Green Flag has coined these drivers 'Vapour trailers,' motorists that risk running out of fuel by regularly driving with the petrol warning light flashing. In the past 12 months alone, a whopping 1.4 million (4 per cent) motorists have run out of fuel whilst driving.
Their research shows that younger drivers (between 18 & 34 ), find themselves "running on empty" the most with a quarter having done so in the last three months alone.  A staggering one in eight drivers  say that they have set out on a journey feeling nervous about running out of fuel. For many this fear is well founded as one in six men have run out of petrol whilst driving, compared to one in ten females.
Our advice is to keep a filled jerry can in the car for emergencies,  or better still try and keep at least a quarter of a tank at all times. Having to go out your way for an emergency fill up often means have to settle for most convenient and expensive petrol stations in your area, or even worse pay motorway services pump prices!
The table below shows the percentage of drivers who have been "running on empty" in the last three months together with their average weekly spend on fuel.
Region            % of drivers running on empty   Weekly Fuel Expenditure
North East                          18%                              £27.22 
Wales                                  18%                               £24.89 
East Midlands                    16%                               £25.07 
West Midlands                   16%                              £25.91 
Yorkshire & Humberside 14%                              £24.56 
South East                          14%                             £29.29 
N. Ireland                             13%                            £32.78 
Scotland                               11%                             £28.74 
London                                 10%                            £25.74 
South West                           9%                             £27.13 
East of England                    9%                             £30.10 
North West                             8%                             £26.00