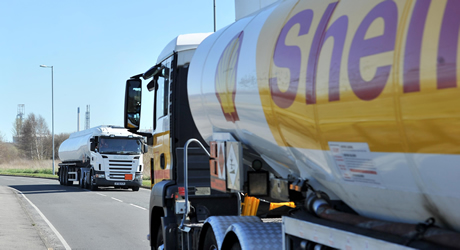 The threat of a damaging fuel tanker strike was averted yesterday after drivers voted by just a 1% margin accept a peace deal. After eight days of talks with the conciliation service Acas, Unite said that just 51% of it's members had backed proposals to end a long-running dispute over job terms and conditions.
In four out of the seven firms involved in the talks, tanker drivers rejected the offer on safety standards and training – but overall the deal will go through, if only by a fine margin.
Diana Holland, Unite assistant general secretary said: 'This narrow vote in favour lifts the threat of strike action, but leaves the companies with no room for complacency. The progress made through negotiation is testament to the brave stance members have taken in the face of growing insecurity and attacks on their profession. The narrow vote in favour should be a wake-up call for an industry riddled with deep-seated problems. This is why we are writing to the select committee urging them to investigate the instability in the industry."
Acas welcomed the breakthrough with their chief conciliator Peter Harwood saying: "The dispute was a very complex one and both the employers and the trade union representatives worked very hard during long sessions at Acas to shape a solution that addressed the issues facing the sector."
The Energy Secretary, Ed Davey said 'This is the right result for those involved in the dispute and for the economy"
The end of the dispute will put both motorists and UK businesses at ease. The panic surrounding the last proposed strike caused chaos at the pumps as panic buying spread across the UK with many filling stations forced to closed as stocks ran dry.