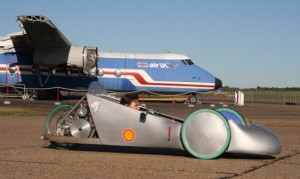 The Cambridge Design Partnership has contributed to a specialist vehicle capable of travelling 1,325 miles on a single gallon of diesel while being piloted by an 11 year old UK Student.
The concept car was put through its paces by the young driver in partnership with the King's School, Ely at the annual Mileage Marathon Challenge at Mallory Park.
The ulta efficent car features many features that enable such impressive efficently. An innovative micro-diesel-engine, an oxygen generator and thin low-friction tires all contribute to its MPG return.
Project leader Stephen Lam said "This is about more than just an ultra-eco-friendly car. This supports what our technologies can achieve."
"We quickly realized that our R & D work for the MoD, creating an oxygen generator, was highly applicable to the Mileage Marathon Challenge. Both required an extremely efficient system that used very low power and could run off diesel. Now I just need to figure out how to make my own car get the same kind of mileage!"