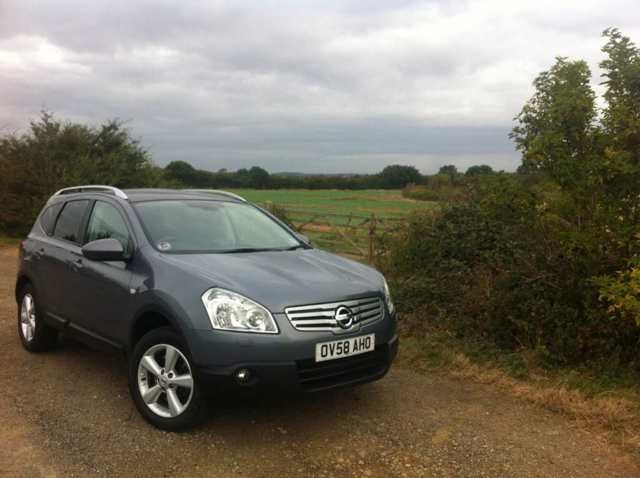 You might already know that I was once the proud owner of a 2008 Nissan Qashqia +2 Tekna (it's pictured above). It was fully loaded, comfortable and practical – overall a great family car. Unfortunately it was plagued with DPF issues which ultimately lead to its prompt demise sale. In my shorty time with the car I was hit with 3 DPF (diesel particulate filter) forced dealer regenerations at nearly £300 a pop. This prompted my frustrated rants which seemed to hit a chord with many other disgruntled diesel drivers across the globe (click here for the original article).
We've started publishing the DPF Owners manuals for a couple of cars – namely my Skoda VRS 3 iii dpf and Skoda VRS 2 ii dpf so we hope that this information with continue to help those suffering at the hands of the Nissan Qashqai DPF.
Please see below the excerpts from the horrid SUV that started this website's love / hate relationship with the diesel particulate filter.
The Manual –
Also available for download here – Nissan Qashqai NJ10 Manual
WARNING
Be careful not to burn yourself with exhaust gases.
Do not park the vehicle over flammable mate- rials such as dry grass, waste paper or rags, as they may burn easily.
If the vehicle continues to be driven at a low speed with the DPF warning light illuminated, the fail-safe will limit engine revolutions and/ or torque. In this case, the engine oil must be replaced and the process of burning accumu- lated particulate matter must be carried out by a NISSAN dealer or qualified workshop. Service regeneration is a maintenance item and is not covered by the NISSAN warranty.
Use engine oil for DPF equipped models. For details, see "Capacities and recommended fuel/lubricants" in the information" section
CAUTION
The DPF becomes extremely hot after burning particulate matter.
M9R engine only: When the ignition switch is turned to the ON position, the Diesel Particulate Filter (DPF) warning light illuminates for a few seconds and then goes out. This indicates that the system is operational. All diesel engines:
NISSAN GREEN PROGRAM
Some diesel engine models are fitted with a Diesel Particulate Filter (DPF), which is a device that re- moves carbon (soot) from the exhaust gas. To oper ate effectively, the DPF system must routinely con- duct a cleaning operation, called regeneration, that burns-off the accumulated carbon. This regeneration process is normally automatic and not visible to the driver.
Regeneration restrictions:
Driving conditions such as frequent short journeys or stop/start driving can result in excessive build  up of carbon in the filter.
When this happens the DPF warning light will illuminate (and a message will appear in the vehicle information display, see "Vehicle information display" later in this section) to inform you that the vehicle must be driven in a particular manner to begin regeneration.
When the DPF warning light is illuminated, provided that legal and safety conditions allow, the vehicle should be driven at a speed of over 60 km/h (37.5MPH) until the DPF warning light turns off. This process can take up to 30 minutes to complete.
If regeneration fails:
Failure to react to the DPF warning light may lead to saturation of the DPF system. If this happens the Malfunction Indicator (MI)will illuminate indicating that a Service Regeneration by a NISSAN dealer or qualified workshop is required. The engine speed may also be limited to 3,000 rpm to protect the DPF system.
NOTE
Contact a NISSAN dealer or qualified workshop to perform a forced regeneration.
DPF Cleaners At Amazon

---
Our Note
You might wonder what the engine code M9R in the text below. It relates to the engine which graced my Nissan Qashqai. Its a 2.0 dCi co-developed Renault and Nissan. It's featured in the following vehicles (take from it's Wiki page)
2007–present Nissan Qashqai
2007–present Nissan X-Trail
2005–present Renault Laguna
2006–present Renault Mégane
2007–present Renault Koleos
2006–present Renault Espace
2007–2010 Renault Vel Satis
2015 Nissan Teana
In its various forms the 16v double overhead cam common rail diesel engine produced anywhere between 130 and 180 bhp.
If you have any more information relating to the DPF system of the Qashqai or M9R engine in general than please get in touch in the comments section below.
You might also find the following articles below of use