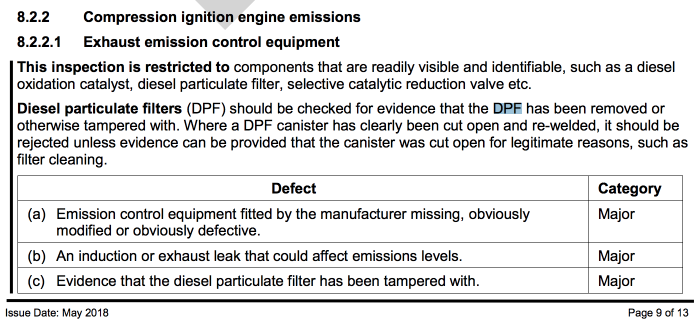 The UK MOT (Ministry of Transport) test will finally get tough on DPF cheats with a new rules coming into force to ensure diesel particulate filters have not been tampered with.
The new test will require MOT testers to check the condition of the filter, ensuring it has not been tampered with or "gutted". This purely visual check will help ensure diesel car emissions are in line with EURO5 and above emissions controls.
An entire industry has emerged offering DPF removal / gutting services, however it's often hidden in the small print that these is for purely off-road use and is not legal for road use. For those suffering at the hands of DPF failure, removal is seen as a cheap alternative to replacing the costly filter. Prices of DPF removal star from around £200, making it a "no brainer" for those presented with a £1000+ bill for a new filter.
With the new MOT rules coming into force May 20th 2018, it could see mahy drivers failing the MOT even if they were not aware that the DPF had been tampered with. Whilst we applaud the government for this tough new stance on DPF filter we do feel for those that have bought a vehicle not knowing the status of the DPF, they could be facing huge bills for DPF replacement despite passing their vehicle passing previous MOTs.
[ad]
Here's the official line from the .GOV website – link here
8.2.2.1 Exhaust emission control equipment

This inspection is restricted to components that are readily visible and identifiable, such as a diesel oxidation catalyst, diesel particulate filter, selective catalytic reduction valve etc. Diesel particulate filters (DPF) should be checked for evidence that the DPF has been removed or otherwise tampered with. Where a DPF canister has clearly been cut open and re-welded, it should be rejected unless evidence can be provided that the canister was cut open for legitimate reasons, such as filter cleaning.
Defect Category (a) Emission control equipment fitted by the manufacturer missing, obviously modified or obviously defective. Major (b)

An induction or exhaust leak that could affect emissions levels. Major (c)

Evidence that the diesel particulate filter has been tampered with. Major
We've reached out to our local and trusted MOT tester who will give us a little more insight on his thoughts and how they'll implement this check. We'll report back very soon!
Let's hear from you!
Are you an MOT tester? Have you had your DPF gutted and worry you'll be slammed with a bill for a new DPF? Do you offer DPF removal services? Let's hear from you. Please leave a comment
More from us!
For more information on DPFs you might also like to check out the following pages
[amazon_link asins='B00VVWW5S6,B06WWBJWSK,B013KIPT2C,B06WW5KKYV,B01MG1OEZ7,B01N5NNFTA,B01GYCO20Q,B014WMMNTW,B01081ZS1G' template='ProductCarousel' store='hypermiler-21′ marketplace='UK' link_id='4d196b8f-bfca-11e7-ad2e-794b99a25756′]