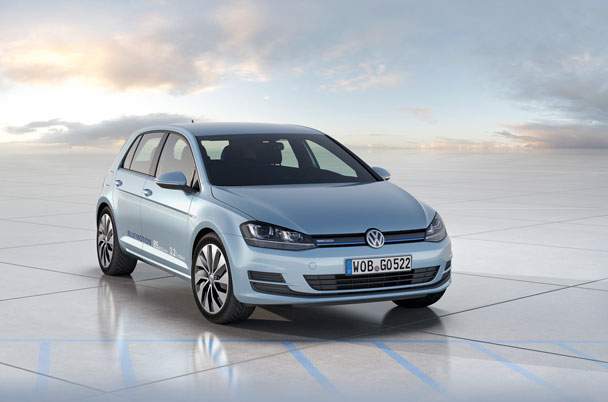 How the Golf Got Greener
The legendary Volkswagen Golf is now in its seventh generation and with emphasis being placed firmly on green credentials in recent years, it's no surprise that that model is more economical than ever.
A total of eight engines are available, each of which is tuned to deliver the best possible performance while keeping an eye on the environment. Two of the 1.6-litre options come with Volkswagen's BlueMotion technology, knocking emissions to under 110g/km and producing a combined fuel consumption of over 68mpg.
Engines
BlueMotion began in 2007, when a new, greener Polo hit the market offering 72mpg. Since then, the technology has become more refined and extended to more models in the range including among others the Golf, Passat and Touran.
The key aspect of the Golf BlueMotion is its engines, which are developed to offer the best possible performance and lowest possible emissions. Both engine variants are diesels, and are linked to longer gear ratios for greater efficiency and fitted with a Diesel Particulate Filter to make them cleaner.
Advanced Technology
In addition, there are various other features that help the Golf BlueMotion achieve its outstanding environmental figures. Automatic Start/Stop cuts the engine when the car is put into neutral and the handbrake applied, saving on fuel and energy recuperation stores kinetic energy that would otherwise be lost through braking and channels it back into the battery.
The Volkswagen Golf BlueMotion is fitted with low rolling resistance tyres that require less engine power to move them forward and feature an aerodynamic exterior design to reduce drag.
Driving Efficiently
Fuel saving also, of course, depends on the way the car is driven. A system that suggests the best time to change gear helps drivers get more out of each tank and applying a little common sense, such as keeping within speed limits, improves efficiency.
Drivers can also keep their car windows closed at speeds of above 60mph to stop drag affecting the car, thus expending more fuel, and checking tyre pressures frequently will also ensure fuel economy is optimised.
Find out more about the Volkswagen Golf BlueMotion at EuroCanterbury.