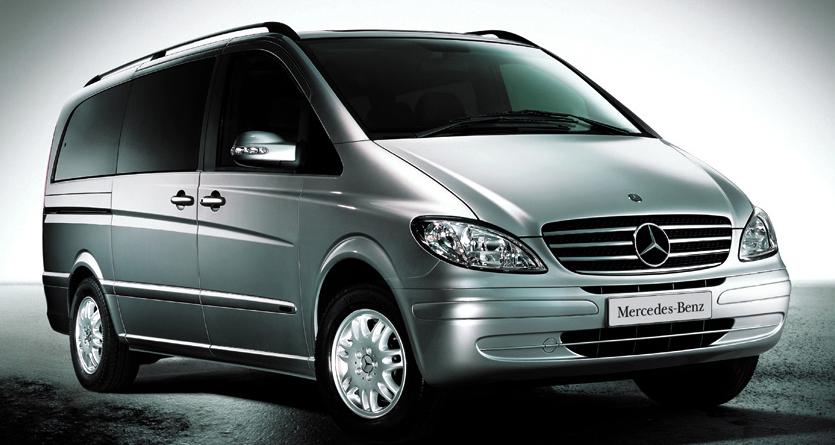 The MPV market has been on the rise in the last couple of years with car manufacturers all trying to get their share of this growing business. The current economic crisis has had a massive impact on the car industry in general but the MPV market has been going strong despite consumers' decreased spending power. So, why are MPVs selling better than other vehicles in these tough economic times? Well, a MPV is basically a city car, but its size maximises the use of every inch of its interior in search of much needed space. The advanced technology and affordable price tag make it a great purchase option for young couples and families in particular, but for other segments of the markets too.
This is exactly what the Mercedes Viano does. It is smart, sophisticated and attractive to look at and it is practical, which is what you need most from MPV cars. Weighing more than two tons, it is heavy, but Viano can easily achieve a top speed of 125 mph, which is not the biggest surprise, but its acceleration of 62 mph from just 9.0 seconds is simply amazing. It also offers a stunning drive – easy, comfortable and fatigue free, for any length of your journey, almost like any other Mercedes in B or C class. It is not a luxury car, however, but the quality of its mechanics and engine is at the highest possible level, offering you another thing you need from a MPV – reliability. Thanks to its sophisticated electronic stability system and breaks, it handles the curves with great stability and neutrality.
Viano engines are made in accordance with the Euro 5 emissions standards with reduced fuel consumption. CO2 emissions are down by 15%, depending on the engine variant. In addition to the new six degree manual ECO Gear transmission, the BlueEFFICIENCY technology with ECO start/stop function plays an important role in the better fuel efficiency of the car. Those features are not often found in other vehicles within this class. The four-cylinder engine with variable geometry turbine generates power from 100 kW to 120 kW depending on the engine, and provides a well balanced ride even when the car is fully packed. Power steering is very well able to monitor suspension and carries enough information about what is happening under the wheels. 
ECO EXCHANGE gear for all four-models offers a wide range of transmission for optimal performance and a low level of fuel consumption and exhaust emission. Among the most powerful diesel engine is a V6 which combines sophisticated work with impressive power and attractive force. The power output of 165 kW (224 hp) enables improved performance even further with acceptable levels of environmental friendliness.
Viano is primarily designed for long journeys, although it does quite well in traffic jams. No doubt, with this model, Mercedes primarily wanted to offer an acceptable alternative to the C-class drivers who chronically lack space, and offers enough comfort and excellent security to growing families. It offers good sound insulation up to speeds of around 81 mph with passenger experiencing relatively small amount of noise and vibration, so the comfort meets all expectations in this class.
Overall consumption is very good, even on motorways. With average speed of 93 mph, fuel consumption ranges between 12 and 13 litres of Euro diesel, in spite of its height. With moderate foot gas pressure, consumption can be decreased to 10 litres without any problems, and for such a heavy vehicle, this is quite good.
Mercedes Viano MPVis an extremely usable, versatile and surpasses one's average expectations of an MPV vehicle.