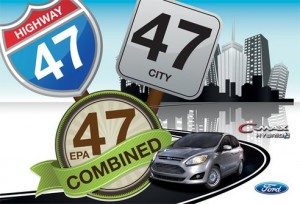 Across the pond in the US, Ford is being sued for "false and misleading" claims over their C-Max Hybrid and Ford Fusion Hybrid fuel efficiency figures. Officially Ford claim that they should both be capable of a rather impressive 47MPG (US) under normal driving conditions.
A Californian motorist and owner of Ford's flagship hybrid has taken issue with the official figures and has filed a federal lawsuit against Ford for what he describes as "misleading" mileage claims.
The plaintiff, Mr Richard Pitkin of Roseville, has demanded that Ford to refund him and other owners the full sticker price of the car, rescind sales of the cars purchased in California, and initiate an "informational campaign to correct 'misrepresentation and omissions".
This isn't the first time a disgruntled owner has filed a claim against a manufacturer in the US. In 2012 Honda had a ruling overruled on appeal after  initially loosing its case to Heather Peters. The ruling Judge described the companies advertising as "'puffery"' but says ultimately it did not mislead its customers with its claimed fuel economy figures for the Civic Hybrid.
Here in the UK, manufactures claims are also in the spotlight as tools such as Real MPG and True MPG collate real world MPG figures from owners. The early results from these campaigns have already shown a large discrepancy between official and achievable fuel efficiency figures. We expect that it won't be long until one frustrated owner enlists the help a of a legal team to kick off the legal battle over misleading fuel efficiency claims in the UK.