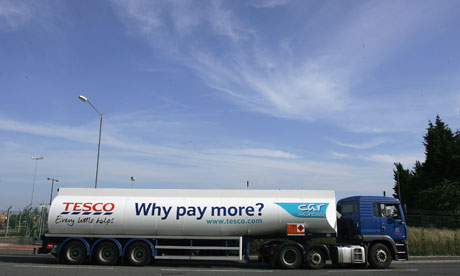 Lincolnshire council has called for a government inquiry over fuel prices following their report on supermarket fuel price variations. They have called it a "postcode lottery" for motorists already struggling with record fuel prices.
They claim that leading retailers such as Tesco and Adsa are typically charging much more for petrol and diesel at supermarkets in rural areas, compared with their stores in larger towns and cities. In some cases its been shown that rural motorists could be paying up to 5p per litre more.
Councillor Tony Bridges for East Lindsey District Council said: "I fine it quite extraordinary that household food such as bread and milk cost exactly the same in most supermarkets, but when you get to fuel prices they are vastly different. It's like a postcode lottery."
News of the recent "supermarket fuel price wars" have often been hyped in the popular media but little attention has been given to their varied price structures until now.
A spokesman for the supermarket giant Tecso has told the BBC that:  "As is the case with all other petrol retailers in the UK, Tesco does not operate with one national price. Our clear goal for customers is to endeavour to be competitive on petrol and diesel in the local catchment area for each store."
Also speaking to the BBC, Brian Maddison Chairman of RMI Petrol Retailers' Association, said: "We have said to the Office of Fair Trading and to the government that this is crippling the whole retail industry for forecourts in the UK."
We won't hold our breath for a reaction from the boys at number 10, however its hard for anyone to ignore the fact that those living out in the sticks of town are getting a pretty poor deal indeed.