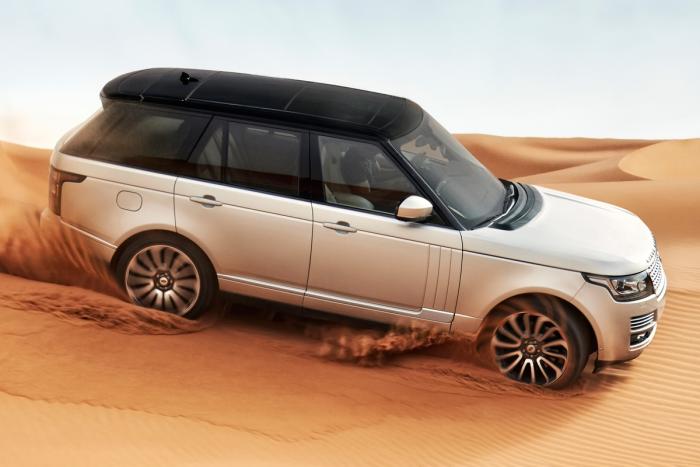 Land Rover has revealed the first glimpse of it's all new Range Rover that's set to make its public debut at the Paris Motor Show next month. ­ You'll be forgiven for thinking it's business as usual for one the UK's favorite "Chelsea tractors", but there's been some tinkering under that hulking body.
Despite it measuring 27mm longer than the current model, they have manged to shave hack off a whopping 420KG from it's kerb weight, that's half the mass of a Fiat 500! To achieve this, they haven't resorted to losing the back seats or ripping out the carpets, air-con and sound system. The key to the Rover's weight loss is the extensive use of lightweight metals, nearly the entire body is now made of Aluminum. There's also new aluminium chassis underpinning too, which all combines to give the 4×4 an overall weight of around 2,150kg. In fact, the Rover's body shell actually weighs less than that of a the Mini Countryman.
Spurred on its radical weight loss, the Range Rover will be more economical and faster than before. The engine lineup with feature a 270bhp V6 diesel  power plant that should return a rather impressive 40mpg with  CO2 emissions a shade under 200g/km.
It'll be making it's debut at next month's Paris Motor Show but expect to see the new Ranger Rover out for the school runs early next year. Just don't expect that Range Rovers will extend is weight loss over to the price tag, expect to see the poverty spec entry level models coming it at a wallet busting £65,000.