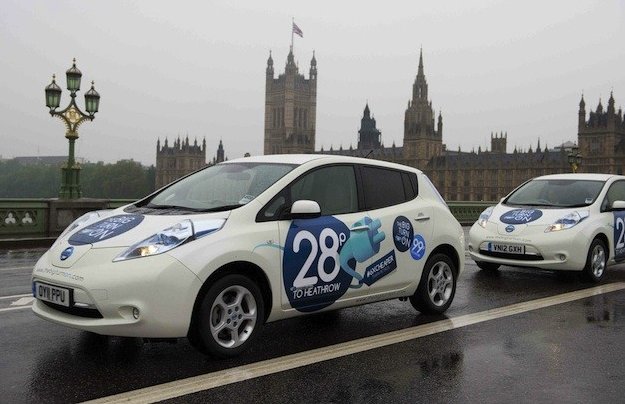 For many motorists in our fair capital, July heralds the end of an era for congestion charge free travel. As of July this year, Transport for London has confirmed that many vehicles which have been exempt from the charge will no longer qualify for the 100% discount they had previously enjoyed.
Londoner's rides will now have to qualify for what Transport for London (TfL) class as the "Ultra Low-Emission Discount". This new discount will only include those vehicles which emit less than 75g/km of co2 (down from  100g/km) . The change in policy will force huge number of cars into paying the fee. In fact only only pure electric cars and certain hybrids such as the Toyota Prius Plug-In Hybrid will now qualify for the discount.
For those who have already taken advantage of the outgoing scheme, they will have 3 more years of toll free motoring in the capital.
The humble PR bods at Nissan have already taken advantage of the news by parading a trio of their battery powered Leaf electric cars through the capital in recognition of the rule changes.
The charge for motorists who do not meet the criteria will remain at a hefty £10 per day, with the  penalty for those naughty motorists failing to cough uprising £10 to £130.
Transport for London claim that the changes will help increase the use of the cleanest possible vehicles in the Capital, and provide efficiency savings in the operation of the scheme. 
The Mayor of London's advisor on the Environment, Mr Matthew Pencharz,, said: "These changes are in line with the Mayor's aim to improve air quality in London by reducing emissions from private vehicles and promoting the further development of low emission vehicles.  We want to encourage the continued development of these technologies, while also protecting the benefits to traffic flow in the centre of London that the charge provides."
[ad]