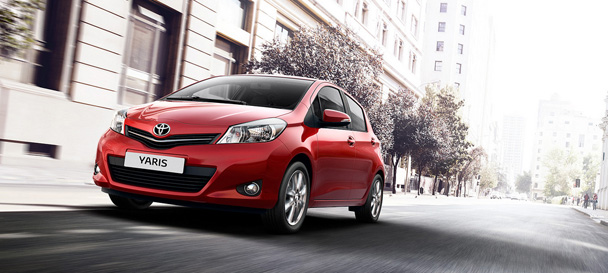 When the Toyota Yaris was first released back in 1999 it received almost universal praise as being one of the first 'superminis' – compact hatchbacks which provided style, performance, and more room than you may expect, all in a small package. If you are looking to buy a new car then don't forget to get green car insurance from The Green Insurance Company.
Back to the Yaris which has actually been a trend-setter in many ways and provided a setting for BMW's revamped Mini to arrive in 2001. The original Yaris was so good that it won European Car of the Year and sold well. But how does the Toyota Yaris 2012 shape up?
Design
Toyota has made some subtle yet telling changes to the body shape of the latest model. The vehicle is slightly longer and slightly lower than previous incarnations, and the small adjustments have led to a more refined look and slightly more legroom. This added spaciousness is most felt in the cabin, which the manufacturers tell us represents 65% of the vehicle's length. On top of this, there is still plenty of room in the back, with plenty of room for the kids or even two adults. There are both three door and five door models available, with four different trim designs. 15 inch alloy wheels come as standard, as does the 6.1 inch multimedia screen, air conditioning and rear parking camera.
Performance
There are two different petrol models available for the 2012 Toyota Yaris; there is the 1.0 VVTi model with three cylinders and 68bhp, while for the more adventurous, perhaps the 1.33 VVTi with four cylinders and 98bhp will be more up your street. Of course, these vehicles are not made for racing, and the 1 litre model in particular feels somewhat lifeless at times. Taking 15 seconds to reach 0-60 is no problem around town, although this acceleration will certainly not get you too excited. However, both models seem very stable and are perfectly happy to tinker around town and take longer trips on the motorway without much fuss. There is also a 1.4 diesel and a hybrid model available.
Fuel Efficiency
As you would expect from a car this size, and given the target audience, the Toyota Yaris does well in terms of fuel efficiency and MPG. The 1.33 delivers a combined 52.3mpg and CO2 emissions of 123g/Km – both pretty good. These figures combined with the standard five year or 100,000 mile warranty means that buyers can expect little hassle from the most recent Toyota Yaris models. This fuel efficiency makes the vehicle a good choice for those on a budget, at the same time being pretty much in line with direct competitor models.
Bottom Line
Toyota has not gone crazy redesigning the new Yaris model and have stuck to its strengths. However, the touches they have made have added slightly more space and comfort, all combined in a well-priced model. It will certainly make for a good investment for many small families, and stacks up well against the other superminis in the market, such as the Honda Jazz and Kia Rio.
Image Src: http://www.toyota.co.uk/
[ad]