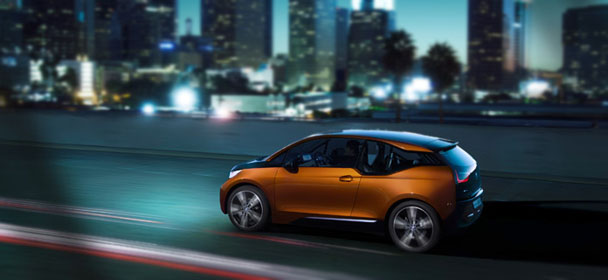 BMW's first ever production EV (electric vehicle) is set to make its production debut on July 29 of this year. In their own words the i3 is BMW's "Mega City Vehicle" and is an "uncompromisingly sustainable vehicle designed for urban areas".
Although BWM are keeping the final unveiling of the car under wraps until the end of the month, we do have information on what's going to be under the bonnet of their upcoming battery powered flagship.
Powering the rear wheels will be a 125 kilowatt electric motor situated at the rear of the vehicle. This will produce 167BHP and an impressive 250NM from a standstill. This should power the i3 to 60 in less than 8 seconds with a range of around 100 miles. Obviously the range will depend entirely on the users driving style however BMW have confirmed that the i3 will come with the option of a range extending engine  much like the Vauxhall Ampera. This additional electric source dubbed "the REx" should push the range to nearly 200 miles.
To help owners make the most of each charge, the i3 will offer 3 different driving modes:  COMFORT, ECO PRO or ECO PRO+. The hypermilers choice will be the ECO PRO+ mode which could increase range by an impressive 25%. The ECO PRO+ mode will limit the top speed of the EV to 56MPH and switch electricity hungry features like heating and air conditioning to power saving modes. When the i3 does require recharging BMW claim its high-speed charger will allow the i3's lithium-ion battery to achieve 80% charge in about an hour.
The i3's green credentials are further boosted by the use of renewable materials throughout the vehicle. It will also feature lightweight carbon fibre reinforced plastic body panels, helping to keep weight down and efficiency up.
With prices expected to be around the £30,000, it will be competing with similarly spec'ed vehicles from BMW's 3 series range. If the concept is anything to go we will expect to see swarms of the battery powered city cars on the roads in the near future. I for one will be badgering our local BMW dealership for a test drive.
Below is a taster from BMW press team in all it's obscure glory.
Image thanks to http://www.bmw-i.co.uk
[ad]