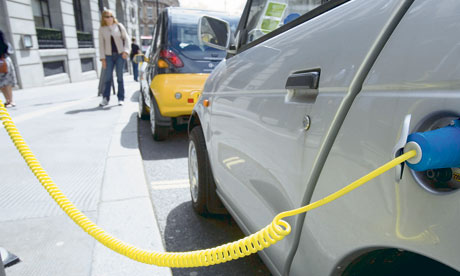 The government has been encouraging the use of electric cars for many years now with the tax credit of up to £5,000 and the extension of local charging point networks. Now British companies are doing their bit to promote electric vehicles (EVs).
British Gas, for example, has launched a new initiative that makes running an electric car easier and cheaper. A new payment plan allows customers to spread the cost of installing charging stations at home or at work by offering zero interest for 12 months on the purchase of their £799 charging point. "Electric cars are coming of age and these new initiatives are part of our continued commitment to make running an electric car easier," said Dan Taylor, director of new ventures at British Gas.
The company also claims that drivers can save on their bill by only charging their car during the off-peak hours from 8pm until 4 am. "The new Off-Peak Saver tariff gives drivers greater flexibility around when they can charge their electric car or van, as well as helping them spread the cost of paying for a dedicated fast and safe charge point," Taylor added.
In March, British Gas teamed up with Source London, England's biggest EV charging network, to install charging points in homes even cheaper. Drivers can apply under the new scheme to have a home charger set up for only £390. Customers are also supplied with a smart meter system to track how much electricity their car is using.
Members of Source London have access to more than 400 charge points spread all over the capital. The partnership with British Gas allows more electric car owners to charge overnight at home which will make recharging EVs even easier. "This innovative new partnership with British Gas will no doubt encourage more people to opt for one of the increasing range of electric vehicles coming to the market, said Kulveer Ranger, Mayor of London's environmental and digital director. "Electric driving is getting easier and is a great green option, helping the Mayor in his aim to deliver cleaner air for the capital."
Boris Johnson, Mayor of London, wants to turn London into the 'EV Capital of Europe'. His ambitious goal is aided by another British company that is promoting the use of electric cars. Tadea, a Billingham-based sustainability company, launched an infrastructure project whereby solar photovoltaic panels are installed in public places or company sites to charge EVs in an environmentally friendly way.
Tadea provides the solar photovoltaic panels and charger installations for free in an effort to generate a positive reputation for the company and to reduce carbon emissions while harnessing renewable energy. "The project is revolutionising the way we power electric vehicles, and it is significantly boosting the environmental credentials of this increasingly popular mode of transportation," said Malcolm Potter, renewable project manager at Tadea.
So far, the project has only been launched in the North East of England. But the solar powered charging stations might hopefully come to the rest of the country soon, too.