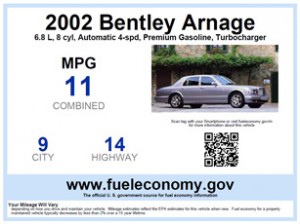 If you have been into any new car show room lately you will find that the fuel economy statistics feature very heavily on the promotional stickers and paperwork that supplement your new vehicle.
This practice of giving clear information regarding fuel consumption has not been something that used car dealers and private seller have taken to providing, however in the USA the EPA has made the process of obtaining this information much easier.
The EPA now provides the fuel efficiency information of used vehicles on its fueleconomy.gov website. These aren't new fuel economy numbers, but the EPA did apply the updated fuel economy logic that was instituted in 2008. The EPA is currently providing fuel economy statistics for vehicles dating back to 1984.
Both US car stealers dealers and the general public will be able to adorn their billboards with even more useful information for prospective mugs buyers. Just remember lay off the comic sans and word art, when it comes to your diy FOR SALE posters… . its just not right!
[ad]