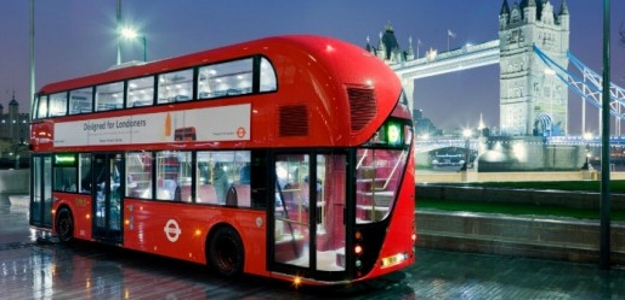 The new Routemaster Hybrid which offers twice the MPG as it's diesel sibling, hit the dark and gritty streets of London for first time yesterday. The bus is currently serving route 38 for  the lucky people traveling between Victoria and Hackney.
The Hypermiling hybrid bus, modelled on the classic Routemaster, was meant to enter service last week but due to red tape at the Department for Transport it was delayed.
The bus features a diesel-electric hybrid drive system that works a little differently to the current crop of production hybrid cars. It's diesel engine works as a generator for the electric motor rather than put power to the wheels. The 4.5L diesel unit simply "ticks" over at 1300RPM while powering and recharging the battery packs. This combined with the single speed transition means that the bus offers a very smooth ride for its 87 seats.
The new hybrid double decker 15 per cent more fuel efficient than existing hybrid buses and more than 40 per cent more efficient than existing diesel double-deckers. It's secondary electric drive system also helps to reduce noise pollution.
The program has already come under fire from Labour MP for Tottenham David Lammy who has rasied concerns regarding the rather steep price tag of the new buses. Each hybrid routemaster costs a whopping £1.4m compared to just £190,000 for a standard double-decker.
Green campaigners have also noted that only 52 of the 800 buses destined for the capitals city streets will be Hybrid. Quashing previous claims by Boris Johnson that all buses entering service from 2o12 will feature hybrid technology.
Boris has defended his new green red hybrids, calling them "the very best in British design, engineering and manufacture. But it's not just a pretty face, the green innards of this red bus mean it is twice as fuel efficient as a diesel bus and the most environment-friendly of its kind.
"When ordered in greater numbers it will make a significant economic contribution to the manufacturing industries, while also helping deliver a cleaner, greener and more pleasant city."
Test figures have shown that the Route master Hybrid emits only 640 grams per kilometre (g/km) of carbon dioxide and 3.96 g/km of oxides of nitrogen (NOx). This is less than half the level of carbon dioxide and NOx emitted by a derv powered people movers.
Read more to watch the new Routemaster being built.