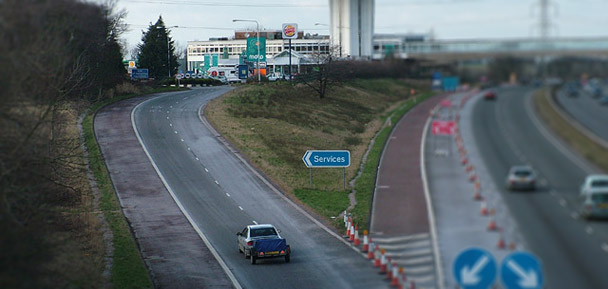 The UK government is working on proposals that could help reduce the inflated fuel prices charged by the network of  Motorway services. Under the proposals, fuel prices would have to be visible on the motorway, rather than just when drivers reach the forecourt. This would give motorists clear choice when it comes to choosing where to top up.
The scheme would alter signs showing distances to the next service station showing their current fuel prices. This is much like the French system, where stations are also required to publish prices at their two nearest rivals.
Motorway service fuel prices differ wildly from forecourts with an average of  7.5p per litre loaded on top of the usual supermarket suppliers. It's hoped that he increased transparency will force retails into reducing prices in-line inner city forecourts.
The RAC has welcomed the governments proposals. Spokensman Pete Williams  said, "This is welcome news for motorists and commercial drivers but we still need motorway services to be transparent and fair on all their prices. They have held the motorist to ransom for far too long – let's hope that Number 10 encourages them to sort out their food prices and their parking charges too."
The action follows a report by the Office for Fair Trading (OFT) into fuel prices in January. The report was highly critical of the cost of motorway petrol concluding that service station prices were inflated by 7.5p per litre for unleaded and 8p for diesel. The report suggested the lack of transparency of pricing was a factor. 
[ad]